Bed alarms are monitoring devices that detect sudden movements, or when a person tries to get out of bed, and sounds an audible alarm.
Bed alarms for the elderly are especially useful for a person who is at risk of falling, or who is prone to wandering during the night.
They also provide reassurance to other family members or carers that the person is safe at all times whilst in bed.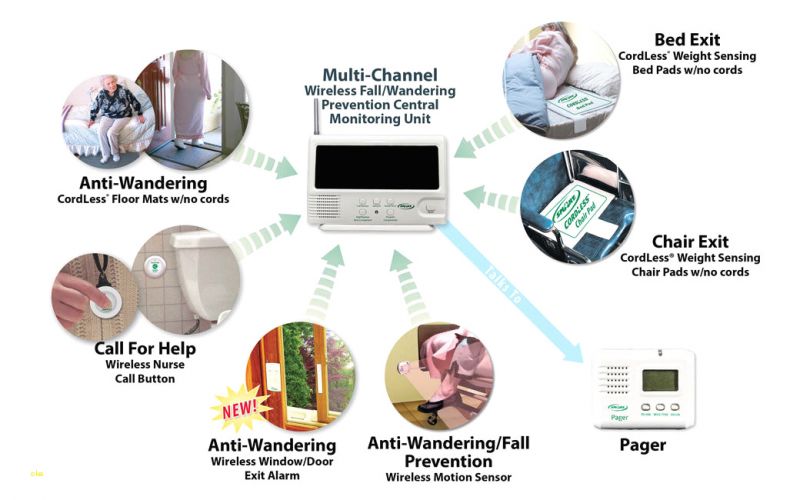 There are normally three parts to a bed alarm device –
1.Sensor Mat
2.Transmitter

(when pressure is placed either on or taken off the sensor mat a signal is transmitted)
3.Pager
Pressure Sensor Bed Alarm for the elderly
They have a thin pressure sensor pad which fits under the user's bed sheets, or can be placed on the floor.
As the name suggests they are activated by pressure on and off the mat.
Here's a selection of different types of sensor mats available –
(used with a Voice Alert Monitor and Anti-Tamper Nurse call Care Alarm (sold separately) to monitor falls and wandering)
The sensor mat is ideal for an elderly person at risk of falls, someone with dementia or special needs, who is being supported at home by a family member or carer.
The padded mat can be set to activate the alarm either when pressure is taken off, for example when a person gets off the bed. or when pressure is applied to the mat when it is on the floor.
Key Features
Normally used in the bed fitted underneath the sheets
Padded with interior layer of foam to ensure patient comfort
Made of soft high grade vinyl
Easy to clean and is incontinence protected
It comes in two different sizes – Small: W250 x L250mm (10″ x 10″) or Large: W760 x H250mm (30″ x 10″)
Used with a Voice Alert Monitor and Anti-Tamper Nurse call Care Alarm (sold separately) to monitor falls and wandering
Set to monitor pressure applied or taken off the mat
Can also be used on the floor to monitor wandering
Requires no installation – the sensor mat can simply be plugged into the monitor unit.
Connection Adaptors for easy connection to most nurse call systems

Ideal for a person that wanders or is at risk of falls

Dimensions: 88.9cm (35″) wide x 60.9cm deep (24″)

Anti-bacterial and easy to clean
Can also be used on a chair

Easy wipe clean coating

Size: 24 cm x 24 cm
Senses when a person moves from bed at night

Separate monitor alerts person and carer to movement
Carer can intervene to discourage wandering and help prevent falls

Designed to work with patients weighing 27 kg (4st 3 lb) and above

Mats are thin and flexible
Voice Alert Falls Prevention & Wandering Monitor
Dimensions – 150mm x 88mm x 52mm (6 x 3.5 x 2 inches)
The voice alert monitor comprises of an alarm unit and a length of cord which clips to the user's clothing. The alarm is activated when a magnetic connector piece attached to the monitor is pulled away, when the user falls out of bed or gets up.
The alarm unit has 4 different audible sounds but can be customised to record a 20 second voice recording of a familiar family member or carer. The benefit of this is the ability to have a calming effect on the person, without causing any undue stress. Also, a familiar voice may ask the person to go back to their bed or room.
Key Features
Can be used as a free standing unit
Has special mounting bracket to attach to a headboard or chair
Soft and loud volume settings options
Has battery check light and flashing alarm
Both the sensor mat and voice alert monitor can be bought and used together as part of an effective alert and falls prevention system, and comes with a 1 year guarantee.
Both are simple to set up and use.
Bed sensor pad dimensions –
10″ (25 cm) x 30″ (75cm)Made of soft high grade vinyl.Incontinence protected and easy to clean.The pad also features an interior layer of foam for patient comfort
Infrared Motion Sensor Bed Alarms for the elderly 
Infrared light is used to monitor movement by the user and triggers an alarm sound when the infrared light is tripped.
The motion sensor alarms are normally set up near the user's bed, often attached to furniture or a wall.
Here is one of the popular Infrared Motion Sensor Alarms available –
Motion Sensor and Pager
The infrared motion sensor is triggered when the user crosses the motion sensor's field (when they start to get out of bed or move away from the bed depending on where the sensor is set).
A signal is sent to the pager which could be placed on a table at the side of the bed (if staying in the room of the user), or worn by a family member or carer in a separate room.

Key Features
Pager/Alarm can be up to 150 feet (45 metres) from the Motion Sensor
Choice of hearing tune or chime in pager
Motion sensor is silent in user's room which avoids distressing them
Able to be mounted at shoulder height to receive an early alert ( when the user is sat on the edge of the bed with the intention of getting up )
If it's a complete wireless package your looking for then the following is available –
This consists of a cordless alert monitor and bed sensor with the pager/alarm able to be set up 100 feet (30 metres) from the motion sensor.
Ideally the bed sensor mat should be placed so the user's bottom is covering it. When the user sits up and transfers their weight ready to stand the alarm will be activated.
This ensures that you get an early alert before the user gets up and possibly falls.
Wireless Bed Sensor Alarm with Sensor Mat
Key Features
Has additional chair sensor mat to be used when the user is sat out
Has 1 year manufacturer's warranty (both alarm and pads)
Alarm has low battery light and on/off switch
Alarm features different tone options / pad lost and volume control
Has Incontinence resistance sensor pads
Padded with interior layer of foam to ensure patient comfort
Alarm operates on x3 C batteries (these not included)
Also available are alarm floor mats –
Here is one of the best quality wireless / cordless alarming floor mats
 with remote alarm for bed or doorway.
Key Features
High quality non slip rubber mat
Easily cleaned
Bevelled edges for safety
Alarm/Pager can be up to 100 feet (30 metres) from the floor mat and with the Carer
Has 1 year manufacturer's warranty
Alarm features 3 volume levels and on/off switch
The floor mat attaches to the high quality alarm monitor by the cord which is approximately 6 feet (188 cm) long.
When the floor mat is stepped on, the alarm will sound, alerting the carer.
To silence the alarm, simply press the reset button on the front of the alarm.
Key Features
Alarm features volume control, tone options, low battery and lost pad alert
Has a rubber casing to reduce chances of breaking
High quality, non slip surface
Has 1 year manufacturer's warranty (both mat and alarm)

As with all the products the main concern is ensuring that our loved ones, who are at risk of wandering whilst in bed, and are at high risk of falling are protected at all times.
A bed alarm for the elderly person, often with some form of dementia or cognitive impairment, and who are particularly at risk of falls, provides piece of mind for both other family members, or carers at all times.
My role as a physiotherapist, particularly whilst working on a hospital ward, or residential and nursing homes, has brought me into contact with many different patients at risk of falling.
Many have falls alarm monitors fitted to them as they were at high risk of falling when either in bed, or sat out in a chair. The alarms provided an excellent safety mechanism for them at all times.
I would be happy to hear different people's experiences and perhaps offer any help or advice on the subject or related topics.
Please feel free to leave a comment or feedback below. Or, if you need any further help please contact me at mark@elderlyfallsprevention.com and I will be happy to help.
Thanks
Mark.
Please follow and like us: