Swivel recliner chairs are ideal for the elderly, or anyone who suffers with poor mobility or a disability. In an upright position they provide good support, but can easily be reclined back into a comfortable position, providing relief for tired, aching joints and muscles.
The Best Swivel Recliner Chairs 2023 are comfortable, stylish and will complement any room you choose to use them in.
Many have good supportive headrests, and the swivel feature means you can easily move the chair whilst seated to often a full 360 degrees in either direction, which stops you having to twist and turn in your chair, or stand to re position. Many of the swivel recliner chairs also come with footstools to rest your legs on.
For those who need that bit of extra help to get on and off a chair, then there is the option of buying a riser recliner chair with an additional tilt mechanism.
10 Best Swivel Recliner Chairs 2023
The Alpha – GFA White Leather Swivel Recliner Chair & Footstool With Chrome
(Best high end chair)

The Alpha swivel chair is a well-designed, comfortable recliner with matching footstool. Available in a choice of 3 finishes this chair makes a wonderful addition to any home. With its stylish chrome star base and contoured upholstery, this swivel recliner chair will look good wherever you are sitting.
Pros
This chair has a really smooth tilt operation due to its gas and spring recline mechanism ensuring your always comfortable.
Has stylish chrome star base legs that really set this chair apart.
Adjustable tile footstool which is so useful for you to change your feet and legs into whichever position you want.
Available in 3 different finishes (white, conker brown or white) .
Has a real quality soft leather finish.
Cons
The only downside to this chair is the price. There are cheaper similar versions available so it depends on your budget.
---
GFA Premium Jersey Leather Match Swivel Recliner Chair
(Best soft leather chair)

The Jersey swivel recliner chair is supremely comfortable and can be easily adjusted to the correct position needed. The soft and luxurious leather is professionally upholstered and comes in three different organic colour finishes.
Pros
This swivel chair has a stylish warm oak honey round base which makes the chair stand out in any room.
The plumped up sides and headrest make sitting in this chair feel really supportive and comfortable.
Has a really easy to operate recline. so it feels really smooth when you start to lie back.
Lovely comfortable soft leather feel to this chair.
Cons
Other than the cost, there's not a to dislike about this lovely soft leather swivel chair. There might be cheaper alternatives, but will they be as good.
---
The Mars – Genuine Chestnut Leather Recliner Swivel Chair & Matching Footstool
(Best Contemporary Chair)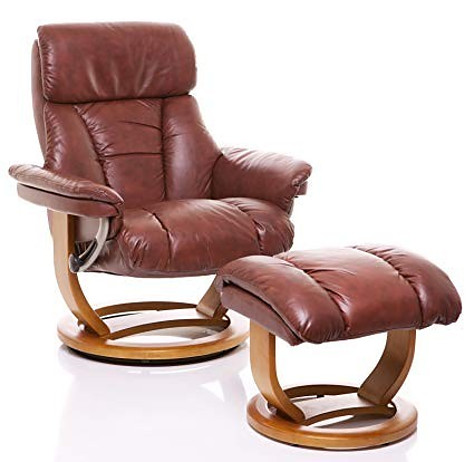 The Mars swivel chair is a stylish and contemporary recliner finished in a beautiful soft touch leather. The highly popular design of the Mars has a patented recline mechanism and rolling head rest feature which you will love.
Pros
The mars is a strong and durable built swivel recliner chair that is built to last.
It is exceptionally comfortable, with a multi-positional tension adjustable recline position with good lumbar support and supportive head-rest.
As you recline, the rolling headrest moves forward automatically giving you full support in all positions.
It looks and feels good with a lovely soft genuine Italian leather finish; in this case, a rich chestnut colour.
This chair come with a large footstool which is perfect for resting those tired legs on at the end of the day.
Requires minimal assembly, you only have to fit the arms with the tool provided.
Cons
The seat is quite deep, so someone of a smaller stature might find it a little uncomfortable.
---
The Hereford – Genuine Top Grain Leather Swivel Recliner Chair
(Best Top Grain Leather)
The Hereford swivel recliner chair is a substantial chair offering supreme comfort and support. Available in both a traditional cream and saddle brown leather, and complete with circular cherry finish base, this stylish chair is a great addition for any room.
Pros
This chair is available in 3 attractive and stylish colours (cream, saddle brown or pearl).
Long high back which will give you lots of support for your shoulder, neck and head, so you will always be comfortable.
The curved footstool seems to fit your legs naturally.
Lovely soft leather finish that your body will just sink into.
This chair feels like a substantial chair when your sat on it.
Stylish matching coloured chair and foot stool bases.
Cons
It can take longer than some other recliner chairs to assemble.
---
more4homes Sorento Fabric Swivel Recliner Chair with Foot stool
(Best Fabric Chair)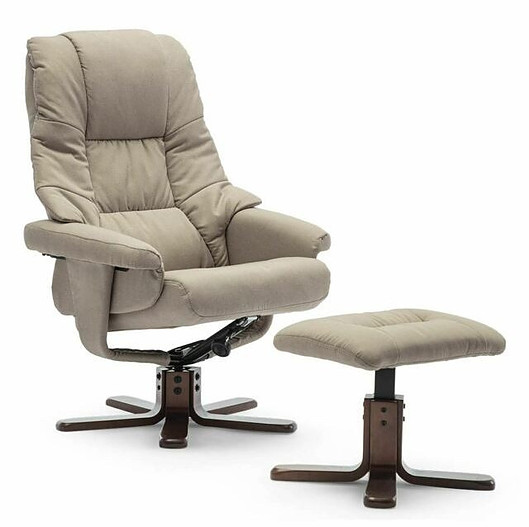 The Sorento fabric swivel recliner is a really comfortable Swivel Recliner Chair developed to the very highest standards, providing strength, durability, supreme comfort and high quality workmanship.
Pros
The chair is fitted with a ball tensioner located under the front of the seat cushion. The great thing is that depending on how strong you are, you can adjust the tensioner to make the chair recline with a light or strong push.
Lovely high back chair that is really comfortable to sit in, so you will always feel relaxed.
360 degree swivel function so you can turn around to see and talk with whoever is around, which saves you having to keep standing and then sitting again.
Sumptuous linen fabric material available in 4 attractive colours (grey, cream, brown and pumice).
Fitted with an attractive star wood base design on the chair and stool. The wood contrasts well against the fabric and will look good in any room.
Cons
It can take a little time to set up, and probably needs two people.
---
Morris Living Naples Chocolate Memory Foam Swivel Recliner Chair
(Best Memory Foam Chair)

The Naples swivel recliner chair has a really comfortable enhanced memory foam seat cushion, that moulds itself to the shape of your body giving your back and legs that extra support they need.
Pros
Because the memory foam is made of polyurethane and additives, it allows the seat to adjust to your body temperature. Swivel recliner chairs that have memory foam retain more heat than those without. So, you will always feel cozy and warm in this chair.
Chairs fitted with memory foam are considered to be hypoallergenic, as the foam makes them resistant to allergens and dust mites, which is great if you suffer with hay fever or other allergies.
This chair is really supportive and relieves pressure around your back with a body hugging support, so no aches and pains when you recline in this chair.
Bargain price for a superior quality chair.
The covered base of the chair and footstool makes the chair stand out and is an attractive feature.
Overall Height 107cm, Overall width 74cm, Height of seating 45cm and a bit higher at the front where the extra padding bump is. The width and depth of seating area is 48cm wide by 50cm deep.
Cons
For some people you might need two to assemble.
---
Julian Bowen Malmo Easy Care Faux Leather Swivel Recliner Chair
(Best Faux Leather Chair)

The Malmo reclining swivel chair and stool is upholstered in a soft touch faux leather with a walnut colour laminated base. This chair offers you the ultimate in comfort and relaxation.
Pros
The flat armrests are really comfortable to rest your arms on.
Lovely soft touch faux leather available in either a black or brown finish to complement any room.
Has attractive walnut coloured laminated bases.
Easy to assemble.
Cons
The recline function is a little slow when reclining.
---
Homcom Faux Leather Massage Recliner Chair Easy Sofa Armchair Beauty Couch Bed with Cream Footstool
(Best Massage Recliner Chair)
This ergonomically designed therapeutic massage swivel recliner chair is perfect for taking away all those stresses and strains. Made of soft PU leather, this chair is both comfortable and cozy to sit in.
Pros
Has a total of 10 separate massage points, including the footstool which heat up to your desired setting, which makes you feel relaxed and sooth those aching limbs.
The in-built side pockets on both sides of the chair are a great idea, and perfect for storing your remote, phone or anything you need to get hold of quickly without getting up.
The chair has extra padded cushion support on both the head rest and lumbar back area, which makes you feel really comfortable and supported.
Easy to use adjustable side lever to operate tilt mechanism recliner.
Cons
The heat and massage function is a little noisy when running.
---
HOMCOM Executive High Back Swivel Recliner Armchair with Footrest
(Best Budget Chair)

This high back swivel recliner chair with Ottoman footstool is both stylish, supportive and a perfect solution to get rid of your stresses of the day.
Pros
The metal chassis of the chair feels really sturdy and supportive when your sat on it, which is comforting to know when you recline back in it.
As budget recliner chairs go, this is great value for money.
Durable PVC finish that is easy to wipe down and keep clean.
Has a comfortable padded head rest.
Cons
Screws to the back of the chair screw in okay, but you really need a lot of effort to get them in properly.
---
HOMCOM Adjustable High Back Executive Swivel Reclining Armchair with Footrest
(Best High Back Chair)
This stylish high back swivel recliner chair has an ergonomically shaped backrest, and covered in an elegant grey synthetic leather finish to complement any room you choose to use it.
Pros
This ergonomically designed chair is covered in a stylish synthetic leather that is really easy to wipe down and keep clean.
Has an extra padded head support to make you feel comfortable and supported.
This recliner chair is easy to assemble and should only take around 10 – 15 minutes.
Great value for money.
Cons
The recline function is a little slow.
---
How to assemble your swivel recliner chair
What different types of leather are available for swivel recliner chairs?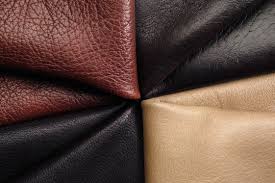 It can be a bit confusing understanding the differences between the type of leather used on your swivel recliner chair, so here is a breakdown of what you are getting for your money.
Faux Leather
It is easy to confuse real authentic leather with faux or bonded leather.
There are different types of faux leather – bicast leather, bonded leather and PU faux leather fabric.
Faux leather, also known as PU (polyurethane) leather has the advantage of looking and feeling like natural leather, while being a much more affordable option. Many people prefer this 100% man-made material because no animals have been harmed during its production.
Others find that faux leather has a consistent colour and texture, tends to be fade resistant and has antimicrobial properties.
Bicast leather is a leather by-product made from split leather which is laminated and then strengthened with vinyl top layer or polyethylene. It is made to look more like leather by embossing it to give it a grain like appearance. Bicast leather is a little stiffer than top-grain leather but has a more consistent texture.
Advantages
Good affordable price range.
Has the feel and appearance of a genuine leather product.
If looked after offers good durability.
Disadvantages
Compared to a genuine leather product has a lower shelf life.
No leather patina, a thin film that protects the surface, and a weathered look that a real genuine leather product develops over time.
Bonded Leather for the average person can be hard to tell from real cuts of a genuine real leather product, as the look and smell can be convincing. Leather starts out with lots of different shapes and sizes of animal hide. When they are used it leaves lots of off cuts and small unusable pieces.
These small scraps are then ground down together to make a mulch, glued together with polyurethane and this makes bonded leather.
Advantages
Strong and durable.
Easy to keep clean and care for.
It doesn't retain as much heat as real leather.
Environmentally friendly.
Disadvantages
Less breathable than natural leather.
Difficult to repair.
---
Differences between Fabric and Leather Swivel Recliner Chairs
Benefits of having a fabric chair
Fabric chairs tend to be more comfortable than leather chairs.
The fabric material feels softer and warmer to sit on than leather.
If you scratch it then it won't be damaged the same way a leather chair would.
You will get more for your money with a fabric chair rather than a leather one.
As a fabric chair is already soft when you buy it, it doesn't need 'breaking in' like a leather chair.
Benefits of having a leather chair
Leather recliner chairs don't trap dirt and dust mites as easily as fabric ones, which are better for those who suffer with hay fever or other allergies.
Leather is very durable and if looked after will last a long time.
A leather chair looks very stylish and contemporary.
Very easy to keep clean.
---
Benefits of Swivel Recliner Chairs
The swivel feature of the chair means that you can easily turn the chair around without having to get up and turn around. This is perfect if you are struggling with poor mobility, or find it difficult to twist and turn in your chair, when you want to talk to other people in the room.
Many of these swivel recliner chairs have built in footstools which are perfect for elevating those tired, aching legs and feet on.
The tilt feature of the chair is great to recline yourself gently back into whatever comfortable position you like.
Swivel recliner chairs are practical, stylish, easy to assemble and will look good in any room.
---
Conclusion  –  Best Swivel Recliner Chairs 2023
So, there you have it 10 of the best swivel recliner chairs. Whether you are looking for a fabric, genuine or faux leather, budget. massage or high end chair hopefully you have found what you are looking for.
Practical, stylish and affordable, the swivel recliner chair is a great addition for anyone looking for a little more comfort and support from a chair.
If you need any further help or advice, please contact me at mark@elderlyfallsprevention.com and I will be happy to help.
Please follow and like us: