Each year in the UK around 1 in 3 adults over 65 who live at home will have at least one fall a year, and about half of these will have more frequent falls.
One of the common risk factors in a person falling is either wearing wrongly fitting or inappropriate footwear, socks, tights, or, in many cases, not wearing anything on their feet in and around the house.
Choosing the Best House Slippers for Men 2022 is a safe and simple way to prevent falls in the elderly.
One of the common causes of indoor falls is wearing worn, loose or backless slippers. In addition, slippery or worn soles on the slippers can easily make you slip on tiled, laminate, wooden, or even carpeted surfaces.
It is recommended that older men and women wear slip resistant slippers, or house shoes indoors. House shoes give you the stable grip and support of an outdoor shoe, but also give you the coziness and comfort of a slipper.
With so much choice available and everyone liking a different style of slipper it can be a little daunting knowing what to buy, so here's a list of the different types of slipper to help you choose :
Best House Slippers for Men 2023
1) Sheepskin slippers for men
2) Leather slippers for men
3) Ugg slippers for men
4) Extra wide slippers for men
5) Isotoner slippers for men
6) Dearfoam slippers for men
7) Acorn slippers for men
8) Moccasin slippers for men
---
1) Best Sheepskin Slippers for Men
Peter Werth Newman Men's Genuine Sheepskin Suede Moccasin Slippers
(Best Overall)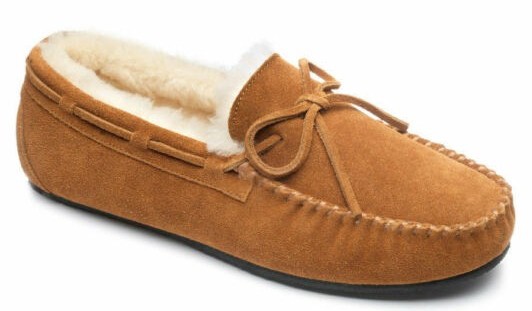 Stay comfortable, stylish and sleek in these luxurious Newman slippers from Peter Werth. With a genuine plush sheepskin lining with attractive suede upper, these moccasin slippers will look good all year round.
Pros
This is a genuine Peter Werth product.
There is a very abundant soft lining of thick fur sheepskin, so initially the slippers feel 'snug' but comfortable.
Sturdy hard wearing sole which you could even wear outside in them.
Comfortable warm fit, perfect for those cold winter evenings.
Has a real attractive suede upper that is easy to clean.
Cons
Can be a bit tight but slippers do stretch so you might want to add a 1/2 size up
---
Men's Boot Style Sheepskin Slipper With Antique Leather Finish
This boot style slipper has a superb quality Merino sheepskin lining crafted In an antique chestnut colour leather finish, with a stylish over locked seam detail.
Pros
These sheepskin slippers are really comfortable and warm to wear, but don't make your feet sweat. Perfect for those who suffer from cold feet.
Has a substantial hard wearing sturdy sole which you could even wear them popping outside.
The high backs of the slippers means great stability and support around your ankle, so less chance of your ankle 'rolling over' and you become unsteady on your feet.
The central over locked seam detail with additional fabric binding makes the slippers more durable
Cons
They can be a tight fit so it's worth ordering the next size up.
---
SNUGRUGS Men's Sheepskin Low-Top Slipper with Rubber Sole
This popular sheepskin slipper from snugrugs has a lightweight but sturdy sole, and a comfortable warm sheepskin lining.
Pros
Good fitting supportive slipper with 100% luxury sheepskin interior.
The fabric heel tab makes them really easy to put on and off.
Has a lightweight flexible supportive sole which gives you good grip and stability walking around.
Cosy fleece lining that will keep your feet warm in all weathers.
Cons
Some men might find the style of the slipper a little dated for them.
---
2) Best Leather Slippers for Men
Clifford James Men's Brown Leather Chester Slippers
(Best Overall)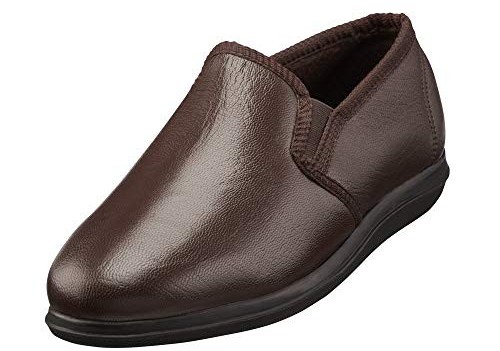 Nothing quite beats the styling, comfort and strength of these genuine leather Chester slippers with hard wearing soles.
These slippers exude comfort, quality and durability, giving you comfort and reassurance every single day.
Pros
Made of tough outer leather material which even stands up to short outdoor use.
The anti slip rubber sole reduces the risk of any trips or falls.
Excellent slippers at an affordable price.
Snug and comfortable fit which means your foot won't slip or slide around inside them.
Cons
They can feel a little tight on the fit when you first wear them, but like all leather products they will soften and stretch with use, so this shouldn't be an issue.
---
Hotter Men's Relax Low-Top Leather Slippers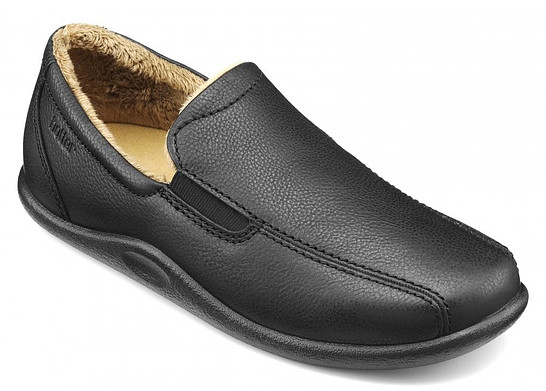 These comfortable and hard wearing leather men's 'Relax' slippers are luxuriously lined with premium faux fur, and
feature twin elasticated inserts for extra flexibility and a deep, padded insole for superior underfoot support.
Pros
Has a lightweight and flexible sole which is sturdy and durable.
The two stretch elasticated side gussets support and hold your foot in place, making them feel really secure and comfortable.
They have a wonderful smooth leather finish to them, and appear more like a house shoe than a slipper.
Warm and snug faux fur lining to keep your feel warm all year round.
Good solid anti slip rubber sole which measures 3cm ( 1 1/4″ ).
Cons
Some people may prefer a Velcro attachment across the top instead.
---
Chums Men's Real Leather Grecian Slippers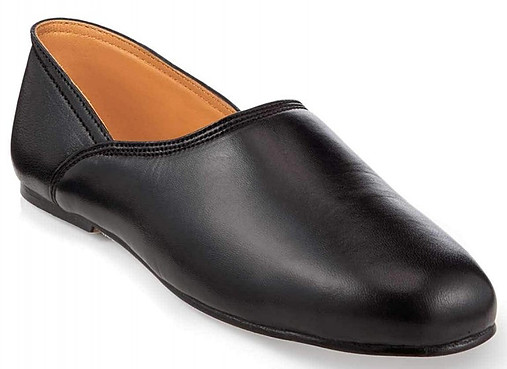 These hard wearing real leather Grecian slippers create a whole new standard when it comes to indoor footwear. They are beautifully styled and built to last, continuing to look their best for many years to come.
Pros
Made from fine quality leather that will soften and wrap around your foot comfortably.
The seams on each shoe are double stitched giving the slippers added strength and support for you.
Hardwearing leather sole.
Stylish design and finish that you could even get away with wearing outside as a normal shoe.
Cons
The leather soles are not quiet and soft to walk on, which can be a little off-putting, especially if you have laminate or tiled flooring.
---
3) Best UGG Slippers for Men
UGG Men's Ascot Suede Moccasin Slippers
(Best Overall)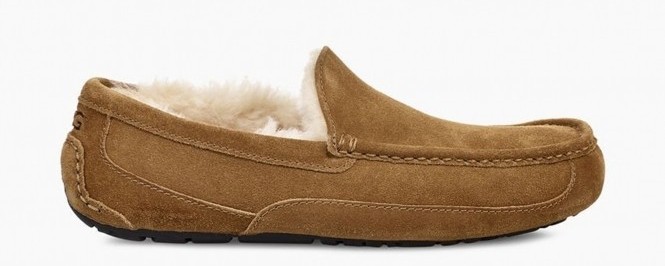 These UGG Men's Ascot Moccasin Slippers are the ultimate way to feel cosy and luxurious while striding around the house. Made with a super-soft suede upper, these quality slippers are both practical and extremely comfortable.
Pros
Has the UGG pure wool lining and insole to make your feet feel really snug and comfortable.
Classic and stylish loafer style slipper.
Supportive non-slip sole perfect walking on tiled, laminate or wooden floors.
Quality made slippers that will last you for many years to come.
Water resistant suede.
Cons
Can be a little tight when you first try them on, but they will give and expand with wear.
---
UGG Men's Hanz Slippers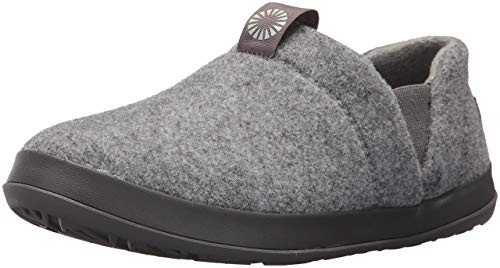 These UGG men's slippers with their fleece lining feels like a slipper but wears like a shoe, giving you the best of both worlds.
Pros
They have a luxurious polartec fleece cushioning foam lining to keep you snug and warm, but won't make your feet sweat.
The sole has a lovely cushioning effect but gives you real support and stability walking around in them.
Comfortable and stylish, something you would expect from the Ugg design.
Durable slipper that you will get plenty of use out for many years to come.
Cons
They can be little narrow, so those with a wider foot might want to opt for a larger size.
Unlike cheaper slippers they don't stretch as much, so you may need the next size up when ordering.
---
UGG Marris Men's Chestnut Loafer Slippers

These traditional style classic loafer slippers have a timeless quality about them, and are perfect for everyday wear. They have a sturdy anti slip tyre tread design sole, and the decorative tassel adds the perfect finishing touch.
Pros
Has a breathable suede leather upper that will keep your feet at the optimum temperature and sweat free.
Removable leather lined insole to ensure that you get the perfect fit for you.
The deep tread sole design ensures that you have good grip at all times, and steady on your feet.
Neat stylish stitching that makes them durable and long-lasting.
Comfortable and lightweight design perfect for everyday use.
Cons
They are not waterproof, but that shouldn't be a real problem unless you use outside, or have a bad spillage on them.
---
4) Extra Wide Slippers for Men
Padders CHARLES Men's Microsuede Touch Fasten Wide Fitting Navy Slippers
(Best Overall)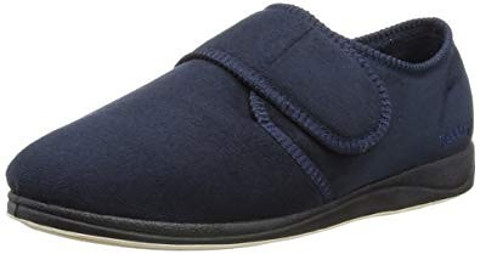 These ultra comfortable wide fitting men's slippers from Padders shape to the size of your foot, due to the easy wide Velcro touch fastener.
Pros
Great slippers easy to put on and the adjustable Velcro strap makes it great for those with swollen or wider feet – and the Velcro sticks well.
These slippers have a good solid and sturdy sole suitable even for short outdoor use
Has a nice soft touch suede micro suede upper finish to them.
Comfortable fitting slipper that feels really supportive.
Cons
The label sown into the insole can be irritating, especially trying to wear the slippers with bare feet.
---
Dr Keller Men's Tartan Check Warm Fur Fleece Lined Adjustable Strap Wider Fitting Memory Foam Slippers
Your feet will never want to leave these comfortable and stylish slippers by Dr Keller. Made with the finest materials these fleece lined and adjustable wider fitting slipper is perfect for you.
Pros
Easy to use and adjustable Velcro strap makes it east to adjust the fit of these slippers to your foot. The strap makes them really easy to slip on and off.
The fleece lining keeps your feet snug and warm, particularly on a cold winter's night.
Solid rubber sole with a good grip to keep you safe on your feet.
For the price these slippers offer great value for money.
Cons
Some people may find the style of slipper a little dated for them.
---
Clifford James Men's Very Wide Genuine Leather Shoe Slipper

These Clifford James Men's Very Wide Slipper is perfect for those with extra wide or swollen feet and fits all sizes of foot, due to its three-way adjustable Velcro top opening.
Pros
Recommended by chiropodists, this specially designed multi-fit slipper shoe for men accommodates almost any shape of foot.
The slipper has a roomy 3 way opening strap across the top which allows you to put your foot straight down into the slipper – no trying to squeeze and slide your foot in anymore.
Has a comfortable soft leather upper that moulds around your foot.
The sole on these slippers feels solid and supportive, but also allows some movement and flexibility to help the contours and movements of your foot as you walk.
A genuine 'wraparound' light "shoe". Stronger than a slipper, softer than a shoe, and watertight- enough for light rain anyway.
Cons
Those looking for a plush fleece lining may be disappointed as the inside can feel a little bare and cold when wearing.
---
5) Isotoner Slippers for Men
Isotoner Men's Microsuede Moccasin Slippers
(Best Overall)

These Isotoner slippers have a classic moccasin design that combines easy slip on convenience with supreme comfort for you.
Pros
Has Gel infused memory foam that conforms to the shape of your foot giving you a custom fit that helps you stay cool.
Good solid heel support that keeps your feet secure and stable in the slipper at all times.
They have a thick solid sole that makes them versatile to use both indoors and outdoors.
Very comfortable, soft and flexible.
Cons
Can be a little snug when you first wear them, but they will stretch with wear.
---
Isotoner Men's Diamond Corduroy Moccasin Slippers

Experience soft breathable comfort and all-day support with these stylish Isotoner Moccasin slippers. They have a soft corduroy finish combined with a micro terry lining giving you the ultimate luxury.
Pros
Has a gel infused memory foam insole that moulds to the shape of your foot and will stop your feet sweating.
They're easy to slip on and off, but feel really supportive when you're wearing them.
Great tread that gives you confidence even on tiled or laminate surfaces.
Stylish grey corduroy finish.
These slippers are comfortable and durable giving lots of enjoyment wearing.
Cons
Tend to run a bit small, so you may need the next size up.
---
Isotoner Men's Black Microsuede Moccasin with Whipstitch

These Isotoner men's slippers are a favourite classic micro suede boater with a super sherpasoft lining, guaranteed luxury for your feet that will last and last .
Pros
Has a tough wearing durable sole that is suitable for indoor and outdoor use.
They're soft and warm to touch, great in keeping your feet warm on a long cold winter's night.
You can machine wash these on a cold wash and they will come up looking as good as new.
Cons
The length is good but the drawstring is not very useful.
---
6) Best Dearfoam Slippers for Men
Dearfoam Men's Microfiber Suede Moccasin with Decorative Stitch Memory Foam Slippers
(Best Overall)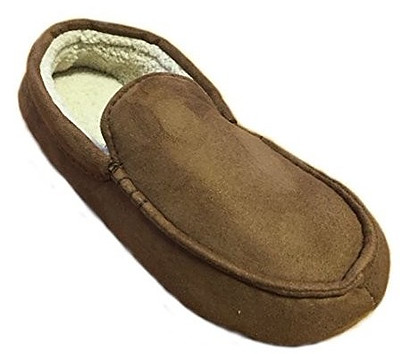 Give your feet a break with these Dearfoam warm and cozy microfiber slippers. A plush lining and multi-density cushioning make these stylish moccasins the perfect choice.
Pros
They have a microfiber suede upper with a stylish accent stitch detail.
Multi density cushioned memory foam lining that fits to the shape of your foot.
Comfortable fit and warm, what more do you need.
Durable quality product from Dearfoam.
Cons
Great for indoors, but you may need something a little sturdier if you plan to use outside.
---
Dearfoam Men's Micro Suede Moccasin Slippers with Memory Foam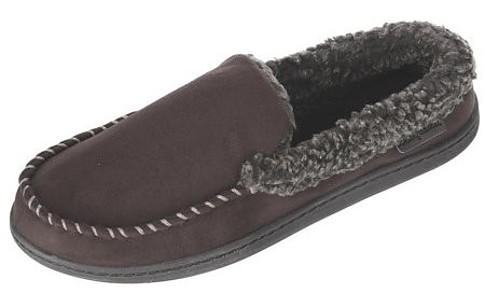 These closed toe micro suede moccasin slippers from Dearfoam are perfect for both indoor and outdoor use. The extra lining makes them incredibly comfortable and warm to wear.
Pros
Has a micro suede breathable finish that keep you feet feeling neither too hot or cold.
They can be machine washed so they will stay clean and fresh for longer.
Sturdy thick sole which will give lots of traction and support walking.
Memory foam interior moulds around your foot to give you that perfect fitting slipper.
Cons
May be a little long and narrow fit for those with a wider foot.
---
Dearfoams Men's Suede Moccasin Slipper
A faux suede tie and whip stitch detail make this Dearfoam slipper stand out in a crowd. In addition, a thick cushioned insole with memory foam gives you that soft luxurious feel that your feet deserve.
Pros
Has a wide width out sole which gives you lots more comfort for your feet, especially if you have wider or larger feet.
There is real attention to detail with the quilted plaid upper with whip stitch detail, and the faux suede tie gives your foot that extra support.
The sturdy rubber sole has good grip to help keep you safe on your feet.
Really soft and comfortable fitting slipper.
Cons
Can be a little snug fit at first, but they will give and stretch with wear.
---
7) Best Acorn Slippers for Men
Acorn Men's Rambler Slipper
(Best Overall)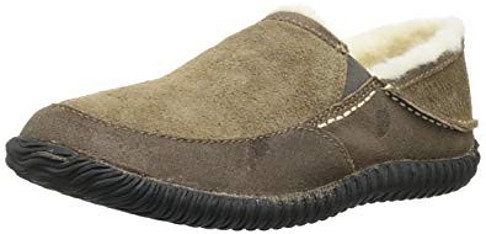 The Acorn Men's Rambler Mule Slippers combine the best of both an indoors and outdoors slippers in one. This stylish slipper has a mix of suede and tweed, with a 100% wool fleece lining for unbeatable comfort for your feet.
Pros
Has a fully contoured removable foot bed that moulds around your foot.
Supportive and thick cushioned sole that gives you great support walking on any surface.
Lovely soft and comfortable lining which keeps your warm without your feet overheating, and you could wear barefoot.
Stylish looking slipper with its suede and tweed fabric.
Cons
Could be a little more supportive around the heel.
---
Acorn Men's Ellsworth Suede Moccasin Slipper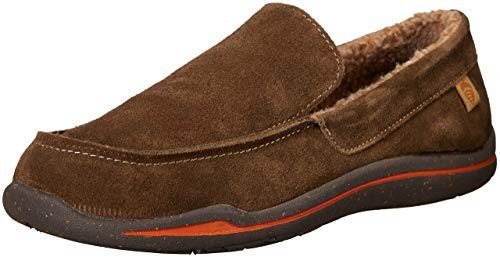 This closed toe Acorn moccasin style slipper has a cushioned memory foam insole, and cozy fleece lined exterior to keep your feet warm in all weathers.
Pros
These slippers have a good solid rubber sole grip that is suitable walking on all surfaces.
Durable and lightweight slipper.
Could be used for small trips outside as well as indoors.
Stylish suede exterior and can be machine washed.
Sherpa fleece lined interior that runs all along the foot bed of the slipper.
Cons
Those with a wider foot might find the fit a little tight.
---
Acorn Men's Fave Gore-M Slippers

These Acorn moccasin slippers offer you timeless style and warmth, whilst the moisture wicking sherpa fleece lining keeps your feet dry.
Pros
The elastic side panels make putting on and taking off your slippers really easy, ensuring you get a secure snug fit.
They have a durable rubber sole that is anti slip giving you good traction and support.
Choose from a variety of stylish material options such as wool blend, knit or tweed upper.
Able to be machine washed on a cold setting so they will keep looking as good as new.
Moisture wicking sherpa fleece lining ensures you keep your feet dry.
Durable suede side wall for added water and stain resistance.
Cons
May feel a bit tight when you first wear them, but they will soon stretch with use.
---
8) Best Moccasin Slippers for Men
RockDove Men's Moccasin Slipper with SILVADUR Anti-Odour Fabric
(Best Overall)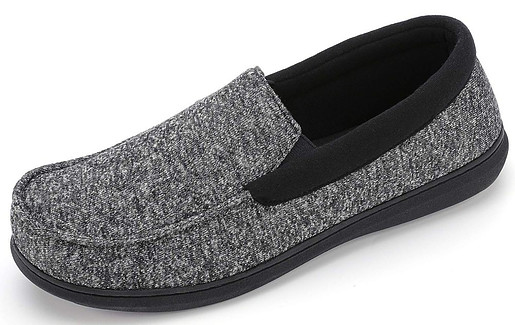 These closed back men's moccasin slippers are comfortable and easy to put on and off. The combination of the dual elastic tabs and memory foam insole ensures you get a snug custom fit.
Pros
They have a sturdy waterproof anti slip rubber sole which will keep you steady on your feet.
The dual elastic tabs are supportive and help when you are going up and down the stairs.
The slipper fabric is treated with Silvadur, a long-lasting silver ion based microbial which eliminates foot smells and odour causing bacteria inside your slippers.
Really soft and comfortable fitting moccasin due to the memory foam insole that shapes itself to your feet.
Stretches to accommodate different shapes of feet – wide, swollen or those with a high instep.
Cons
You may need to get a half size bigger as the sizes can run a little small.
---
Men's Memory Foam Plush Fleece Lined Moccasin Slippers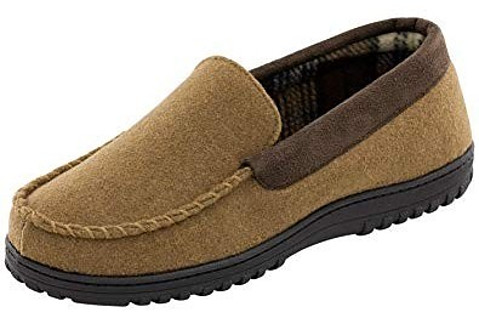 These men's whip stitched moccasin slippers feature around the collar lacing and micro suede trim with a simple and classic style that you will love.
Pros
These slippers have an anti-slip durable gripped rubber sole giving you lots of support and confidence on your feet, whether your inside or outside.
For those who don't want to spend the earth, these slippers are a cheap and affordable quality slipper.
The thick memory foam insole will mould around your feet for a comfortable customized fit.
Really warm and cozy due to the plush fleece lining.
They come in a choice of 7 attractive looking colours.
Cons
It seems initially, until the gel moulds to your foot, they feel far too tight, but this soon eases off and they grip comfortably in all the right places.
---
EverFoams Men's Comfort Memory Foam Moccasin Slippers Breathable Cotton Knit House Shoes with Anti-Skid Rubber Sole

These Everfoam cotton knot moccasin slippers are ultra comfortable and lightweight making your feet feel really relaxed. The cozy lining wicks away moisture ensuring you have healthy, dry feet all the time.
Pros
These moccasin slippers have a breathable waffle knit upper which makes sure the inside is odourless, no matter whether you are wearing socks or are barefoot.
They have a really supportive mid sole that helps absorb shock through your foot when you walking around the house.
Ultra comfortable and lightweight.
Everfoam slippers have a natural shape to help give your toes space to spread for better stability and shock absorption.
Flexible rubber sole which has good traction and support whether you are on tiled, laminate or polished floors.
Cons
Quite a narrow fit for those with wider or swollen feet.
---
Guide for choosing the right house slippers
1) Correct Size:
First and foremost, you need to make sure that the slippers you are wearing fit you correctly. Too loose and they will easily slip off, and potentially cause you to lose your balance and fall. If they are too tight they will make it painful walking, restrict your circulation and could damage your feet and toes.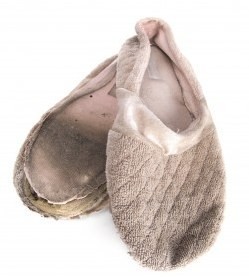 This is simple advice….. but you would be surprised how many elderly people walk around in an old pair of slippers they have had for years, and that are falling apart, with their toes pushing a hole in the end of the slipper.
2) Heel Support:
You need to make sure that the slipper has a good supportive heel to it. Your foot needs to be in contact with the sole of the slipper at all times, So many elderly men walk around their home in slippers with no back in them, which makes it so easy for your foot to slip out of, lose your balance and fall.
3) Supportive Sole:
You need a good hard sturdy thick sole to give you plenty of support in your mid foot. Try to avoid thin, flexible soles which have lots of give in them, but will make you less stable walking in your slippers. In addition, the thinner sole will wear out a lot quicker.
4) Good Grip:
Having a good grip on your slippers is really important. A rubber slip resistant material sole is best. Many people don't always check the grip, and walk around with worn smooth slippers. Make sure you check yours !
Even on a carpeted surface this increases the risk of slipping, but on wet, laminated, smooth and tiled surfaces the risk of serious accidents happening is greatly increased.
5) Adjustable:
Your feet change in size so you need to keep them secure at all time. Velcro slippers are great as they rarely need to be adjusted, and keep your feet secure. Try to avoid any slippers with laces as they can soon become loose walking around in them. In addition, they can soon become a trip hazard for you.
6) Comfortable:
You need the slippers to feel comfortable as you will spend a lot of time wearing them during the day. You need to look for ones made from breathable material that minimise your feet sweating.
Some elderly people suffer from cold extremities especially with their feet. Memory foam is common now in a lot of different types of slippers, which keeps your feet warm, but is also very soft and supportive.
7) Floor Type
If the floor of your house is hard wooden or tiled flooring, then you are going to want a good thick sole on the slipper. Whereas, if your home is carpeted throughout then it is not as important. Again, you still need to remember to make sure that the sole has a good grip.
So, there you have it, some good advice and tips on choosing the right slippers for you.
---
Benefits of wearing slippers at home
Why should we wear slippers at home ?
Well, surprisingly there are lots of benefits to wearing slippers at home.
Slippers keep your feet warm……yes obvious I know, but a lot of people suffer from cold feet. Two of the most common causes of cold feet are decreased circulation in the extremities, or a problem with nerve sensation. Studies have also shown keeping your feet warm reduces the risk of you catching a cold.
Wearing slippers inside your home is a great way to prevent unnecessary trips or falls happening. A good supportive slipper with anti-slip grip and back support is perfect on slippery tiled, laminate or wooden surfaces.
Slippers protect your feet from getting dirty or cut, and act as protection against fungal or bacterial foot infections.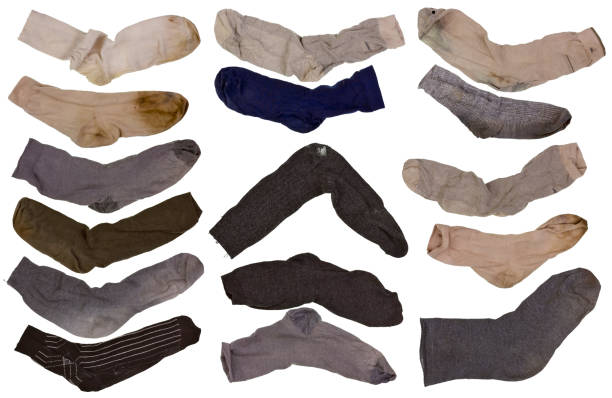 Slippers are a great way to keeping your house clean. Many people walk into their home and continue wearing outdoor footwear covered in dirt and bacteria which is then spread from room to room.
Extend your sock life by wearing slippers……..socks easily get worn, snagged or dirty quickly.
---
Common types of foot problems for men
Most foot problems in the elderly can be greatly improved by wearing the correct fitting footwear, both in and out of your home.
Resulting foot pain, deformity and loss of function can significantly compromise an older person's mobility and independence.
Here's a list of some of the common problems you might have with your feet as you get older.
1) Bunions (hallux valgus)
A bunion is a bony knob that forms on the joint at the base of the big toe.
Bunions can form from an inherited structural problem in the foot, or as a result of medical conditions like arthritis. Inflammatory or degenerative arthritis can cause the cartilage covering the big toe joint to deteriorate and the extra pressure this places on the joint forms a bunion.
People who wear slippers or shoes that are too tight, too narrow or too pointed are more susceptible to developing bunions. Silicone toe separators provide relief for the bunion joint, and promote proper joint alignment.
2) Arthritis
Arthritis is a common condition that causes pain and inflammation in a joint.
In the UK, more than 10 million people have arthritis or other, similar conditions that affect the joints. Although you might assume that arthritis only happens in the elderly, it can affect people of all ages, including children.
Osteoarthritis is the most common type of arthritis. Also called "wear and tear" arthritis or degenerative joint disease, osteoarthritis (OA) is the gradual progressive breakdown of the joints' natural shock absorbers.
Inflammation and injury to the joint cause a breaking down of smooth cartilage linings of the joints, causing pain, swelling, and deformity.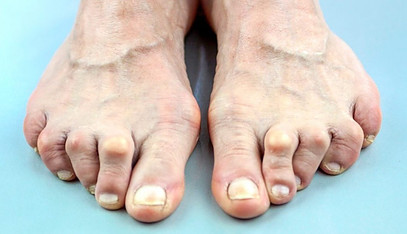 In rheumatoid arthritis, the body's immune system targets affected joints, which leads to pain and swelling.
The outer covering (synovium) of the joint is the first place affected.
This can then spread across the joint, leading to further swelling and a change in the joint's shape. This may cause the bone and cartilage to break down.
People with rheumatoid arthritis can also develop problems with other tissues and organs in their body.
3) Oedema
Oedema is swelling caused by excess fluid trapped in your body's tissues. Although oedema can affect any part of your body, you may notice it more in your hands, arms, feet, ankles and legs.
Oedema can be the result of medication, pregnancy or an underlying disease — often congestive heart failure, kidney disease or cirrhosis of the liver.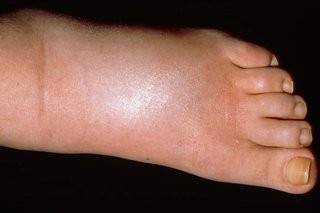 Taking medication to remove excess fluid and reducing the amount of salt in your food often relieves oedema. When oedema is a sign of an underlying disease, the disease itself requires separate treatment.
Compression stockings are made to help control swelling in the feet, ankles and lower legs.
They help by squeezing these areas to prevent the buildup of fluid in the tissue which can be very painful.
4) Ingrowing Toenail
An ingrowing toenail, also known as onychocryptosis, is a common condition which results in pain and disability in the foot.
Older people may also be at higher risk because toenails thicken with age.
The skin can become red, swollen and hard next to the nail, and be painful when pressure is applied on or around it.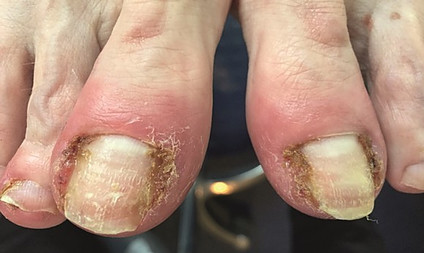 Some causes of ingrowing toenails are –
Wearing incorrect footwear such as tight-fitting slippers or shoes, that places a lot of pressure on the big toes.
Tight fitting socks, stockings or tights can also contribute to them occurring.
Poor foot hygiene ( not washing your feet regularly and keeling them clean and dry ). Poor posture can also increase the risk of you getting an ingrowing toenail.
An Ingrowing Toenail Kit is designed to relieve the pain and discomfort caused by ingrowing toenails. It has been designed in co-operation with podiatrists to treat and help provide relief from discomfort caused by ingrowing toenails.
5) Diabetes
Diabetes is a lifelong condition that causes a person's blood sugar level to become too high. There are 2 main types of diabetes:
There are 2 main types of diabetes:
type 1 diabetes – where the body's immune system attacks and destroys the cells that produce insulin.
Elderly diabetic patients are particularly affected with foot disease. The main causes are peripheral neuropathy, foot deformities and peripheral arterial disease (PAD). Other risk factors include reduced mobility, vision problems and other medical co-morbidities.
---
What type of slipper fabric are you buying for your money ?
As you can see there are lots of different materials that slippers are made out of, but what exactly are you getting for your money ?
Wool
Wool is a sustainable, natural fabric which is both breathable, warm and moisture wicking. A pair of wool slippers will keep your feet lovely and warm in the winter, but helps them stay cool in those summer months. It is a durable, hypoallergenic fabric.
Cotton
Like wool, cotton is a breathable natural fibre and it doesn't retain odours like with some oil based fabrics. Cotton is a strong, tough and hard wearing fabric, perfect for slippers.
Leather
Leather is a natural, breathable fabric that is durable and hard wearing. Great for using in slippers as the leather will soften and mould to the shape of your foot, so always feels really comfortable. It is really easy to keep clean,
If leather is treated or waxed it will give you resistance against water and other liquids.
Suede
Suede is a type of leather but softer and thinner. Suede's smooth nap appearance makes it perfect for using in slippers. However, the suede's nap can easily accumulate dirt and dust, which can change the appearance. A suede brush is a good idea to maintain the look of the material.
It is not as durable as leather as it is a thinner material, but is still quite a durable material.
---
What do you want out of a perfect slipper ?
Everyone's different. Some people prefer the leather or suede finish which wear well and are durable. Others like cotton which are easy to maintain and keep clean, and tend to be more affordable.
But, most people want the following in a slipper –
Keep your feet warm when it's cold – obvious I know.
Keep your feet cool when it's warm. ( I mean when it's those hot summer days, you still want to wear the slippers to protect your feet, you don't want them overheating ).
Have a decent sole with plenty of grip, flexible to walk in but lots of support. You want a sole that's not going to wear out in just a few months.
Comfortable and good value for money.
---
How do I care for my slippers ?
Okay….you have that perfect pair of sippers, now how do you make sure that you keep them as good as new for as long as possible, before you finally have to replace them.
Here are some great tips and advice for keeping your slippers clean and fresh.
How can I stop my slippers smelling ? Should you wear socks with slippers ?
To ensure that your slippers smell fresh, only wear them when your feet are clean, and you are wearing a clean pair of socks. Most slippers are made out of synthetic material which can easily trap odours passed from your feet when they sweat.
You could try sprinkling some baking soda inside the slippers which will keep some odours at bay.
Can I machine wash my slippers ?
Check the label to find out if your slippers are machine washable. If so, put them in on the correct temperature and use a short, slow spin.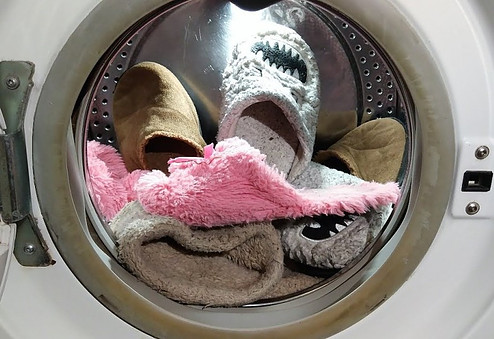 Some fabric slippers may be okay to wash by hand. Use a mild detergent with warm, not hot water, scrub the slippers in the water with a cloth and then a quick soak. Ensure you rinse thoroughly after.
Try to dry naturally, or put in a tumble dryer on a low heat for a short period.
Tip – put your slippers separately in a pillow case before washing.
Can you wash suede or sheepskin slippers in the washing machine ?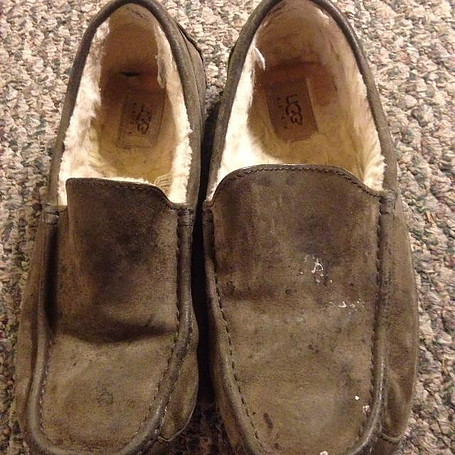 Don't be tempted to throw your suede slippers in the washing machine. This will cause the suede to dry out leaving them stiff and uncomfortable to wear. The suede may even start to crack and ruin your slippers.
Prevention is definitely the key. Use a protective spray to give your slippers water and stain resistance before using them. If they do get wet or a little dirty, blot them gently with a cloth, and let them dry naturally away from direct heat.
How often should you replace house slippers ?
A slipper is the one type of footwear we tend to wear every day. Although you may have a second pair of slippers, it's likely that you will always choose that same pair of comfy slippers that you put on every evening.
So, how long do they last ?
Well according to research by the College of Podiatry, on average a pair of slipper last around 12 months. But you have to consider that not everyone will look after their slippers. If they get dirty or wet from outdoor use, or are cheap inferior quality, then they won't look good for long.
Some materials like suede or leather have greater resistance, and can last for several years.

Can you machine wash slippers with rubber soles ?
Yes is the short answer, again makes sure that the slippers are put on a low cold temperature with a short, slow spin. One of the best ways to keep the rubbers soles clean is to wipe them down regularly with a soft cloth or sponge with warm water.
How do you clean slippers with fur ?
The inside fur lining of your slippers soon becomes dirty and matted over time. A real easy way to clean and freshen up the interior of a fur lined slipper is to use a baby wipe. The wipes are soft and have a mild soap and moisture in them which helps clean the slippers easily.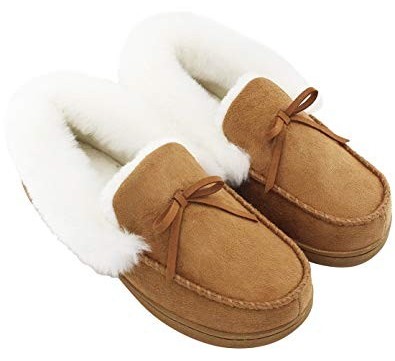 Just let the slippers dry naturally afterwards and your slippers should look as good as new.
Do this on a regular basis before the fur insides become too matted and beyond repair.
---
Conclusion
So, there you have it lots of great tips and advice on choosing the Best House Slippers for Men 2023. Whether it's a moccasin, leather or sheepskin you are looking for, or if you need a wide fitting slipper with extra wide Velcro fastening there's a slipper to suit everyone.
If you need any further advice or help please feel free to contact me at mark@elderlyfallsprevention.com and I will be happy to help.
Please follow and like us: