One of the most important things that you should consider, especially if you suffer with back problems is a comfortable, supportive mattress.
Back pain, often chronic, and sometimes discomfort to your hips, shoulders or neck can affect your sleep, general health and overall well-being.
Having the best mattress for elderly back problems is critical to getting a good night's sleep, as our bodies change as we grow older. Sleep is a vital component to enable the body to repair and be fit and ready for another day, helping a person's overall health and well-being.
Many elderly people and seniors often ignore their aches and pains passing them off as just getting older, but a good mattress can bring meaningful relief, and help ease the symptoms of low back problems.
With so much choice it can be a little daunting choosing the right mattress, so we have saved you the time by picking out the best mattress for the elderly and seniors with back pain.
---
The Best Mattress for Elderly Back Problems 2023
1) The Casper Original Foam Mattress, UK Double
(135 x 190)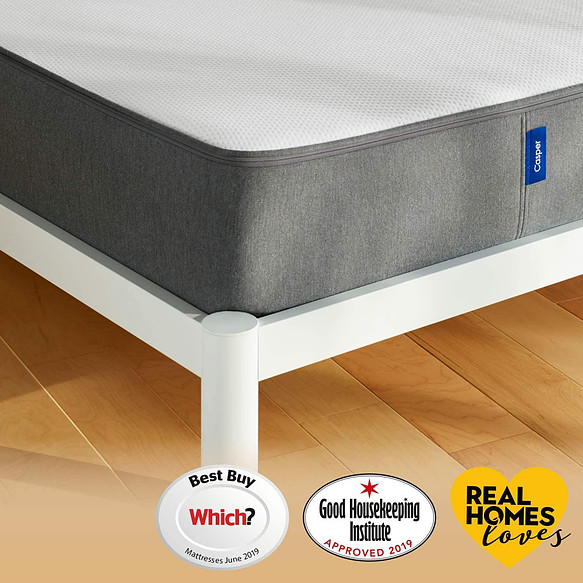 The award-winning Casper Original Foam Mattress consists of four foam layers that come together to provide support, pressure-relief, breathability and ultimate comfort. The mattress is further enhanced with contour cuts that let your shoulders sink while supporting your hips, promoting a good sleeping posture.
Pros
A luxuriously soft and comfortable mattress that offers great support.
No need to flip the mattress over – although it is recommended you turn it every 6 weeks.
No sweating, even on a hot night, like with some other foam mattresses.
Very supportive.
Won the Which 'Best buy' for mattresses 2019.
The foam layer allows for even weight distribution while aligning your spine.
Cons
It can take a full 24 hours to fully decompress.
---
2) Silentnight 1200 Pocket Eco Mattress

The Silentnight 1200 Pocket Eco Mattress offers you the perfect combination of affordability and comfort. A true best-seller, this mattress gives you a fresh and natural sleeping experience you will never forget.
Pros
The Mira pocket spring system reacts independently to the weight and movement of your body, giving you even weight distribution, and maximum sleeping space for a great night's sleep.
It's double-sided so you can enjoy longer lasting comfort by flipping the mattress to prolong its lifespan.
Has a natural treatment, Purotex, that combats allergens to create a drier, fresher and healthier mattress for you.
It's highly breathable allowing air to pass through it to give you an invigorating and refreshing night's sleep.
Has just the right amount of firmness to support your hips and spine, and alleviate those back aches and pains.
Cons
The mattress is rated as medium / firm, although some people may find it a little soft for them.
Note:
All manufacturer spring counts are always based on a king-size mattress (measuring 5ft x 6ft 6in /150cm x 200cm). The amount of springs will alter on a pro-rata basis dependent on your choice of mattress size.
---
3) eve Sleep Original Memory Foam Mattress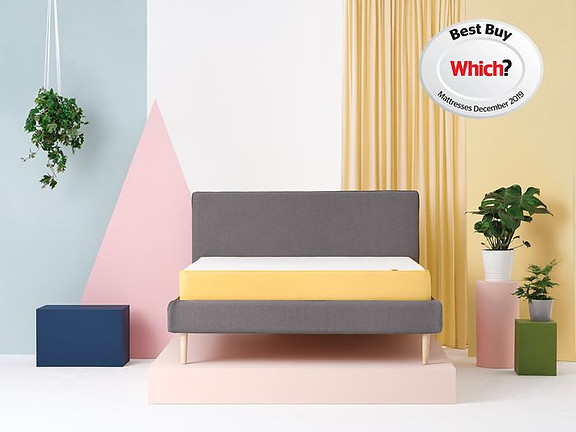 This award-winning Original mattress supports your body so perfectly that you'll wake up refreshed and awake. With its just-right medium-firm support, it will suit all types of sleeping positions by keeping your spine aligned and the pressure off, so you stay wonderfully comfortable with back free pain all night long.
Pros
The moisture-wicking material of the top panel sheet stops you getting hot and clammy in bed.
The memory layer provides a snug softness and gives you just the right amount of pressure.
It has seven unique contour zones cut into the layer of foam which helps relieve to your shoulders and hips.
No more sliding around with the mattress as the non-slip coating keeps everything in place on your bed base.
Has a springier memory foam that helps keep your spine in a neutral alignment.
Cons
The mattress has a strong smell when first opened, but this soon fades.
---
4) Vesgantti 4FT6 Double 10.3 Inch Pocket Sprung Mattress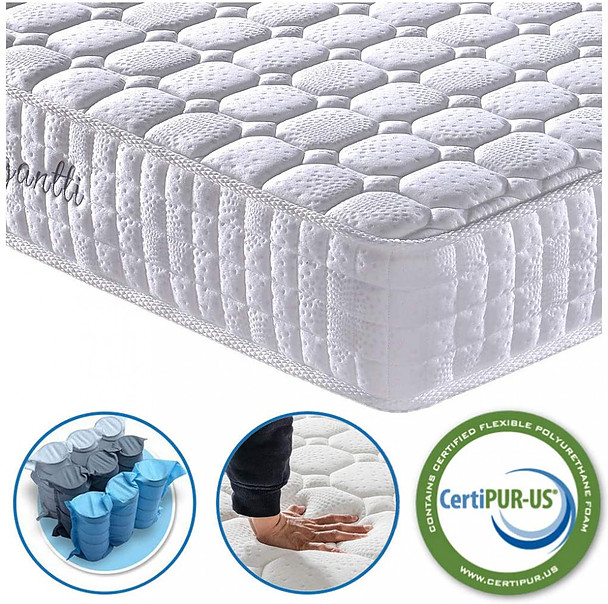 The Vesgantti Pocket Sprung Double Mattress offers excellent support for your whole body. With its multi layer breathable foam and great shock absorption, you are guaranteed a sound and peaceful sleep every night.
Pros
It retains the heat well which is handy for those cold nights.
The breathable foam keeps your body comfortable and dry when sleeping, so no more waking up with body sweats.
A quality mattress with great value for money.
Very comfortable and it is both soft and firm at the same time.
The 100 night free trial gives plenty of time to try it, and gives you lots of confidence in product.
Cons
If your looking for a softer feel mattress you can always put your own memory foam mattress topper on top.
---
5) Inofia Double Memory Foam Sprung Mattress 10.6 Inch, 4FT 6″ Spring Mattress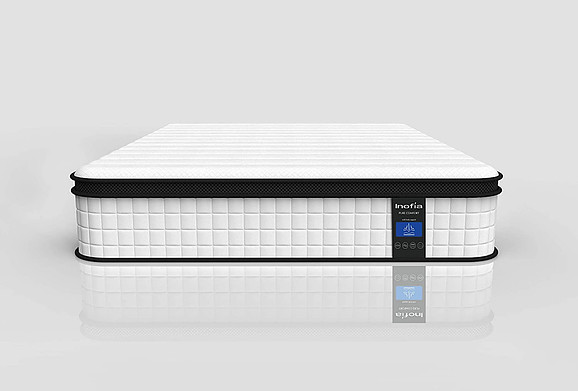 With its classic black and white design, the Inofia Double Memory Foam Mattress is not only smart looking, but with its firm pocket spring support and soft top memory foam combination gives you a great night's sleep.
Pros
Great quality and well-made.
The perfect firmness to support your back, and will suit those ' side sleepers '.
Its so thick and soft that you wouldn't believe there were springs in it.
Lovely soft memory foam topper.
It is great value for money.
Cons
The thickness means that fitted sheets are a bit tricky to fit, but that's a small price to pay.
---
What firmness of mattress is best for lower back pain ?
Traditionally, a firm mattress was considered the best solution for back pain sufferers. However, a mattress which is too firm could actually do more damage than good, as it won't accommodate the natural curvature of the spine, and increase your chance of developing hip and back pain.
Ideally, for low back sufferers what you really need is a supportive mattress, but many of us find it difficult to differentiate between what is firm and what is supportive.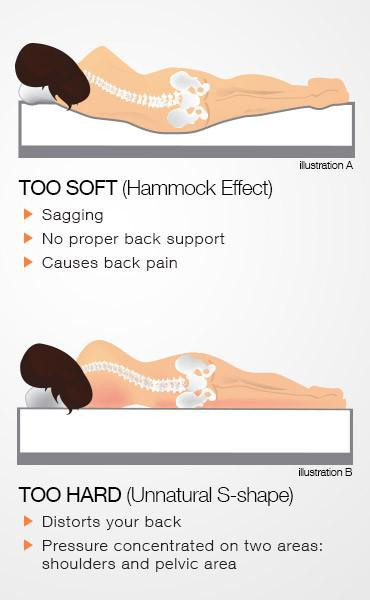 A firm mattress creates pressure points on the bony extremities of the body, such as the shoulders and pelvic area.
For someone with a bad back, this can lead to all sorts of muscular aches as the body tries to adjust to the lack of spinal support around the lower back.
This is not only very uncomfortable, but also painful and affects our quality of sleep, as the pressure points create numbness to the area causing you to frequently change position overnight to try to find a comfortable position to lie.
Around 60% of the population are traditionally ' side sleepers ' which is when they are most affected.
A mattress which is too firm will not support your spine in its normal alignment, and over time will lead to chronic hip and back pain.
Ideally, a medium firm density mattress is the best for back pain relief.
---
Is memory foam good for your back ?
Memory Foam was originally developed by NASA in the 1960's and was used to make aircraft cushions safer and more comfortable.
Memory foam is a high-density, low-resilience polyurethane foam that reacts to body heat, becoming soft enough to mould around a person in minutes. When the pressure is removed, it returns to its original shape. As it requires heat to change its shape a memory foam can be too warm for some people.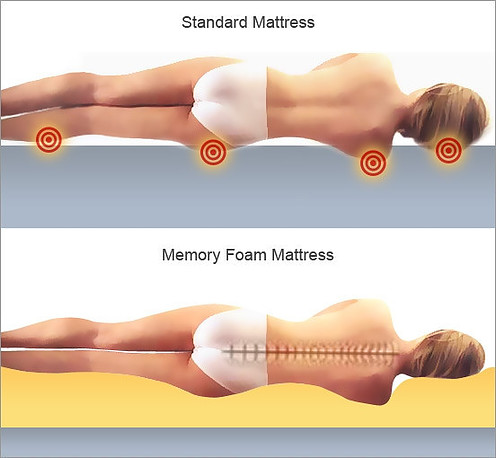 Memory foam has the unique ability to conform to your natural curves when you lie down. Instead of pushing against your body like a traditional mattress, a memory foam mattress warms and softens around you.
It is a popular choice for not only mattresses but also mattress toppers and pillows.
If you are looking for the perfect pillow to accompany your mattress, then CLICK HERE to view the best pillows for sleeping.
---
Which material is best for a bad back – latex or memory foam ?
Latex Mattress ( Pros )
Reduce allergies – a latex mattress prevents dust mites penetrating the surface and settling within. This helps to prevent allergic symptoms happening.
Fight bacterial growth – Hypoallergenic mattresses are often treated with antibacterial cover technology which helps to keep your mattress fresh and clean.
Latex wicks away moisture to prevent dust mites, bacteria and mould growth occurring.
Latex is very durable tending to always spring back to its original position.
It is very supportive and contours to the shape of your body.
Latex is one of the most eco-friendly mattress fillings available to buy.
They are very eco-friendly as natural and organic latex mattresses are made with organic, natural ingredients that have no additives, chemicals, glues or synthetics in them.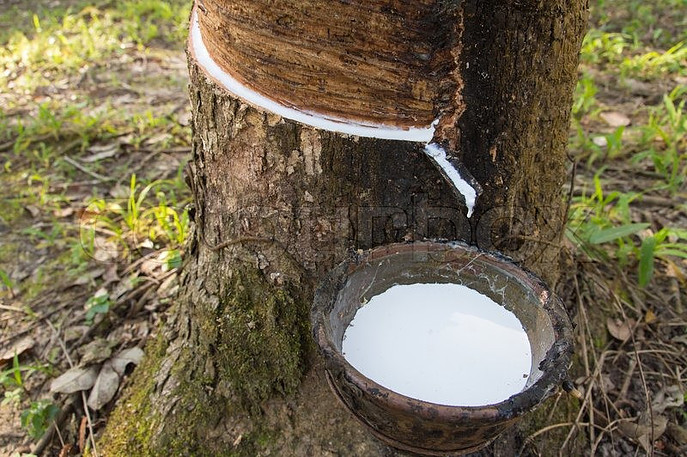 Latex Mattress ( Cons )
If you are buying a real latex mattress then they tend to be the most expensive mattresses on the market, due to the cost of the latex material.
Tend to be heavy making it extremely difficult to move them.
When you lie on a latex mattress it tends to have a ' bouncy feel ' to it, so unless you sleep alone you may find that you're disturbing your partner when moving about.
Not as pressure relieving as other mattresses, such as memory foam.
Memory Foam Mattress ( Pros )
The heat of your body allows a memory foam mattress to soften and mould to your individual shape.
It will help you maintain the correct alignment of your spine, with a natural curve that supports your lumbar back.
Memory foam has a great cushioning effect that softens those pressure point areas such as shoulders and pelvis.
Great if you are easily woken or a light sleeper as memory foam mattresses are quite dense, and you sink into them, so any movements you make are absorbed into the foam, unlike a traditional spring mattress.
Easy to clean by wiping down with a damp cloth periodically.
They generally have long warranties, often between 10 to 25 years that will protect you against any defective workmanship.
Tend to be good for all different types of sleeping positions, whether that's side sleeping, stomach sleepers or on your back.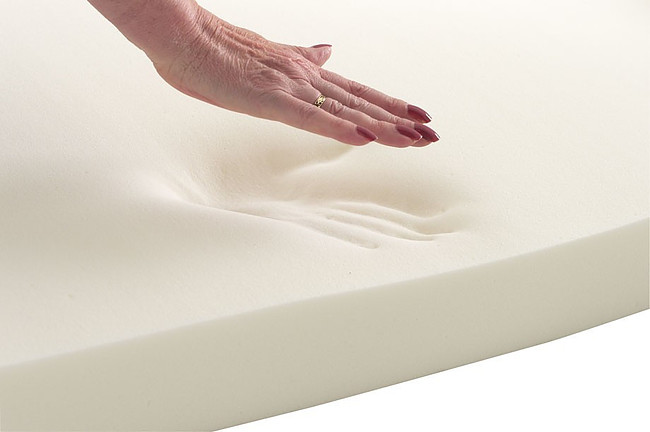 Cons
Can sometimes feel a little warm when sleeping due to the dense foam that cradles your body.
Tend to be expensive to buy, but you are buying a quality mattress which is a good investment over time.
Sometimes memory foam mattresses have an odour to them, which can happen when they haven't been aired sufficiently.
---
How back pain affects your sleep
It probably comes as no surprise that back pain, or any type of pain for that matter can make sleeping difficult. The National Sleep Foundation that one of the common facts that leads to insomnia is chronic back pain.
Whilst over the counter pain relief can offer some temporary respite, almost two-thirds of adults who suffer with back pain have difficulty sleeping due to aches and pains. Poor mattress quality can add to your problems.
So, here's a list of some common ways that back pain affects how well you sleep –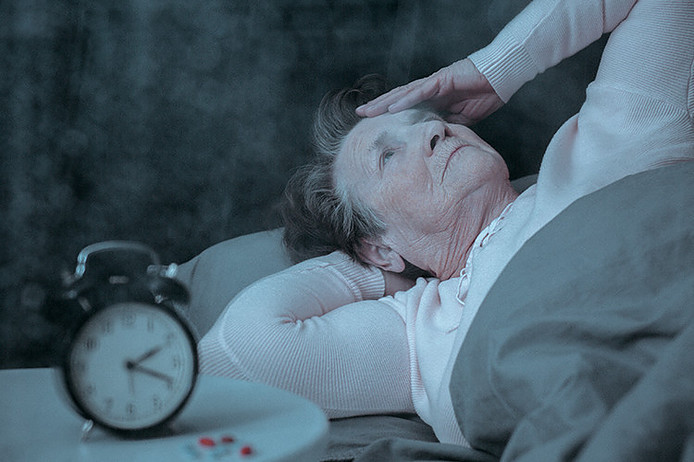 1) Difficulty trying to find a comfortable position
If you suffer with back problems then finding a comfortable sleeping position is difficult. You may try to compensate by changing position from your preferred choice to lessen the discomfort and pain. A new position may feel both unnatural and uncomfortable making it difficult to sleep.
2) Lack of exercise due to back pain
It is a well-known fact that exercising has a wide range of health benefits, including helping you fall asleep more quickly and improves sleep quality.
However, our natural response to pain is to do less, but the opposite holds true with back pain symptoms, because exercise helps muscles relax and increases blood flow to the area.
3) Medication for pain relief
Opioid analgesia medication is often used to treat severe or chronic back pain. A study investigated activity and sleep patterns in patients taking opioid and non‐opioid analgesia for chronic back pain.
It found that night‐time sleep disturbance is common in individuals suffering from chronic pain and may be further exacerbated by opioid treatment.
4) Common cause of insomnia
Back pain is a common cause of insomnia where a person finds it difficult both falling asleep or staying asleep.
Sleep deprivation over time can lead to other symptoms such as low energy, depression, fatigue and difficulty concentrating, which can all have a severe impact on your general health and well-being.
Studies have found that insomnia can make the symptoms of back pain worse, as people who experience poor sleep are more likely to have increased pain from their poor physical health.
---
Is your mattress causing you morning back pain ?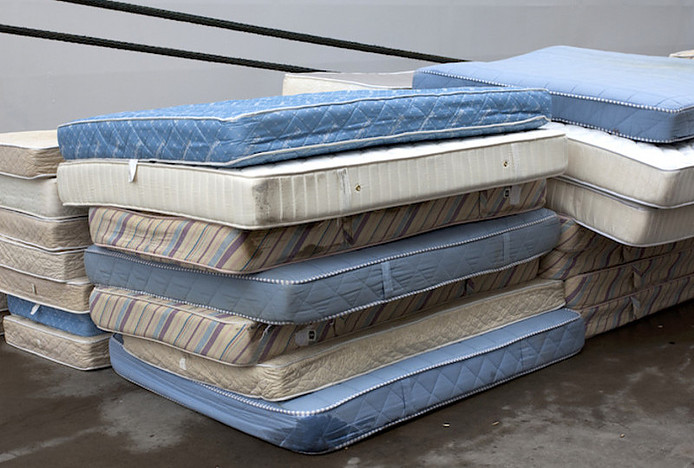 In general, sleep experts advise people to change their mattress every 8 to 10 years, although many people use them for a lot longer not realising that their old mattress is a contributing factor to their back pain.
If your poor sleeping posture isn't the cause of your back pain, then it is likely that it could be your mattress.
According to a 2009 study, changing mattresses older than nine years for newer ones can improve your sleep quality, and significantly reduce symptoms of back pain and discomfort.
---
Caring for your new mattress
If you want your new mattress to last then it's essential that you look after it properly.
Here are some great tips to get the best out of it.
Unwrap and air the mattress
Take any packaging off your mattress as soon as you get it, ideally in the room you are going to use it in.
Leave the mattress to air for several hours before using, as often there is a chemical smell from new.
Make a habit of airing your new mattress daily. It's a good idea to fold back your duvet cover and sheets (you can leave the fitted bottom sheet on) and let it air for 30 minutes. This ensures that ant body moisture from the mattress will evaporate, keeping it fresh.
Note – most new mattresses nowadays often don't require turning, although it is a good idea to flip round on the same side periodically to alter your sleeping position.
Clean your new mattress regularly
It is advisable to clean your mattress every 6 months.
Use a vacuum on both the mattress and also the base to remove any build up of hair, dirt or dust that accumulates. This will reduce the risk of any allergies from dust mites and keep it fresher for longer.
Protect it with a mattress topper
Whilst this isn't essential, many people decide to add a mattress topper to their new mattress which adds an extra layer of memory foam or padding. This additional layer provides not only comfort, but increases the longevity of your mattress.
---
How to Clean your Mattress
---
Guide to Mattress Sizes
( UK ) Standard Mattress Sizes
Small single: 75cm x 190cm
Single: 90cm x 190cm
Small double: 120cm x 190cm
Double: 135cm x 190cm
King size: 150cm x 200cm
Super-king-size: 180cm x 200cm
Emperor: 200cm x 202cm
Large emperor: 215cm x 217cm
---
Conclusion    –    The Best Mattress for Elderly Back Problems 2023
So there you have it, the best mattresses today for those who suffer with back pain and discomfort. Tips and advice on choosing the right mattress that is suitable for back pain relief for the elderly and seniors.
Hopefully you have found what you are looking for, but if you need any further help or advice please feel free to contact me at mark@elderlyfallsprevention.com and I will be happy to help you.
Note
None of the information given is intended to be a substitute for professional medical advice, diagnosis, or treatment. You should always ensure that you seek the advice of your general practitioner or other qualified health provider with any questions you may have regarding a medical condition. The contents of this website are for informational purposes only.
---
Please follow and like us: