People who suffer from Diabetes know only too well that their health is affected, which can sometimes limit their physical well-being and ability to carry out daily activities. Wearing specially designed shoes can help reduce the risk and promote healthy circulation in your feet.
The best diabetic shoes for women reduces the pressure and pain of incorrect footwear. They provide good stability and support to your feet, improving your walking, posture, and the ability to help you manage your daily activities and lifestyle better.
Health benefits of wearing diabetic footwear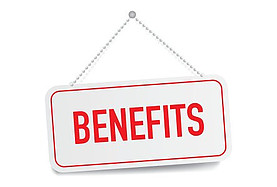 Increased blood flow
Better posture and stability to your ankle / foot
Reduced pain to your joints
Helps reduce pressure around nerves in your foot
More comfortable for those with foot disorders or deformities
Wide selection and styles of diabetic shoes available
Reduces the risk of worsening foot damage occurring
Best Diabetic Shoes for Women 2023
1) Women's Lightweight Breathable Diabetic Walking Orthoshoes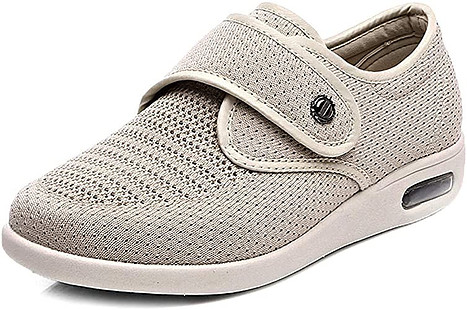 These stylish women's diabetic orthoshoes are lightweight and sturdy. Their stretch mesh breathable fabric and wide fitting Velcro support gives you a comfortable close-fitting shoe that is perfect for all activities.
Pros
Has a supportive cushioned removable insole that makes the fit really comfortable.
Lightweight breathable fabric that won't make your feet sweat.
The heel-to-toe padding provides lasting cushioning and shock absorption.
Protective toe box to protect your feet when you stub your toe.
Easy to care for and keep clean by either washing by hand, or in the washing machine.
Adjustable Velcro strap across your forefoot means you will always get a good fit.
These shoes are often recommended for diabetes, neuropathy, arthritis, plantar fasciitis, pronation, metatarsalgia, morton's neuroma, bunions, corns and hammer toes.
Cons
You may need to order a half size up.
---
2) Comfortable Orthofeet Charlotte Women's Shoes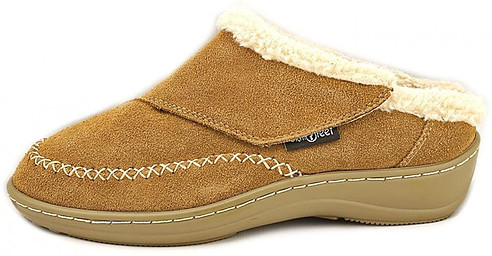 The Charlotte Brown slippers are designed with a built-in orthotic to provide anatomical arch support and cushioning even inside the house. With its hook and loop wide fitting design this stylish shoe ensures a warm comfortable fit all the time.
Pros
The soft cushioning when you step feels really comfortable especially for those painful feet.
Wide design and extra depth and round toe box provides a pressure free fit and ideal for swollen feet.
Attractive looking shoe that you could even wear indoors as slippers if you wanted.
There is plenty of toe room in these shoes so it doesn't feel like your toes are being pinched.
The Velcro strap-over is easily adjustable for a snug or looser fit.
They have a solid thick durable sole.
These shoes are often recommended for diabetes, neuropathy, arthritis, plantar fasciitis, pronation, metatarsalgia, morton's neuroma, bunions, corns and hammer toes.
Cons
Little loud inside walking on hardwood or tiled floors.
---
3) Women's Adjustable Air Cushion Diabetic Walking Shoes
These Orthofeet diabetic women's Velcro shoes are lightweight, sturdy and made from a breathable material that keeps your feet fresh no matter what activities you are doing. The adjustable Velcro clasp provides a comfortable secure fit that will keep you safe and steady on your feet.
Pros
Has a good non-slip rubber sole that will keep you steady on your feet.
The stretch mesh upper moulds around your foot giving you a comfortable.
Lightweight design with a breathable fabric to stop your feet from sweating.
Have detachable spongy padded insoles so you can customise them to your own individual comfortable fit.
Simple plain looking design that you could also wear inside as slippers if you wanted.
Cons
May be a little tight for those with a wider foot.
---
4) Women's Extra Wide Orthopaedic Diabetic Walking Shoes
These triple Velcro adjustable diabetic walking shoes are perfect for those who suffer with swollen feet and need a larger wider fitting shoe. The cushioned supportive sole provides a comfortable fit to reduce those painful and aching feet.
Pros
The adjustable Velcro supports are perfect to adjust to your changing foot size. The Velcro heel adjustment is a particularly good feature that you don't see on many diabetic orthopaedic shoes, which allows you comfort and support to your foot.
Has a woven breathable fabric which stops you feet from over heating.
Available in 3 attractive colours (grey, blue and black).
Has a sturdy durable sole that won't wear easily.
Could easily wear over the top of compression bandages.
Great shoe for anyone who is recovering from foot surgery.
Cons
They are not a particularly attractive looking shoe, but at the end of the day you need a practical shoe for your diabetic feet or other foot related problems.
---
5) Padders Enfold Wide Fitting Ladies Diabetic Slipper Shoe

The Padders Enfold wide fitting slipper shoe is designed for one thing, and that is comfort. Their memory foam insoles mould to your feet relieving painful pressure points, and are ideal for a range of foot related problems.
Pros
They can be easily wiped clean due to the Microsuede upper fabric.
The easily adjustable Velcro straps on the top and heel make it really easy to mould to the shape of your feet.
Solid hard-wearing sole makes them versatile that means they can be worn indoors or popping outdoors in the garden.
You can easily give them a quick wash by hand and they will look like new.
Perfect for those with a wider foot ( the Padders Enfold are a wide EE fit ).
The memory foam insole is soft and comfortable for your feet.
Cons
They are not available in half sizes.
---
6) Dr Keller Women's Diabetic Orthopaedic Fur Lined Comfort Slipper Shoes
The Dr. Keller Diabetic Orthopaedic Women's slipper shoes have a simple Velcro clasp opening at the top which gives you comfort and support every time you wear them. This simple and stylish slipper shoe are supportive with a cosy, snug feel to them.
Pros
They feature a Velcro opening that runs up to the toe which means you can put your foot flat in the slipper before closing.
Easy fitting and removal of your feet.
Hand washable.
Good solid non-slip sole that gives you plenty of traction when walking on smooth or uneven surfaces.
Available in 5 attractive different colours.
Cons
Quite narrow across the toes.
---
What is the difference between normal shoes and diabetic shoes for women?
On the outside your regular normal everyday shoes probably don't look too dissimilar to a pair of specially made therapeutic diabetic shoes.
However, there are some major differences, such as the type of materials used, size, shoe height, depth of shoe and collar size.
Here's a list of the main differences between normal shoes and diabetic shoes for women.
Normal Shoes
Made from cheaper materials such as synthetic materials, plastics and rubber.
Have inner stitching and seams that can rub against your foot.
Don't have shock absorbing cushioning.
No additional padding around heel or toe box of shoe.
Often made from non breathable materials.
Non adjustable to alter the fit of the shoe to your foot.
Don't tend to be a very deep fit.
Have a solid heel.
Diabetic Shoes
Made from natural materials such as leather that is able to stretch.
Breathable that won't trap moisture in your feet and are fast drying.
Have air pockets and shock absorbing cushioning in the heel.
Additional padding support throughout the shoe.
Seam free interior to the shoe that won't rub your feet.
Have adjustable Velcro attachments to accommodate swollen toes and feet.
Wider deeper fit.
Special features associated with diabetic shoes
Cushioning sole
A lightweight cushioned sole that supports the foot giving you added stability when walking around.
Protective interior
A seam free protective interior made from a soft material that doesn't cause irritation to your heel, toes or mid foot.
Deep toe box
Increased space around the toe area of the shoe which reduces pressure and provides extra room for your toes to move around inside.
Stretchable fabric
The stretchable fabric of the diabetic shoe ensures that it shapes themselves to the contours of your feet and stop pressure points from occurring.
Extra depth design
Diabetic footwear has extra space that allows you to add insoles or orthotic inserts, as well reducing pressure on often swollen feet allowing them to move freely.
Material used
The material used is very important as it needs to be flexible to accommodate your feet swelling, a common condition which a lot of people with diabetes suffer with. Leather or a mesh design is a good choice as it is able to expand and stretch.
Extra wide fit
It is important that when buying diabetic shoes for men that you consider how wide the shoe should be. Many people with diabetes suffer with oedema and increased swelling to both the feet and ankle. Shoes with an adjustable Velcro attachment are common and help ensure you have a comfortable fit.
Air pockets
The cushioning effect of air pockets helps reduce the stress on your joints and ensures comfortable heel strike when walking.
Orthotic support
Orthotic insoles are helpful reducing pressure sores or excess friction on the foot. They help provide arch support, particularly common in people with over-pronation or fallen arches, offering good cushioning and reduces pressure on the bottom of the foot.
---
How diabetes affects your feet
Prolonged periods of high blood sugar levels in people with diabetes can cause serious foot complications.
Two of the main foot problems that occur are peripheral vascular disease and diabetic neuropathy.
Foot problems are common with people with diabetes, but by taking good care of your feet every day, and monitoring your blood glucose levels, you can help keep your feet healthier for longer.
Diabetic Neuropathy
Neuropathy is a nerve disorder that is either a motor (nerve damage affecting your muscles), sensory (touch with your hands and feet) or autonomic (involuntary actions such as your heart and digestion) neuropathy.
Diabetic neuropathy occurs in 60-70% of people with diabetes, and is caused by long periods of higher than normal blood glucose levels that damages the nerves.
Associated with the development of nerve damage is a blood fat, triglycerides which is something you have measured when you have a cholesterol check.
The nerve damage causes pain, loss of sensation and feeling to your feet, and tingling feelings. This can lead to sores and cuts developing and being infected leading to ulcers.
Restricted blood flow to your feet leads to poor healing to open wounds and ulcers, which can ultimately lead to chronic wounds, infections and tissue necrosis. This leads to removal or amputation of the dead tissue.
Peripheral Vascular Disease
This is a blood circulation disorder that causes the blood vessels of your veins and arteries outside your brain and heart to become narrow, spasm and eventually completely block.
Peripheral vascular disease causes fatigue and pain in your legs, especially moving around and exercising.
---
What are the signs and symptoms of diabetic feet
Having diabetes means that you are of a greater risk of developing serious foot problems, so it's important to check your feet regularly and spot those tell tales signs.
Pins and needles (numbness) or tingling sensation.
Exaggerated sensation to touching things.
Increased swelling in your feet.
New sores or wounds that don't seem to heel.
Your feet are either very cold or hot.
A burning pain in your foot.
Loss of feeling in your feet or legs.
Cramp in your calves at rest or when mobile.
Loss of hair on your feet and legs.
Skin on your feet is smooth and shiny.
Your feet don't sweat.
Loss of feeling in your feet or legs.
Dull ache in feet.
Strong foul smell coming from an open wound.
Any changes in the shape or colour of your feet.
The symptoms you experience are often worse at night which can lead to a disrupted sleep pattern.
You may also experience muscle weakness caused by damage to your nerves from elevated blood sugar levels. This can make everyday functional tasks such as standing from a chair or bed more difficult, In addition you may experience co-ordination and balance problems when walking which can put you at higher risk of falling.
---
Ways to take care of your diabetic feet
1) Never walk around barefoot
If your are in your house always ensure you are wearing slippers or shoes, as it is so easy to scratch or cut your skin.
2) Check your feet daily
Always inspect your feet daily for any changes to them such as increased swelling, redness, new cuts, blisters or nail problems.
3) Always wear clean, dry socks
Change your socks daily and try use ones that won't make your feet sweat, such as merino wool, that not only will keep your feet warm, but will wick moisture away from the skin. In addition, make sure the socks have extra cushioning to support your feet.
4) Always check your footwear before wearing
Diabetes causes nerve damage in your feet which in turn causes reduced sensation and feeling in your feet. Always check the inside of your shoes or house slippers for loose stones, grit or anything that can potentially cut your feet.
5) Take care when washing your feet
It is important to keep your feet clean and best to wash them daily in lukewarm water. Wash them using a face cloth or sponge, and rather than rubbing them which could make your feet sore, pat them dry taking special care to dry carefully between your toes.
6) Moisturise your feet daily
Use a gentle moisturiser on your feet to prevent dry cracked skin, that if left could cause worsening problems for your feet.
7) Take good care of your nails
Try to keep your nails short but not that short that you could develop ingrowing toenails. Also, keep an eye on them for any signs of developing a fungal infection.
8) Get regular check ups of your feet
It is always a good idea to get a regular examination of your feet by your doctor or podiatrist to ensure you don't develop any problems.
---
Best Diabetic Shoes for Women 2023
Most of the common foot problems associated with diabetes in the elderly can be greatly improved by wearing the correct fitting footwear, both in and out of your home.
Wearing a supportive fitting shoe makes it easier to maintain a more natural walking pattern, posture, and prevent unwanted stresses and strains on joints and muscles.
As you get older wearing the right supportive and comfortable footwear is absolutely vital for those suffering with diabetic related foot problems in keeping your feet healthy.
If you need any further help or advice, please feel free to contact me at mark@elderlyfallsprevention.com and I will be happy to help.
Please follow and like us: