Loss of mobility can affect us all, but in the case of the elderly it can be devastating. Loss of function and independence can lead to isolation, further physical decline and depression.
Mobility aids and the elderly go hand in hand together.They come in all different shapes and sizes to assist you getting safely around, both inside and outside your home.They can help promote independence and make activities of daily living easier and more enjoyable. They also can help prevent falls happening,
Appropriate Aid
Choosing the right mobility aid depends very much on the person. Sometimes, all that is needed is a simple walking stick to give someone a little extra support when walking to help their balance and confidence.
Walker zimmer frames and rollator frames provide a little extra support to be used inside, whereas a kitchen trolley is a great functional aid to assist you around the house.
3 & 4 wheel rollators are perfect for keeping your independence out and about. Some have added seats and storage space depending on your particular need.
There are a wide selection of aids available so it is important to break down a persons normal daily routine, and look at everyday functional tasks to ascertain what specific equipment is most suitable for them.
So let's have a look at what is available –
Walking Sticks, Canes & Accessories
Walking sticks and canes are a great way to help you if you need a little extra support when walking about. They give you increased confidence and independence to manage your daily activities. They come in lots of different styles and shapes, but essentially are all the same in that they help you manage your walking more easily.
The NRS Healthcare Walking Stick
is a height adjustable, lightweight walking stick. It has a large easy grip contoured PVC handle for comfort and support. This is a simple, affordable walking stick, and is ideal to use both indoors or outdoors.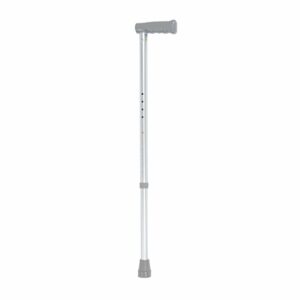 It is the same stick I use day to day, in my job as a physiotherapist when assessing someone, and offers really good support for you
It is height adjustable between: 840 – 1095 mm (33-43″), and can accommodate a maximum user weight of 127 kg (20 st).
Folding walking sticks are ideal if you need to fold away for easy storage. The Drive DeVilbiss Healthcare Folding Walking Stick
has a gel grip handle for comfort, particularly helpful for someone with a painful or arthritic hand.

It easily folds away into 4 convenient sections to store away whilst out and about.
(It comes in three different colours – black, red and blue).
The  NRS Healthcare Fischer Handle Walking Stick
 has an ergonomically shaped handle which fits like a mould around a person's palm. As you grip the stick it evenly spreads the weight across your palm. 
It is ideal for someone who is suffering with arthritic fingers, hand and wrist, particularly those with rheumatoid arthritis.

As it is moulded to the shape of your hand you need to decide whether you need a left or right handed version of the stick.
It is lightweight and sturdy and is height adjustable.
710mm – 940mm  (28″ – 37″).
Some people prefer to use a Traditional Crook Handle Walking Stick
 to the typical " L " or " T " shaped design.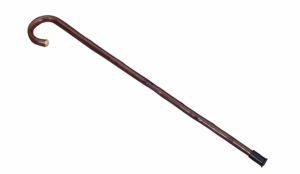 The stick is made of solid chestnut wood, and is sturdy and supportive to use, but the disadvantage of using one is that it needs to be cut down to the correct height for the user.
The rubber cap or ferrule at the end of the stick can easily be removed and fitted again.
 
The Classic Cane
 has a matt black hardwood shaft and a metal ferrule. It has a decorated chrome plated cap and is more of a traditional cane.
It certainly doesn't offer the same support as the conventional walking stick with secure handle and grip, and is probably best for someone who only requires minimal support when walking. 
People with poor co-ordination and balance, or a noticeable weakness to one side of their body, as with a person recovering from a stroke, require a wider base of support from a stick.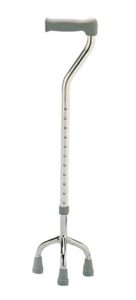 The Adjustable Tripod Walking Stick
 with its three feet provides additional stability for someone walking.

It has a soft comfortable grip handle and is height adjustable (690 – 940mm).

The Quad Walking Stick has a four legged base and offers even more stability and support. It is made of lightweight aluminium but is also very durable.
Suitable for both indoor and outdoor use, it has a non slip, easy grip handle. It is also height adjustable (28.25  –  38.25″).
Ferrules
The Ferrule is an important addition to any stick. Normally made of rubber it fits on the end of your stick and grips the surface of the ground allowing you to lean your weight on your stick with confidence, and prevent slipping.
The wider the diameter of the stick the bigger the ferrule is going to be, so it is always important to check before buying to ensure you have the correct fit.
Always take regular checks on the underneath surface of the ferrule as they become worn over time (very much like a car with no tread on your tyres, if the ferrule is completely worn down it is of little use, and needs replacing.
This is just a small selection of walking sticks and canes available. It is very much up to the individual as to which is the most suitable one to buy.
However, the most important consideration is how supportive and stable the mobility aid is assisting someone in their day to day activities. If you want to look at some of the Best Walking Canes 2022 then CLICK HERE.
How to measure your cane or stick to ensure it's the correct height
Making sure that that your walking cane or stick is the correct height for you is the key to safe use, improved mobility and lessens the risk of injuries occurring.
Many models of canes are adjustable, but it is still helpful to set your cane or stick to the correct height from the start.
Step 1: The correct positioning for the user
The user should stand upright wearing footwear they would normally wear for walking in, with their arms relaxed (with a slight normal bend of the elbows), and by their side.
Step 2: Measure the walking cane or stick
Measure the distance from the crease line of your wrist to the floor. This is the correct height that your cane or stick should be (from the top of the handle to the underneath part of the rubber tip or ferrule).
Cut or adjust the cane or stick to the correct height you need.
Note – non-adjustable canes and sticks may need to be cut down to the correct size.
An estimate of the proper cane length can be made by dividing an individual's height by two. For most persons, the right sized cane is within one inch of half their height. This guideline can be applied if the user is not available for an actual measurement.
How to walk correctly using your cane or stick
The correct cane can relieve pressure on sore knees, hips, ankles and feet, as well as improve your balance. However, it's important that you use the correct gait when using your cane or stick.
Walking Frames & Trolleys
For people who are unsteady on their feet and need more support than just a walking stick, the walking frame is ideal.
Often known as walker zimmer frames they come with either 4 ferrules on each leg support, or have 2 wheels at the front and ferrules at the back which makes it easier to walk with.
People do use these walking frames outdoors but they are essentially an indoor mobility aid.
The NRS Walking Frame
 is made of strong aluminium but is also lightweight allowing it to be moved easily. It has soft comfortable handles for support and is available in 3 different adjustable heights.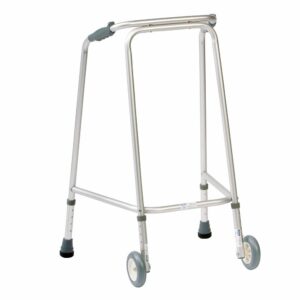 Small  (26 – 30″)
Medium (30 – 33″)
Large (34 – 37″)
This is a well recognised and used walking frame, often known as a rollator frame because it has two wheels at the front to navigate forwards. At the back of the frame it has two ferrules, which provide good support and stability whether using it on wooden, carpeted or smooth laminate or tiles.
If you are looking for a frame with easy storage and transportation then the Drive DeVilbiss Healthcare Folding Walking Frame
is well worth a look. With its easy push button mechanisms the frame can easily be folded and stored away.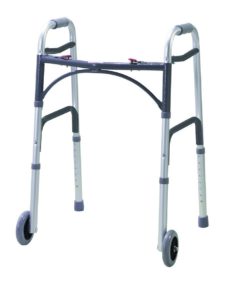 It is lightweight and easy to navigate, allowing a good stable base of support for the user.
Although walking frames are a useful mobility aid to use indoors, in my experience many people I see still struggle doing some of the day to day functional tasks, such as meal preparation or simply carrying items from one room to another.
They would benefit from using an indoor trolley, often known as a kitchen trolley, as they are used to carry items such as a drink, or plate of food to and from the kitchen.
This is where the Aidapt Height Adjustable Trolley
 is so useful. It has two trays to allow you to carry and transport items on. It has height adjustable clips that can easily be altered.
It has 4 castors which allows to navigate and turn the trolley easily, and is more stable and less likely to tip over when you remove one hand from it, unlike the walking frame.
This is by far a better option for many people inside their house than using a frame.
The only down side to using it is that can sometimes race away from you when used on tiled or smooth flooring.

A slight variation in design is the Days Flat Packed Plastic Shelf Trolley
 where the trays are slightly offset. They both are height adjustable and it very much depends on your personal choice as to which to use.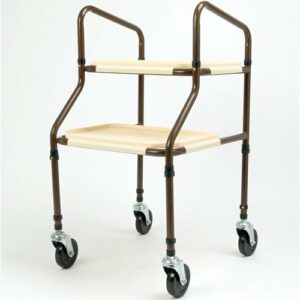 Has two clip-on plastic shelves that can easily be attached and removed for easy cleaning and convenience.

For safe and secure use the maximum user weight capacity is 125 kg (19.5 st).
A little more expensive is the Homecraft Deluxe Trolley Walker
with the added feature of having lockable hand brakes. This can be used as both an indoor or outdoor aid.

It has easily adjustable handles to alter the height (755 – 905mm  /  29.75 – 35.75″).
The large 6″ diameter wheels offer great support and control, when you are using.
3 & 4 Wheeled Rollators
Rollators are a great functional mobility aid that although used mainly used outside your home, can also be used inside. There are 3 wheeled rollators and 4 wheeled rollators which come in many different weights, styles and designs depending on your individual need and preference.
Unlike the walking frame where at times you have to lift to move, the rollators can easily be pushed forwards with little effort needed.
This helps people with reduced strength in their hands and arms, as well as weaker legs, or someone with poor balance and co-ordination.
Which is the best rollator for you ?
3 wheeled rollators
Lightweight
Narrower – can be used inside
Able to fold down for easy storage / access between rooms
Have a tighter turning radius and easier to navigate in tight spaces
Tend to be cheaper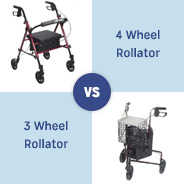 4 wheeled rollators
Mainly heavier although some lighter versions available
Wider base – ideal for outdoor use
Rest seat
Greater stability when walking
More expensive
Things to consider before buying a rollator
How much support do I need when I am walking around ?
Where is the rollator mainly to be used ? – many of the 4 wheeled walkers are too wide to move from room to room inside.
Do I tire easily and require regular rests – do I need a seat ?
How much storage space do I need – shopping outdoors ?
Your budget  –  How much can I afford to spend ?
A selection of some of the best 3 wheeled walkers
The Days Lightweight Aluminium Folding 3 Wheeled Walker
is ideal to use inside or outside. At only 5kg in weight it can be manoeuvred easily around, but also folded away in an upright position for easy storage.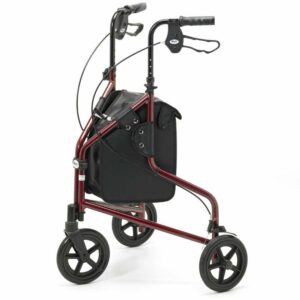 It has simple to use loop push lockable brakes and comfortable handles support, ideal for anyone with arthritic hands or weak grip. It has a durable carry bag to store items in.
This 3 wheeled walker is lightweight and great to turn around, particularly where space is an issue. It is a popular, functional 3 wheeled walker.
With its strong height adjustable steel frame, the NRS Healthcare 3 Wheeled Walker
 is a great walker to use.

In addition to the easy clip on carry bag, it also has a basket and removable tray, which allows you more storage space.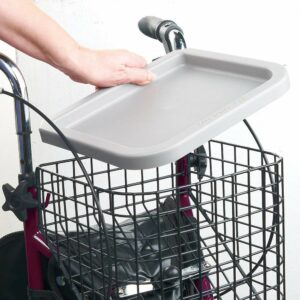 The detachable tray makes the NRS Healthcare 3 Wheeled Walker
 a perfect mobility aid to use, inside as well as outside, allowing you to carry drinks, food or anything you choose from room to room.
It has adjustable handle heights (83 – 93cm  /  32.75 – 36.75″).
Also available is the Days 3 Wheeled Walker with Loop Lockable Brakes
, which comes with a waterproof bag and comfortable ergonomic hand grips for the user.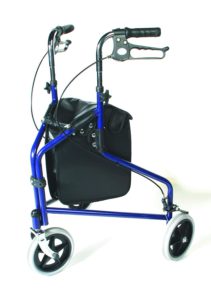 It is able to support a user weight of 125kg, and is available in 4 different colours
(chrome, silver grey, red and blue).
If your looking for an ultra lightweight model then the Days Lightweight Aluminium Folding 3 Wheeled Rollator could be just the thing for you.
The super lightweight frame only weighs 5.0 Kg, perfect for someone with reduced strength.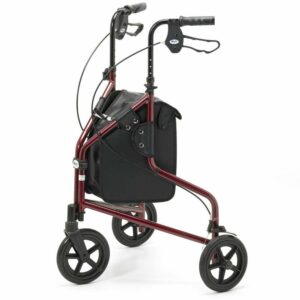 This attractive looking rollator has arthritic friendly grip handles, and easily folds away when not in use.
It has a clip on storage bag, and is available in either red or blue with a 1 year warranty.
Here's some of the best 4 wheeled walkers to use
The NRS Healthcare Lightweight Four Wheeled Rollator with Seat
 is a perfect addition when you are out and about.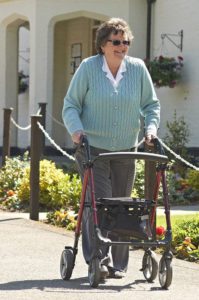 It comes with a foldable, adjustable comfortable seat perfect when you need a little rest when out and about. The padded back rest support gives you extra support.
The castor wheels at the front make it is easier to navigate and turn in tight spaces.
It's  also lightweight and folds away easily for transporting or storing away.
The Drive DeVilbiss Healthcare R8 Aluminium Rollator
has a rustproof aluminium frame providing longevity and stability for the user. Some of the main features are –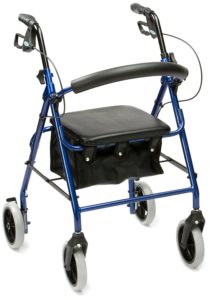 Arthritic friendly looped cable brakes activate effortlessly and are lockable for additional safety
Padded flip up seat for access to storage bag or for folding away
Lightweight frame (under 7kg) which is easy to manoeuvre
Padded curved backrest which offers comfortable support when sitting
Adjustable handle heights
If you are looking for a rollator that folds neatly into a compact space for easier storage and transport, then the Days Deluxe Lightweight Rollator
 is ideal for you.
In a standing position it folds away easily to just 28cm (11″ wide), and when completely folded down it measures  66 cm (26″ high), 28 cm (11″ wide), and 39 cm (15.25 " deep).
It has height adjustable handles with 5 height settings at 25 mm (1″ intervals), simple to use loop push lockable parking brakes, and comfortable ergonomic contoured handles ideal for anyone with arthritic hands or weak grip.
It is supplied complete with a canvas backrest, net carry bag and a walking stick holder as standard.
The Drive De Vilbiss Healthcare Red Nitro 4 Wheeled Rollator
 has a lightweight aluminium frame with a storage bag seat and backrest.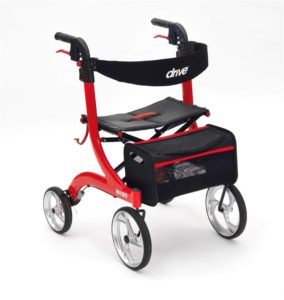 What sets it apart for some of the other 4 wheeled rollators are the large 10″ front castor wheels, which allows it to turn easily, offering a stable base when pushing over uneven surfaces outside. It also has a cross brace design for better stability.
It has easily adjustable handles (height range 85cm – 97cm), and a maximum user weight 135Kg (21 Stone).
This 4 wheeled rollator's fancy looking design sets it apart from other 4 wheeled rollators, but at a price. There are certainly cheaper rollators available to consider that offer exactly the same that the Red Nitro 4 offers.
Bariatric Mobility Aids and the Elderly
For the heavier bariatric user there are many products available to help make your everyday life a little easier.
Here is just a selection of some high quality affordable options for you.
Bariatric Walking Sticks & Canes 
The Homecraft Bariatric Offset Handle and Loop Walking Stick
 is a heavy duty height adjustable walking aid.
It has the added advantage of a curved neck, which enables the user's weight to be placed directly above the stick shaft, offering greater support and stability. 
It is designed particularly with the bariatric user in mind.
With its four point base the Drive Medical Chrome Bariatric Quad Cane
 offers great support for someone who relies heavily on using a stick to mobilise safely.
It has comfortable hand grips height adjustable from 30″ to 39″, and has a maximum user weight of 222Kg (35.5 Stones).
Bariatric Rollators
When it comes to bariatric walkers the Heavy Duty Bariatric Folding 4 Wheeled Rollator 
is perfect.

The framework is manufactured in a heavier gauge steel tubing for extra support and stability,
and comes with an extra wide padded seat for added comfort.
It has an adjustable back rest and has a maximum user weight of 178 kg.
If you are looking for a more affordable option then the Heavy Duty Aluminium Rollator could be the answer.
It has a strong aluminium and durable frame, but is also surprisingly easy to manoeuvre around.
It has comfortable grip support with padded seat and backrest, and is able to accommodate a user weight of up to 26 stones.

Many of the products mentioned here I have personal experience of using, from assessing people in my day to day job as a physiotherapist.
Mobility aids for the elderly are an effective way of helping reduce the risk of falls and injuries, helping a person maximise their independence, and manage activities of daily living more easily and effectively, given them an improved quality of life.
If you need any help and advice with any type of mobility aid, please don't hesitate to contact me at mark@elderlyfallsprevention.com, and I will be happy to help.
Please follow and like us: