What's the best non slip bath mat for you ?
For those with reduced strength, balance and co-ordination taking a bath safely can be a real problem.
Even with additional grab rails in the bath to support and steady you, wet surfaces add to the risk of someone slipping and falling over in the bath, particularly when getting in and out.
Many people also have showers fitted over the bath which increases the risk of slipping and falling. Bath mats, both inside or outside your bath or shower are a great way to prevent falls happening.
The Best Non Slip Bath Mats 2023 are a simple and affordable solution to your problem, giving you the confidence and independence to manage your personal care safely.
---
Buying Guide for Non Slip Bath Mats
Bath mats are a common feature in almost all our bathrooms, and are used both inside and outside the bath tub or shower. Here's a list of some key things you need to consider before you buy one.
1) Does it have enough suction ?
Check that the bath mat has lots of suction pads on it depending on the size of the bath mat.
You want the mat to be secure and fixed to the bath or shower, and no chance of it moving when you are stood on it.
If you are using a fabric bath mat for outside the bath, make sure that the underside is made of a non-slip material.
2) Picking the right size
Sounds easy, but you need to consider how much space the anti-slip bath mat is going to take up.In in a large oval bath you will need a larger mat than in a small shower enclosure.
If the bath mat is used outside the bath, check to make sure it's long enough for when you step out of the bath.
3) Is the bath mat mildew and mould resistant ?
This is really important. Where there is water, mould and mildew quickly follow. There is also an increased risk of fungal infections especially on the feet.
Check when buying the bath mat that it is protected – the last thing you want is those tell-tale black and green patches on your mat.
4) Can you clean it easily ?
You are going to get a lot of use out of your bath mat, so you need to ensure you it can be easily washed and dried, timeafter time. Check that it can be machine washed, normally at 30 degrees, as not every mat can.
Most fabric mats can be easily machine or hand washed and either line dried, or dried in a tumble dryer.
5) What colour bath mat do I need ?
In addition to size and material, you'll want to think about the decor in your bathroom and find a bath mat that matches your colour scheme. Bath mats come in lots of different patterns, textures and colours.
So there you have it, great tips and advice to ensure that you pick the bath mat that's right for you.
---
Best Non Slip Bath Mats 2023
( For outside the bath )
1) Luxury Grey Microfibre Non Slip Bath Mat
( My No 1 choice mat for outside the bath )

This soft and stylish bath mat is so comfortable underfoot due to the microfibre design. It's Luxuriously fluffy and the ultra absorbent cotton material makes it really easy to wash.
Pros
This mat dries really quickly due to its ultra absorbent microfibre cotton material.
Soft and really comfortable
This bath mat is so luxurious – I was surprised at how soft it is. It's nicely padded as well so feels amazing underfoot.
It also comes with a non-slip mat for using under the mat, just in case there is any movement against your floor.
This shaggy grey mat will look good in any bathroom.
Cons
There's not a lot to dislike about this mat. You may find a cheaper alternative, but will it be as good ?
---
2) Homcomoda Bath Mats Microfibre Non-slip Bath Rugs for Bathroom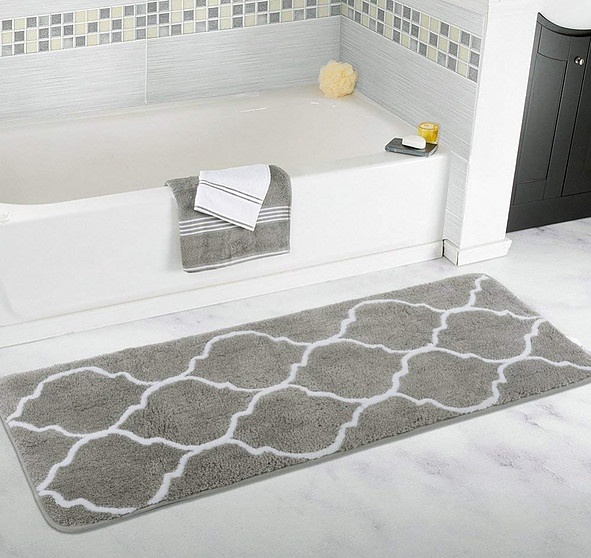 The Homcomoda non-slip bath mat is made of a high density microfibre fabric, with excellent water absorption and anti mould, that provides a beautiful and safe addition to your bathroom.
Pros
The elegant geometric pattern design of the mat provides a beautiful decoration for your home.
The edges of the mat are securely wrapped which prevents the mat from fraying at the edges, which extends the life of it.
Hygienic and good water absorption
The non-slip bath mat adopts high density microfibre fabric, and has excellent water absorption and anti-mould, which means that it dries nice and fast to prevent the buildup of mould, mildew and bacteria.
The Homcomoda bath mat has a soft anti slip backing making it very safe for you to use once it's safely in position.
Cons
Some people may prefer a wider mat, as it is long and narrow.
---
3) Allure Bath Fashions Extra Thick Quick Drying Prestige Supersoft Bath Mat

This Elegance Reversible Deep Pile Prestige Bath Mat from Allure Bath Fashions is the ultimate in luxury, with a deep pile made from the softest ring spun cotton. With its stylish look and generous size, this is the perfect mat for every bathroom.
Pros
This bath mat uses the best quality dyes, so the mat will keep looking good wash after wash.
This mat is a generous size and measures 85cm x 55cm.
Only the best quality dyes are used in this mat, which ensures that you get longer lasting colours, wash after wash.
Contains 2200gsm reversible loops of long-staple cotton to create a luxurious deep pile and heavy weighted bath mat.
Naturally environmentally friendly
This mat is made from natural fibre cotton that meets the European Oekotex 100 standard, which ensures no harmful chemicals or dyes were used in its manufacture.
Cons
Slight plastic odour from new, but soon fades with a few washes.
---
4) ITSOFT Slow Recovery Memory Foam Non-Slip Water Absorbent Bath Mat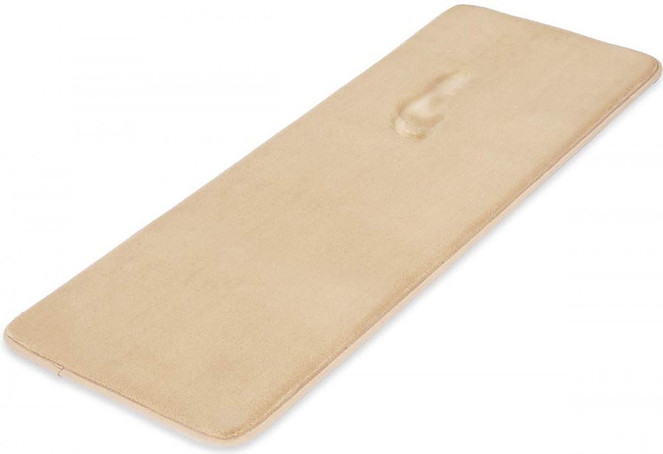 Step out of your tub and into luxury with the Itsoft Slow Recovery Memory Foam Bath Mat. It features a soft and absorbent top layer and a memory foam core, bringing you maximum comfort while you dry off and get ready to start your day.
Pros
This mat is super absorbent and dries exceptionally quickly, even after its been given quite a soaking.
Soft and comfortable feel
The bathroom mat is filled with thick polyurethane memory foam giving it a really comfortable feel on your feet, and the outer material is super soft and cozy coral velvet feel microfibre.
The bottom of the bath mat is covered with lots of PVC dots, which keeps the mat stuck firmly to the floor.
Easy to clean, whether by hand or machine washed, this bath mat will keep looking good with no loose fibres or fading colours.
Cons
The pile can flatten over time with repeated use.
---
5) DADA Non Slip Absorbent Luxury Soft Microfiber Bath Mat

This luxury high quality bath mat from DADA will make sure you feel comfortable and safe every time you use it.
Pros
Soft and comfortable underfoot
The mat has thick dense fibres that won't easily flatten when you stand on them, so it always feels soft to the touch.
Absorbs water really well
The strong water absorbent ability of this bath mat means that your bathroom floor stays dry and clean for longer.
You won't slip or slide on this bath mat due to the durable heavy weighted anti skid backing.
Really easy to keep clean, whether a quick hand wash or pop in the machine. It keeps looking as good as new.
Cons
Some people might find they need a larger size mat.
---
Best Non Slip Bath Mats 2023
( For inside the bath )
1) Anti-Slip Anti-Bacterial Bath Mat 16″ x 28″
( My No 1 choice mat for inside the bath )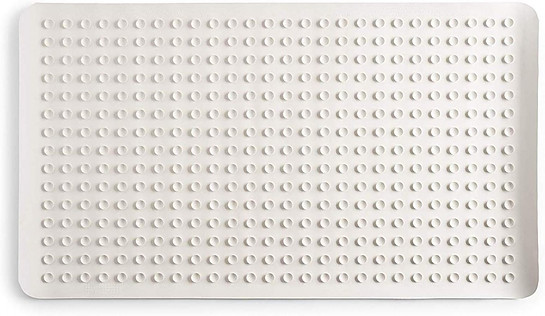 This heavy-duty rubber bath mat from Epica stands up to repeated daily use, but the textured surface will stay soft to the touch, and comfortable on your feet and body for years to come.
Pros
This mat contains hundreds of high strength suction cups, so you know when you put this bath mat in your bath or shower it isn't going to move anywhere. This is one of the strongest bath mats around !
Easy cleaning and anti-bacterial
It can be easily machine washed time and time again always looking as good as new, so you never have to worry about bacteria, mold and mildew on your mat.
The bath mat is comfortable and offers really cushioned support, whether you are standing or sitting on it.
This heavy-duty rubber bath mat stands up to repeated daily use, but the textured surface will stay soft to the touch and comfortable for years to come.
No matter what your choice of colour in your bathroom is, this beautiful and elegant large bath mat will compliment it well.
Cons
Slight rubber odour from new, but this tends to fade with use over time.
---
2) Bathsafe Extra Wide 34 1/2″ x 23″ Non Slip Soft Bath Mat

This extra large size bath mat ( 34 1/2″ x 23″ ) provides excellent coverage in both the bath and shower, compared with other mats that can leave areas exposed, increasing your risk of slipping.
Pros
This bath mat is large enough to be used in either the bath or shower, and it's big enough to ensure that there are no places where you could potentially slip and fall.
This anti-slip bath/shower mat is both anti-bacterial and mildew resistant which gives you piece of mind that it's clean and safe using. In addition, it is also BPA Free, Non-toxic and Latex free.
Is strong enough for regular machine washes to keep clean and requires little maintenance.
Has especially extra long wide holes so the water drains through the mat a lot quicker, which means less pooling and reduces the risk of you slipping and falling.
Cons
May be a little on the large size if you are using in a standard size bath.
---
3) Extra Long Luxury Non Slip Bath Mat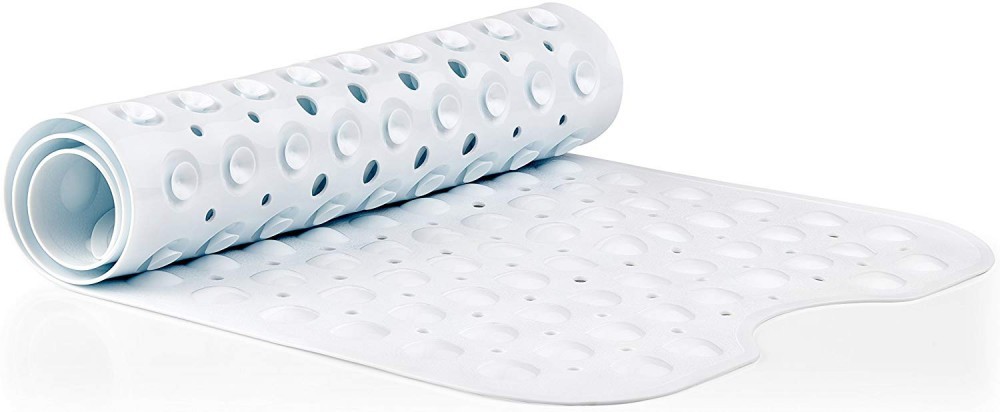 This luxury longer length and narrow bath mat will fit all types of roll top, curved or round baths. This contemporary non-slip and anti mould square design will look good where ever you use it.
Pros
The extra large rubber suction rings make this mat really durable and it will certainly last a long time.
It fits the exact length of a standard size bath, and I especially like the way the bath mat curves to allow room for the plug at the end. When it is fully rolled out it measures – 100 cm x 40 cm – ( 15.75 inches wide x 39.37 inches long ).
Really neat cut out design to allow the mat to be fitted neatly around the plug hole.
Cons
You might find that this bath mat is too long for a traditional square shower.
---
4) Wimaha Extra Long Pebbled Non Slip Bath & Shower Mat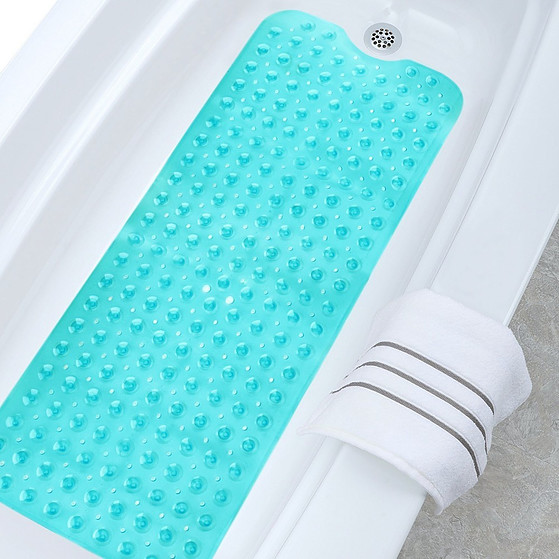 The Wimaha extra long non-slip bath and shower mat, with its distinctive pebble design, is a great choice for any home. This non-slip PVC friendly mat is durable and provides lots of support for you.
Pros
This mat has 200 Gorilla Grip suction cups that keeps the mat fixed in place on smooth, clean surfaces, which gives you lots of confidence managing your personal care safely.
It is easy to keep clean – just pop it in the washing machine and it will come up looking new time after time.
Easy for water to circulate
The mat consists of 176 drain holes which allow the water to drain through easily, so no build up of water on top of the mat increasing the chance of you slipping.
Cons
Can have quite a strong plastic smell to it, but this tends to fade over time.
---
5) SlipX Solutions Extra Long Bath Mat

With 30% more coverage than the average bath mat, the Slip X Solutions bath mat gives you reliable slip protection, and works on almost any non-textured tub surface.
Pros
This mat has a really secure feeling underfoot due to the mat's subtle textured surface.
The 200 suction cups strategically spaced prevent the bath mat from bunching up, and keep it securely positioned at all times.
Really comfortable underfoot
This mat has a really cushioned feel when you step on it, and makes you feel that you have got good support.
You can wash this mat in your washing machine, over and over, and you will get many years of use out of it.
Cons
Has quite a strong plastic smell to it, so you may need to have the room well ventilated.
---
Tips for keeping your bath mat clean
Rubber bath mats should be cleaned periodically to remove oily buildups from various soaps and hair products which can leave slippery films on the surface.
These slippery films can pose a risk and trip hazard while stepping in and out of a bathtub or shower.
How do you stop a bath mat from going mouldy ?
To make it last a long time without forming mold and mildew, which can cause foul smelling odours, remove it after each shower or bath and leave it hanging to dry. Remember the bathroom is often in a small confined space where temperatures can fluctuate, providing an ideal breeding ground for germs.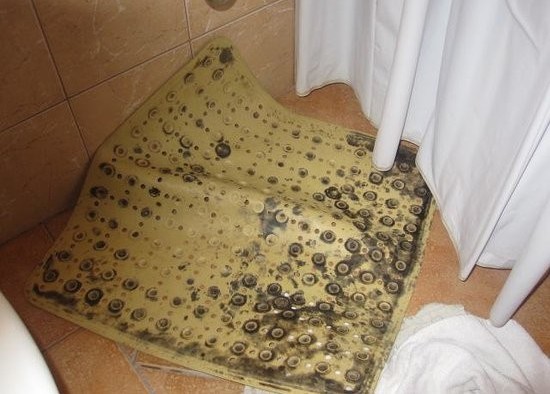 How do you remove stains from a rubber bath mat ?
Consider spraying the bath tub or shower floor with a water / white vinegar solution.
Make a solution of 1 cup (240 ml) of white vinegar and 1 cup (240 ml) of water and use it to clean the mat. A scrubbing brush will help get rid of those hard worn in stubborn stains.
Alternatively, you could fill your bathtub or wash basin with equal parts of vinegar and water and allow the mat to soak for 1 to 2 hours.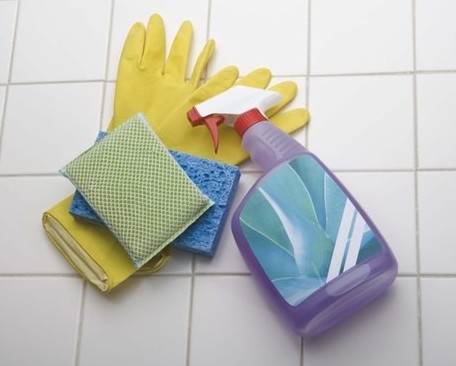 For thorough cleaning, bleach is a powerful cleaner. Just add one cup (equal to 240 ml) of chlorine bleach to five-gallons of cold water and mix well together. Leave to soak for several hours, and then rinse the mat well. After cleaning, hang the bath mat outside to dry.
Note – Make sure you wear a pair of rubber gloves to protect your hands.
---
\
Tips for using your non-slip bath mat
Check the suction cups of your plastic bath mats regularly to ensure that none are damaged, cut or missing, which will increase the risk of the mat moving.
The shower mat will only attach to a clean, smooth surface. It is not intended for use on textured, tiled, or non-smooth surfaces.
Ideally clean the plastic bath mats at least once every 2 – 3 weeks, and replace the mat about once per year.
---
How do you clean a fabric bath mat with rubber backing ?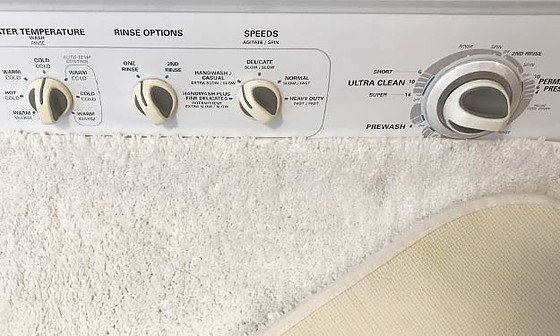 Hair and dirt can soon accumulate on your mat, so take it outside and shake thoroughly to remove the excess before washing.
First check the washing settings on the mat's label. Most mats with rubber backings can be machine washed gently on cold settings using mild detergents.
It is best to dry the bath mat naturally hung outside, weather permitting, or close to a radiator. However, some mats can be put in a tumble dryer on a low heat setting.
Avoid direct heat to dry the mat quickly as it can cause the rubber backing to crack or melt.
Important –

If the rubber backing is peeling, cracked or torn, then replace the mat with a new one. A damaged bath mat will not have the same anti slip support which means it will move around when you are using, and putting you at risk of slipping.
---
How do you clean a memory foam bath mat ?
Firstly, vacuum the memory foam mat to get rid of any debris, hair or dirt that might be on it. You could also give it a quick shake to remove any bits.
Using laundry products, try spot cleaning stains or pre-treat heavily soiled areas.
According to the manufacturer's instructions, machine wash the mat gently in cool water using mild washing detergents.
Important –
Because the memory foam is a synthetic material, do not dry clean the bath mat. Also, avoid using bleach or other harsh cleaning solvents as this will damage your memory foam bath mat.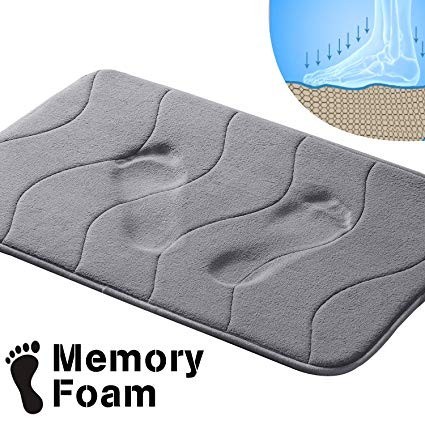 Drying your memory foam bath mat
Remember memory foam bath mats retain water so they make take longer than expected to dry.
Different manufacturers have different suggestions for drying a memory foam bath mat. Some suggest that you tumble dry on a low heat for a short time, and then remove the mat while it's still a little damp, allowing it to finish drying naturally.
Other suggestions recommend that you lay the bath mat flat to dry naturally, or hang over a washing line or support.
You may need to reshape or gently stretch the bath mat to return it to its original size and dimensions.
Important –
DO NOT use cloths pegs to hang out the memory foam mat, as this will pinch the foam and cause compression marks damaging it.
---
Best Non Slip Bath Mats 2023
So there you have it 10 of the best non slip bath mats to use, either in or out of the bath or shower. Non slip mats are also a great idea for those who use shower seats or bath seats and chairs to manage their personal care safely, as well as those using bath lifts to help them wash and transfer on and off safely.
Hopefully you will find the right non-slip bath mat for you, but if you need any help or advice please contact me at mark@elderlyfallsprevention.com and I will be happy to help.
---
Please follow and like us: