Kegel Exercises are a series of muscle contractions that can help prevent or control urinary incontinence, and are a great way to strengthen your pelvic floor muscles which support your bladder.
Up to a third of all women experience a problem with their pelvic floor muscles at some time during their life.
Dr. Arnold Kegel created these pelvic floor exercises in 1948 to help women who developed stress urinary incontinence following childbirth.
Childbirth or menopause can weaken the pelvic floor muscles that hold the bladder and urethra in place. When these muscles are weak, any additional pressure on the bladder can cause urine to leak, such as coughing, laughing, sneezing or even exercising.
Kegel exercises for elderly women can help improve urinary control in both men and women. However, it can take several weeks to see any improvement to strengthening those muscles that support your bladder.
---
How do you perform Kegel exercises ?
Before starting these exercises you need to work out which pelvic muscles you need to work on.
Firstly, sit on the toilet as usual when you are ready to urinate.
Ideally, sit with your legs apart and urinate as normal.
Without moving your legs squeeze the muscles to try to stop the urine ( If it stops then you know that you're working your pelvic floor muscles.)
Tighten those muscles for 5 seconds.
Release for 5 seconds.
Tighten them again (aim to do this 5 times).
Try to increase to holding the muscles for 10 seconds at a time.
Increase repetitions to 20 at a time of possible.
Repeat these 3 times per day.
Tips
1) Try to keep the muscles in your abdomen, thighs and buttocks relaxed.
2) Inhale while you are relaxing the muscles.
3) Exhale while you are contracting the muscles.
4) Don't hold your breath.
Kegel exercises need to be performed regularly and correctly to be effective. However, many women get bored and give up, as they struggle to find the right muscles, as it's difficult to work out a part of your body that you can't see.
These exercises are meant to be simple, but many elderly women, and men find that they don't even know when they are doing the exercises properly.
However, help is at hand in the form of machines that take the guesswork out of to find the right muscles doing kegel exercises.
No more wasted effort, just effective targeted exercise to strengthen and tone your pelvic floor that will last you for years.
---
Best Pelvic Floor Exerciser for Treatment of Bladder Leakage and Incontinence
1) Kegel8 Tight & Tone Plus for Pelvic Floor Strengthening
(Best Overall)
The Kegel8 Tight & Tone Plus Electronic Pelvic Toner strengthens weak pelvic floor muscles automatically with targeted precise exercises giving you a stronger pelvic floor within weeks. This toner takes the guess work out of exercising and delivers effective results that will last you for years.
Pros
Simple and easy to use and not unpleasant and a lot easier than constantly doing pelvic floor exercises all day long.
Restores pelvic muscles even if they are too weak to do traditional 'squeeze and release' kegel exercises.
Electronic Pelvic Toner strengthens weak pelvic floor muscles automatically with targeted precise exercises.
Cons
Unless you already have really good pelvic floor muscles, you will need to lie down or sit, as it is uncomfortable to move around.
---
2) Elvie Trainer Exerciser To Strengthen and Tone Pelvic Floor Muscles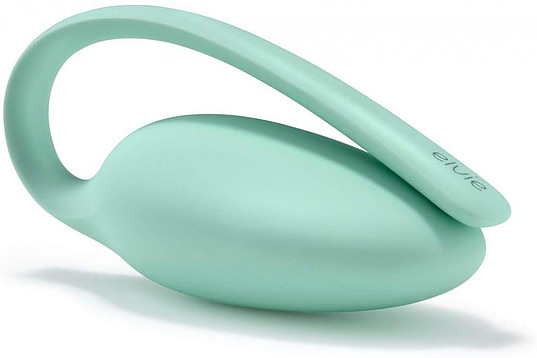 The Elvie Trainer Exercises visualizes your pelvic floor movements in real time with biofeedback, a mind-body technique often used by health care professionals for pelvic floor rehabilitation.
Small and portable, this exerciser will strengthen and tone effectively your pelvic floor muscles.
Pros
It's small and portable, with a carry case that doubles as a wireless charger (micro USB), the Elvie Trainer is very discreet to use.
Elvie Trainer is the first at-home biofeedback device available on the NHS for patients to keep.
The exerciser's patented force and motion sensor system detects if you are pushing down, and alerts you via the app, ensuring you are doing it correctly.
Recommended by health and fitness experts worldwide.
Cons
Occasional disconnections when using an android phone.
---
3) TensCare iTouch Sure Pelvic Floor Exerciser

The iTouch Sure Pelvic Floor Exerciser is simple and easy to use, with digital controls and 4 preset programs which have been clinically tested to provide long-term relief from stress, urge and mixed incontinence.
Pros
It's safe and easy to use.
The one touch memory allows you to remember the last programme, strength and setting used.
Has a safety duration override which switches the unit off after 20 minutes, ensuring you don't overwork your pelvic floor muscle.
The exerciser has an easy-to-use, modern, colour screen for clearer visibility.
The strength of the stimulation increases gradually, making the feeling very comfortable and in your control.
Cons
Might be helpful if there were more adjustments for the time for contractions.
---
4) Deluxe Kegel Weighted Exercise Balls
(Best value for money)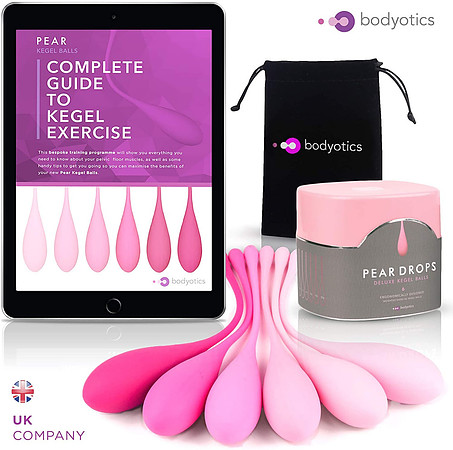 These deluxe kegel weighted exercise balls are comfortable and easy to use, and will give you improved bladder control and restore your pelvic floor health.
Pros
The pear shape make them really comfortable easy to fit and use.
Free e-book of exercises with the purchase which is really handy.
Great value for the money.
They come in a stylish luxury velvet pouch.
Easy insertion and optimum muscle contraction to give you results you can track.
Cons
Some people may prefer the round shaped balls.
---
5) Kegel Exerciser with APP & Vibration

This Kegel exerciser with app and vibration helps you regain strength, tightness and bladder control with real time biofeedback via its interactive App. With its exclusive pressure detection technology, and an additional stimulation motor, it's the ultimate tool to improve your pelvic toning.
Pros
The Bluetooth works really well on both iPhone and iPad.
Has a great therapeutic massage function with 4 adjustable modes.
Really quick and easy to use.
It will improve your bladder control and help with incontinence.
Easy to clean and very durable.
Made of safe anti- bacterial silicone.
Cons
Some people may prefer something simpler and with less gadgets.
---
What causes these muscles to weaken ?
Any health conditions that put stress on the muscles of the pelvic floor, causing them to weaken, can lead to pelvic organ prolapse (POP).
Pelvic floor muscles can become overstretched and weak, working slowly, torn or too tight to work properly, just like any other muscles in your body.
It is estimated that half of all women over age 50 experience some degree of POP, and many women must undergo surgical procedures to correct it.
In addition, there is a 50% chance of POP developing in women aged 50 years or older.
Here's some causes of pelvic organ prolapse:-
Pregnancy and natural childbirth.
Natural aging – the muscles of the pelvic floor, as well as muscles in the anus and rectum naturally weaken with age. Muscles also weaken due to the reduced amount of estrogen.
Surgery – for example cesarean section.
Being overweight – or increased weight gain.
Chronic constipation – straining to empty your bowels on a regular basis can cause overstretching and weaknesses of the muscles.
Genetics – some people are predisposed to a higher risk of pelvic organ prolapse.
Bouts of frequent laughing, sneezing or coughing.
Heavy or repeated lifting – this puts your pelvic floor muscles under strain by increasing abdominal pressure.
---
Benefits of kegel exercises for women
1) Stronger back and hip support
Many women who suffer with weak pelvic floor muscles, also experience some degree of low back pain and discomfort. Pelvic floor muscles are a part of the inner core, a group of muscles that support your hips and trunk. This inner core acts like a ' corset ' to stabilise your hips.
Weak pelvic floor muscles cause instability and weakness to your lower back (spine) , pelvic area and tailbone (coccyx).
2) Prevent or control urinary incontinence
Kegel exercises strengthen the pelvic floor muscles, which support the uterus, bladder, small intestine and rectum.
When these muscles are weakened, the bladder and bladder neck have less support and closure around the sphincter. This can result in incontinence.
3) Reduce pelvic organ prolapse (POP) happening
POP is caused by tearing and weakening of the pelvic floor muscles themselves or the tendons suspending the organs. This usually occurs after the pelvic floor muscles or their ligaments have been stretched or weakened.
It is estimated that 50% of women who have had a child will experience prolapse to some extent.
Age also is a factor in developing POP for 50% of women who are 50 years of age or older.
Regular exercises help the muscles become stronger and more effective.
4) Can improve pelvic health during the menopause
During the menopause fluctuating levels of estrogen can lead to less blood flow in the pelvic floor muscles and overall decrease in muscle tone.
One of the most challenging changes to happen to your body during menopause is the weakening of your pelvic floor. Muscles, connective tissues, and ligaments that support your organs in your pelvis become weak and lax.
This causes varying degrees of urinary incontinence, pelvic organ prolapse (POP), or problems with your sexual health and intimacy.
5) Improve your general health and well-being
Side effects of having incontinence problems or POP can impact heavily on your quality of life and emotional well being.
A pelvic floor disorder can be disruptive and unpredicatable for a person's daily life. Not being able to maintain normal bodily functions are embarrasing, and affect your relationships and activities of daily living.
Over time this can affect your mental and emotional health, with over half of women with urge incontinence, a sudden and strong need to urinate, reporting symptoms of anxiety, and over a third suffering with signs of depression.
There is a strong link between increased stress levels and anxiety and symptoms of urinary incontinence. When we are stressed we become more tense, and this applies to our muscles as well, including our pelvic floor ones.
Relaxing your pelvic floor muscles will ensure that they don't weaken, which in turn can lead to other health related problems.
.
---
Ways to manage your urinary incontinence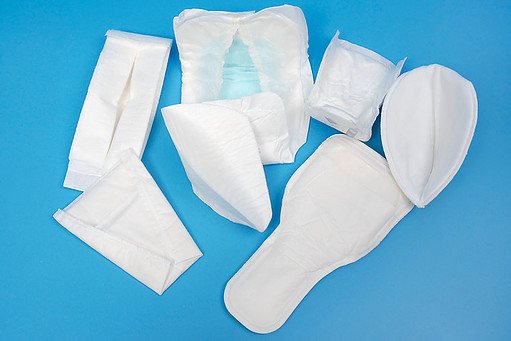 Incontinence can be embarrassing and frustrating for you day to day. Going to the toilet, a private function you once took for granted, is suddenly beyond their control.
Urinary incontinence pads are a quick, extremely hygienic and convenient way of managing your incontinence both at home, or out and about. They are particularly beneficial for people who are bedridden or wheel chair bound, as they reduce the need for a full change of underwear or diapers.
CLICK HERE to view some of the best urinary incontinence pads for you.
Incontinence means that managing your personal care can be difficult. Shower commode chairs are designed to make showering easier for the less mobile and elderly people who suffer from incontinence problems, and are available as either static or wheeled models.
---
Kegel Exercises for Elderly Women with Urinary Incontinence ( Advice )
Contact your Doctor, Specialist Physiotherapist or a Healthcare provider for help and advice if you have any of the following issues
Having trouble trying to locate your pelvic floor muscles.
If you experience any type of pain when you are doing your kegel exercises.
Any type of pelvic pain.
Have concerns about your bladder, bowel, or sexual function.
Have difficulty doing the kegel exercises.
---
Remember that like with lots of different forms of exercise it takes time before you see results. Many women notice that by doing kegel exercises for 4 to 6 weeks they notice some improvement in their urinary incontinence. However, it can take as long as 3 months before you might get noticeable results.
There are so many styles and options available for the kegel exerciser it can be a little daunting knowing which product is right for you.
Hopefully you have found the product that best suits you, but if you need any further help or advice, please feel free to contact me at mark@elderlyfallsprevention.com and I will be happy to help.
---
Please follow and like us: