What are the Best Electric Mobility Scooters 2023 ?
Modern mobility scooters are equipped today with many features to allow those who have trouble walking, or standing for long periods, the freedom and independence to participate in activities that otherwise are inaccessible.
Electric mobility scooters come in lots of different shapes, sizes and specifications such as lightweight scooters, folding scooters, 3 wheel and 4 wheel scooters, travel scooters and all terrain scooters.There are Class 2 scooters designed for pavement use, and Class 3 scooters that can be used on the highway.
With so much choice available it can be a little daunting, so we have saved you the time by picking out the Best Electric Mobility Scooters 2022 for you.
---
1. Best Overall Electric Mobility Scooter
Pride Go Go Elite Traveller 4 Mobility Scooter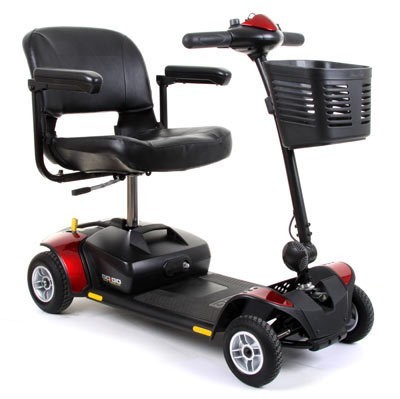 The Go Go Elite Traveller 4 is a compact, lightweight and exceptionally stable mobility scooter from Pride Mobility.
Packed with up-to-date features it offers unbeatable safety and comfort for a great way to travel !
Read my review of the Go Go Elite Traveller 4…..
Main Features
300Ib weight capacity
Easily disassembles into 5 lightweight pieces for easy transport and storage
Has a front frame mounted seat post
Non-scuffing black tyres
Has removable foot board basket for additional storage
Large front basket with good storage
Able to charge the battery pack either on-board or off-board with dual voltage charger
Battery charge port located on the tiller
Has 2 sets of red and blue coloured shrouds that are easily changeable
It has a standard Class 2 scooter speed limit of 4mph. As for the range, it depends on which battery pack you opt for. The 12AH one gives you 7.2 miles, while the 18AH one gives you a range of 10.4 miles.
Pros ( What I like about it )
Really like the comfortable seat with arm support which really feels supportive.
The frame can be separated with one hand due to the clever auto-latching lock up system.
Easy to lift into the car – the heaviest part of the scooter weighs 14Kg (34 Ibs).
Battery is quick and simple to remove.
Height adjustable swivel seat is easy to operate – great for getting on and off the scooter.
Transferring on and off the chair is quick and simple with the flip up armrests.
Lots of space to carry things with the spacious basket.
The solid 9″ wheels make it feel really sturdy and substantial when out and about, even in uneven surfaces.
I like the adjustable headlight – it really makes a difference when travelling outside.
Cons ( What I didn't like about it )
Some people with low back problems may find the seat a little uncomfortable after a while, but a small cushion or back support would solve the problem.
The Pride Go Go Elite Traveller 4 lightweight electric mobility scooter offers excellent manoeuvrability, comfort and style at an affordable price.
---
2. Best Travel Mobility Scooter
Livewell Jaunt Portable Travel Mobility Scooter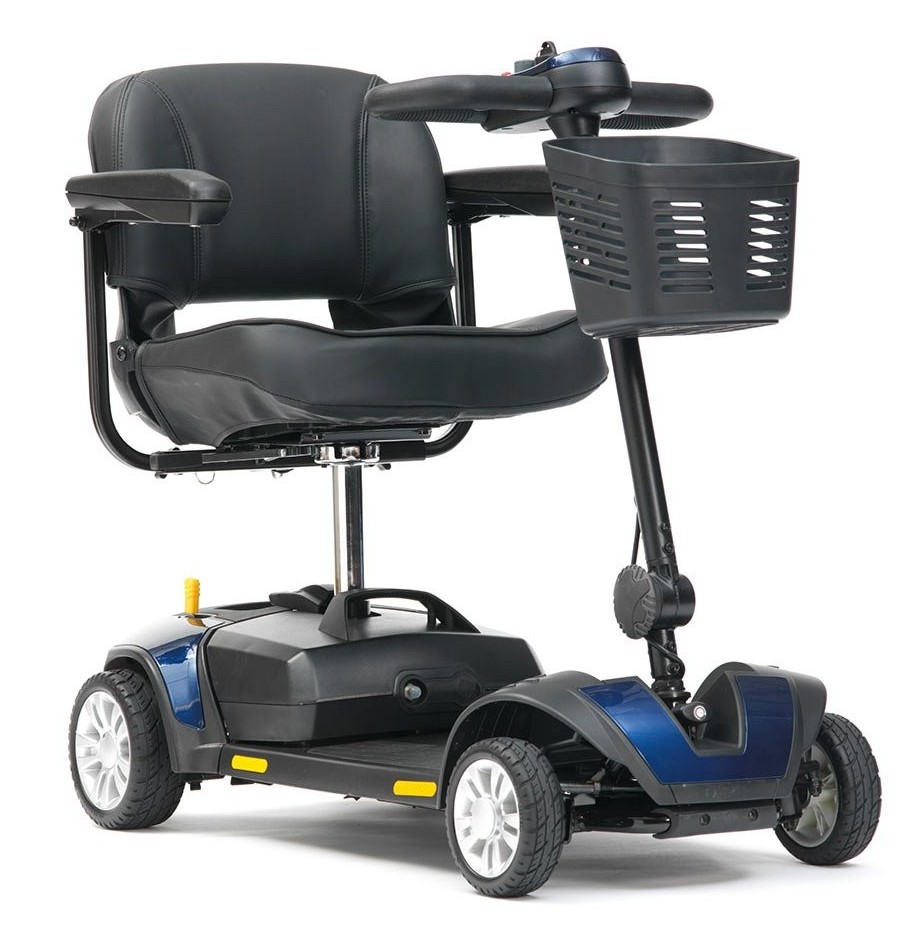 The Livewell Jaunt travel mobility scooter is perfect for taking away on holiday, fitting into a car boot for trips to the supermarket, or storing around the home. The easy split system means that the electric scooter separates into five lightweight parts, the heaviest only weighing 15.9kg.
Main Features
Separates into 5 lightweight pieces
Battery housing easily removable
Scooter can be charged with the battery fitted, or taken out for off board charging
Comfortable and padded swivel seat
Adjustable armrests that flip up
Tiller is adjustable forwards and backwards
Has delta bars and wig wag paddles fitted
Has removable basket
Has horn and reflective side / rear reflectors
Battery charge indicator
Available in red and blue colours
Puncture proof solid tyres
Pros ( What I like about it )
The easy split system makes it easy to dismantle the scooter into 5 manageable parts, which is great when you're travelling around and want to carry it in the boot of your vehicle.
You never need to remove the battery, unless you want to, as the scooter can be plugged in and charged with it still attached.
It has really supportive and comfortable seat and back support, so you'll always feel good out and about.
The fold up armrests and swivel seat make transferring on and off it easy.
The adjustable tiller makes it easier to find a comfortable seated position.
It has a good turning circle when manoeuvring around, which is great out in crowded areas such as shopping centres.
The side and rear reflectors are really visible which makes you feel more confident when travelling in poor visibility, or at night.
Good range of 10 miles on a fully charged battery.
Punctures are a thing of the past with the solid tyre design.
Cons ( What I didn't like about it )
Some people may find it a little heavy to lift and transport.
The Livewell Jaunt Portable Travel Scooter is a perfect choice if you want to dismantle easily and plan on trips out or on holiday. It also comes with a 2-year warranty which gives you piece of mind should anything go wrong.
---
3. Best Folding Mobility Scooter
Monarch Smarti Automatic Folding Mobility Scooter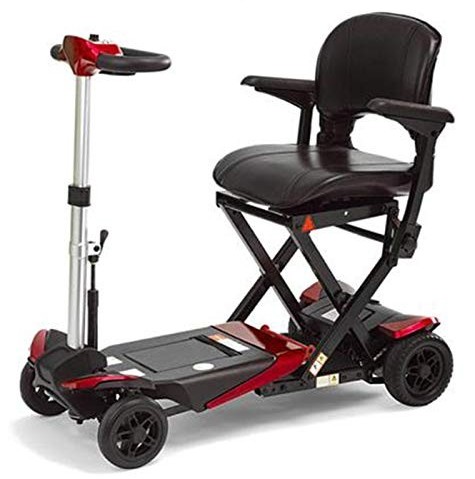 The Smarti is a small Class 2 automatic folding mobility scooter, manufactured by Monarch. The scooter has a remote control key fob that allows you to both fold and unfold easily, perfect for those who may struggle trying to dismantle it.
Main Features
Has Delta shaped steering handle.
Lightweight easy to operate folding mechanism.
Remote control key fob opening and closing action.
Lightweight Lithium-ion battery technology.
Folded padded seat.
Height adjustable
Flip up armrests
Up to 10 miles range on full charge
Available in an attractive red or blue design.
User weight capacity of 21 Stones ( 136Kg ).
Solid tyres
Adjustable speed dial
Pros ( What I like about it )
Able to go from a folded position ready to be used in under 20 seconds, so there is no waiting around for you.
The Smarti's seat and tiller design make for a comfortable ride, that you normally only get with a larger scooter.
There are no worries using it over long distances with its 10 mile full charge range.
Small and compact when folded fitting into the boot of most cars.
Lightweight battery that easily be removed.
The adjustable speed dial is a handy feature as it allows you to go as fast or as slow as you want to.
Comfortable hand grip support to steer, which is great if you have weak or arthritic hands.
Cons ( What I didn't like about it )
Perhaps the only downsize to the Smarti is its price tag. It isn't cheap, but an investment long term if you really need that automatic folding mechanism and compact design.
The Monarch Smarti Automatic Folding Electric Mobility Scooter is the ultimate foldable Class 2 mobility scooter, that is both lightweight and compact, giving you your freedom and independence to enjoy yourself.
---
4. Best Lightweight Mobility Scooter
Ability Superstore Lightweight Curlew Automatic Folding Mobility Scooter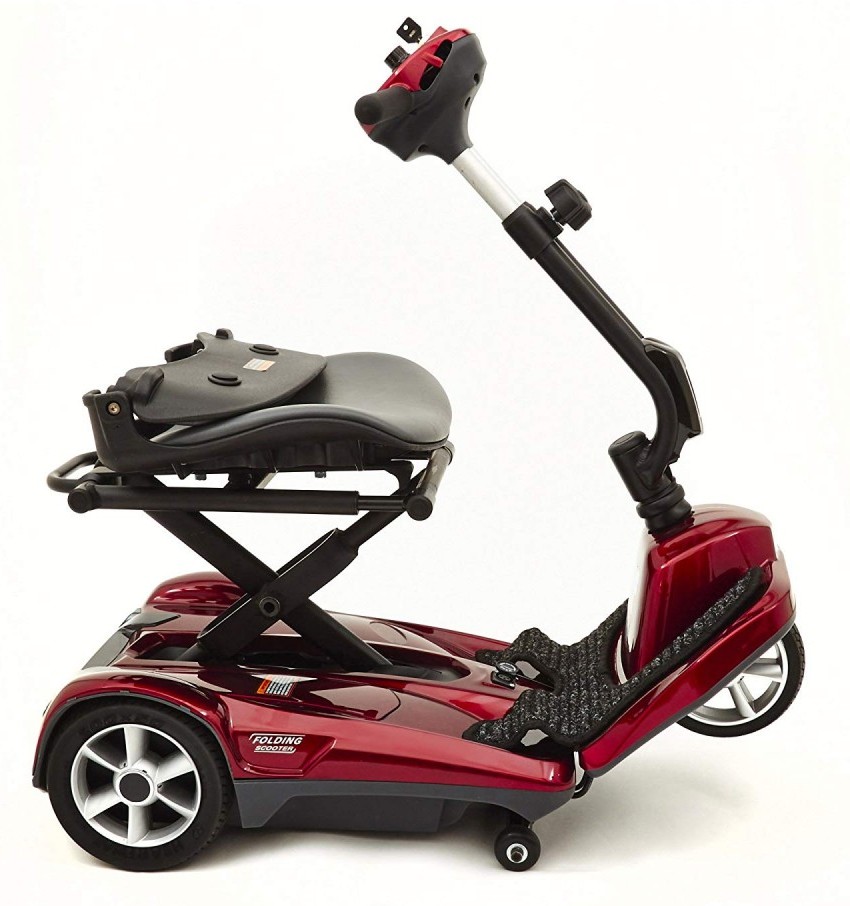 Weighing in at just 20 Kg, this mobility scooter is both lightweight and compact due to its automatic folding mechanism, great for travelling around, and stores away easily when not in use.
Main Features
Auto folding compact seat
Height adjustable tiller
Speed reduction safety feature
Anti slip footwell carpet
Top speed 4 mph
Maximum range 6 miles ( on full battery charge )
Easy access to charging port
Remote control mechanism to fold and unfold
Lightweight and portable ( only weighs 20 Kg )
Easy lifting carry handle
8″ silver alloy wheels
Padded carry bag to transport scooter
Available in 3 attractive colours ( red, purple or copper )
Maximum user weight – 115 Kg ( 18 Stones )
Pros ( What I like about it )
This scooter is ideal for someone who travels around as it is so light and compact.
The speed reduction control when cornering is a great safety feature, and gives you added security when using.
Surprisingly comfortable seat for a lightweight model.
The handy carry bag is a nice addition.
I love the anti slip foot rests.
Easy to operate remote control folding mechanism makes it effortless putting up and down.
Cons ( What I didn't like about it )
The smaller lightweight frame of the scooter means that it does reduce the maximum passenger user weight.
Only has a maximum range of 6 miles due to the smaller battery size. What you lose on the distance you can travel, you gain on the lightness and portability of the scooter : )
The Ability Superstore lightweight Curlew Folding Automatic Mobility Scooter is perfect for the smaller journey and use around the home. It's light, easy steering is responsive, and it folds away to a nice compact size when not in use.
---
5. Best Heavy Duty Mobility Scooter
Drive Envoy 4 Wheeled Heavy Duty Long Range Mobility Scooter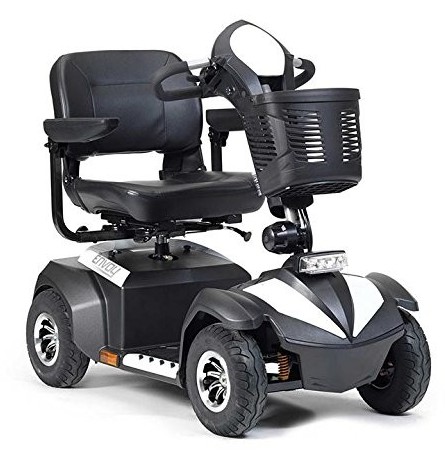 This heavy duty mobility scooter from Drive Medical is a large robust Class 2 scooter that can cover a maximum distance of 30 miles. It includes a whole host of excellent features that are often only found as standard on larger more expensive models.
Main Features
Powerful 350 W motor
Maximum range of 30 miles (one full charge)
All round suspension
Top speed of 4mph
Large 5″ rimmed Black pneumatic tyres
LED front headlight
Delta bars as standard
Variable speed control
50 ah batteries
Maximum user weight – 160Kg ( 25 stones )
Available in red, blue, white and silver colour options
Pros ( What I like about it )
The seat is well upholstered and is comfortable and supportive to sit on.
The all round suspension makes a difference when travelling on uneven surfaces or over bumps, cushioning the force through the seat of the scooter.
I like the solid tyres which eliminates the problem of encountering a puncture when using.
The scooter feels compact and sturdy, which is something you only tend to find on the larger Class 3 scooters.
Cons ( What I didn't like about it )
The battery is non-removable so you have to recharge it whilst attached to the scooter.
At 94kg this is obviously not a portable scooter so you can't transport it.
If you want a powerful Class 2 scooter with an all round comfortable suspension system, with features that you would normally find on larger more expensive scooters, then the Drive Envoy 4 Wheeled Heavy Duty Long Range Electric Mobility Scooter would suit you.
---
6. Best 3 Wheel Mobility Scooter
Drive DeVilbiss Scout 3 Wheel Folding Electric Mobility Scooter

This 3 Wheel Folding Electric Mobility Scooter from Drive DeVilbiss is perfect for those who perhaps space is an issue. The 3 wheel scooter has a low turning radius and is designed for maximum manoeuvrability.
Main Features
Maximum range of 10 miles ( on full battery charge )
Top speed 4mph
Comfortable 360 degrees lightweight swivel seat
Removable battery pack with locking mechanism
On board and in house battery charging
Automatic electromagnetic brake system
Delta bars as standard
Height adjustable seat
Easy tiller adjustment
Removable seat, fold down tiller and splits easily for storage and transportation
Removable storage bag as standard
Puncture proof non marking tyres
Adjustable flip up armrests
Rear anti-tip wheels
Anti roll back system
Free wheel facility
Weight capacity 130 Kg ( 20 Stones )
Available in Spirit Red or Electric Blue colours
Pros ( What I like about it )
It is great to turn and manoeuvre in tight spaces, and feels really supportive for a 3 wheel scooter.
The anti roll back system is a great safety feature, as it prevents the scooter from rolling back on hills.
The freewheel facility is useful as it allows you to move the scooter without switching the motor on.
It is easy to fold away, just remove the seat and fold down the tiller. Great when storing away or transporting.
Cons ( What I didn't like about it )
It is not as stable as a 4 wheel mobility scooter, so you need to consider where and when you might use it.
The Drive DeVilbiss Scout 3 Wheel Folding Electric Mobility Scooter combines convenient mobility with superior value in a colourful, customizable exterior. It is compact, lightweight, and easy to disassemble and is designed for maximum manoeuvrability.
---
7. Best All Terrain Mobility Scooter
TGA Mobility Vita X Deluxe 4 All Terrain Class 3 Mobility Scooter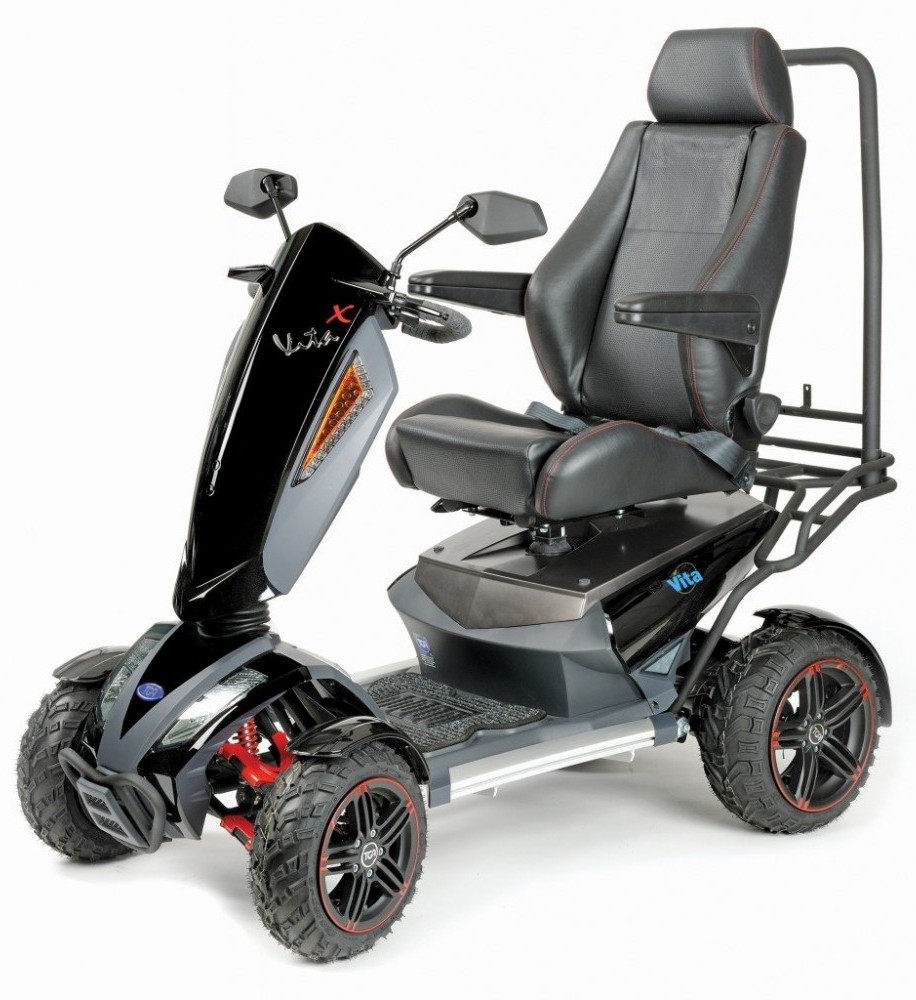 The TGA Mobility Vita X All Terrain scooter is an incredibly capable machine over varied terrain due to its powerful large motor and battery, and wide thick tread tyres giving you the ultimate support and grip you need.
Main Features
• User weight – up to 25 stone ( 158Kg )
• Maximum speed up to 8 mph
• Upgraded performance through 900w motor and 200amp controller
• Adjustable tiller
• Robust, high-grip off road tyres and strengthened alloy wheels
• Pneumatic tyres
• Rear storage pocket
• Anti-tip wheels
• Rear carrying bracket
• Heavy duty 70 Amp batteries
• Ergonomic control levers with Delta handlebar
• Emergency braking system
• Cup holders
• Super bright tinted head lights, indicators and hazard warning lights
• Energy saving mode
• Emergency braking system
• Fully adjustable racing leather seat
Pros ( What I like about it )
The double wishbone suspension at the front and a mono-shock absorber at the rear gives you great cushioning support over tough terrain.
Has a clear crystal digital display with easy to read information (speed, time and temperature). The display is also illuminated and easy to read, particularly good in low light.
I like the trip computer which shows you how far you have travelled, great for checking distances such as to and from the shops.
The scooter feels smooth when pulling away and the automatic braking makes it easy to use.
The top speed is easily controlled with a handy high / low switch limiting the scooter to either 4mph for pavement use or 8mph on the open road.
It has modern LED lights, indicators and side running lights which consume less battery power than traditional scooter lighting, and are brighter, more energy efficient. They are also long life and maintenance free.
Strikingly modern LED lights, indicators and side running lights make sure you can see and be seen at all times, whilst consuming less battery power than traditional scooter lighting. Not only are the LED lights brighter and more energy efficient but are also long life and maintenance free.
Cons ( What I didn't like about it )
There's not much not to like about the Vita X Mobility Scooter. Yes, there are cheaper Class 3 All Terrain scooters around but they don't offer anything quite like the Vita X.
With its innovative suspension and unparalleled good looks, The TGA Mobility Vita X Deluxe 4 All Terrain Class 3 Mobility Scooter is an incredibly capable scooter that will take your personal mobility to a new level of style and performance.
---
Class and Size of Electric Mobility Scooters
There are many things to consider before buying an electric mobility scooter to ensure that you have the right class and size for your own personal needs. There are some key differences between Class 2 and Class 3 scooters.
The following guide will hopefully equip you with the knowledge to help you make an informed choice of the scooter which is most likely to match your needs and circumstances.
Class 2 ( Pavement scooters – 4mph)
Class 2 scooters can only be used on footpaths, pavements, and to cross roads, and have a maximum speed of 4mph (6.4kph).
Key features:
Can be used indoors
Small, lightweight and compact
Driving controls are basic
Some can be dismantled/folded up to fit into a car boot, or for easy transportation or storage
The shorter battery life means they travel shorter distances

Class 3 ( Road Legal Scooters – 8mph )
Class 3 scooters can be used on roads and pavements. The maximum speed limit of these vehicles is 4mph on the pavement and 8mph (12.8kph) on the road. You must be 14 years old or over to drive a class 3 vehicle.
Key features:
For outdoor use
Large, heavy and robust
Equipped with reflectors and a rear-view mirror. They also have extra controls for driving on roads such as indicators, headlights, hazard lights and a horn.
They require a ramp or lift to transport them into a vehicle, and you are unable to fold them away
Longer battery life and tougher tyres means they can travel longer distances
A Class 3 scooter is not legally designed as a motor vehicle and, therefore, is not subject to road tax, and is not required to have an MOT. There isn't a requirement to have any insurance but we highly recommend that you take it out.
Familiarise yourself with the relevant parts of the Highway Code, particularly if you'll be using a Class 3 electric mobility scooter on the road.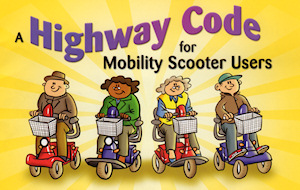 Restrictions
There are some legal restrictions on mobility scooters.
You must not drive your scooter on motorways, cycle lanes or in bus lanes. Although it is not a legal requirement, it is not advisable to drive a scooter on unrestricted dual carriageways (i.e those with a speed limit of over 50mph).
Class 3 scooters can be driven on a dual carriageway, however they must be fitted with a flashing amber warning light.
Size
It is important to consider the size and user weight restriction of your mobility scooter, as they vary in their height, length and width considerably.
1) Where am I going to be using my scooter ?
The smaller lightweight and compact Class 2 travel scooters, particularly the 3 wheel versions have a small 'turning radius' and are easy to manoeuvre around in smaller spaces. If you want to take your scooter on holiday, and need to transport it safely, then you need to consider the boot size of your vehicle to carry it.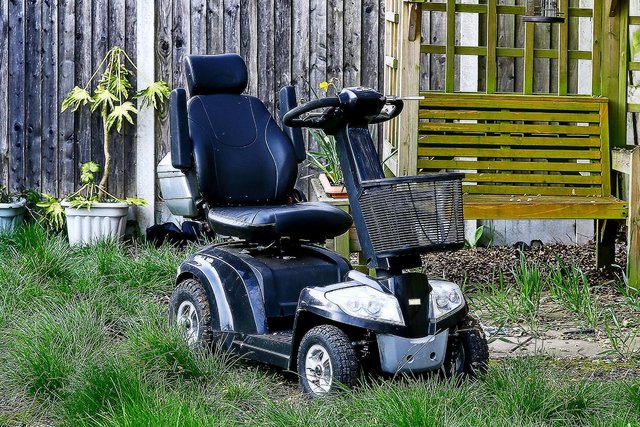 2) Where am I going to store my scooter when not in use ?
If space is a problem and you don't have an outdoor garage, shed or somewhere you can store your scooter, then you man need to think about getting a lighter, compact one that can be dismantled or folded. Again, the 3 wheel mobility scooters are a good option.

3) How comfortable will I be sitting on my scooter ?
It is likely that once you have bought you scooter you will be spending a lot of time sitting on it. The size and comfort of the seat is paramount. Some scooters have larger more cushioned seat support for you, whereas others, such as the smaller foldable 3 wheel ones are perhaps less supportive. Consider your back support and leg room, and think how often you might be using your scooter.
---
Tips when using your Mobility Scooter
1) Safety Checks
To get the most out of your mobility scooter and ensure it lasts you for many years it is important to keep it well-maintained.
Ensure regular checks of the following –
Brakes are in good working order.
Tyres ( where applicable ) are inflated to the correct pressure and have good tread on them.
Battery is in good working order and is fully charged.
All plugs and wires are connected properly with no bare wires exposed.
All assembly mechanisms and locking pins are in position.
The seat is locked in place with the armrests down before using.
Ensure all
Another good safety measure is to ensure that you have a mobile phone with you which is charged sufficiently, in case you need to contact someone in an emergency.
2) Battery Charging

Charge your new battery for 18 hours
When you purchase your electric mobility scooter the battery supplied only has a holding charge, so it is very important that the battery receives an 18 hour uninterrupted charge at the start.
Charge your battery as often as possible
Even if you only used your powered electric scooter for a short time, it is best to charge your battery for as along as possible, even if your indicator light says it is charged.
Shorter charges (less than 2 hours) damages the battery cell, and you will need to replace your battery sooner.
Correct temperature to charge your battery
Ideally you are looking for a temperature between 18 – 25 degrees Celsius. The battery's life span and capacity will be shortened considerably in temperatures under 10 degrees Celsius, or over 30 degrees Celsius.
Maintain a steady speed when using your scooter
Constant speed changes can reduce you battery life. In addition, try to avoid allowing the battery to go into the red on the indicator, as this can cause the battery to flatten.
3) Planning your route on your Scooter
Check beforehand your route on your mobility scooter to ensure it is the safest possible, checking for potential obstacles or dangerous areas to avoid. Is the chosen route appropriate for the type of scooter you are using ?
Adjust your speed according to the weather, terrain and where you are. If you are out on the pavement or in crowded areas, take extra care and watch your speed. Challenging conditions such as snow, rain and wind can all make using your electric scooter more difficult.
Always take more care when mounting and dismounting kerbs and pavements.
If you are out shopping remember your scooter has a weight limit so try not to overload it with too much shopping.
Try where possible to distribute your shopping evenly so the scooter is not overbalanced, and avoid putting anything on the steering column.
---
Benefits of owning an Electric Mobility Scooter
1) Independence.
A walking cane or 4 wheel walker is useful for many people to mobilise short distances outdoors safely, but for longer trips they can easily tire. This is where an electric mobility scooter can help increase your independence and well-being.
Modern advances in technology and designs means there are many different mobility scooters to suit your individual needs. An electric mobility scooter is a great mobility aid to allow you to socialise and enjoy your hobbies again.
2) Travel
One of the great benefits of owning an electric mobility scooter is that you can take them on nearly all types of public transport, such as buses, trains and aeroplanes. However, they need to meet certain criteria. such as their weight and dimensions.
3) Prevent Falls
As we become older we become more reliant on a mobility aid to help us get around safely. The use of a mobility scooter is a great way to reduce the risk of fall-related injuries.
Also, people who are recovering from a fall, or had surgery and need rehabilitation can use an electric scooter to help them get around safely and keep their independence.
4) Ease of Use
Mobility scooters are simple to operate and easy to use. The can be dismantled easily and folded away, great for transporting around or storing away.


---
The Best Electric Mobility Scooters 2023
Whether you're spending time with family and friends, out shopping, travelling or just exploring the great outdoors, an electric mobility scooter is an ideal way for you to have the freedom and independence to enjoy life.
Hopefully, you are able to find an electric mobility scooter to suit your individual needs, however, if you need any further help or advice, please feel free to contact me at mark@elderlyfallsprevention.com and I will be happy to help.
Please follow and like us: