Intro
All weather canopies are easy to use, very affordable and a great accessory for your mobility scooter. They are perfect for providing shelter and warmth from the elements. They are not only a great way to keep you dry, but any items that you are also carrying.
In this Scooterpac Mobility Scooter Canopy review, I will discuss how well it works, highlight the key features and benefits, what I like and don't like about it, and some minor drawbacks with it.
The Scooterpac Mobility Scooter Canopy is the world's first and only universal folding canopy, that fits almost any mobility scooter on sale today.
Its simple mechanism allows the canopy to fold back behind the seat when not in use, and is super quick and easy to set up as a great mobility aid for you.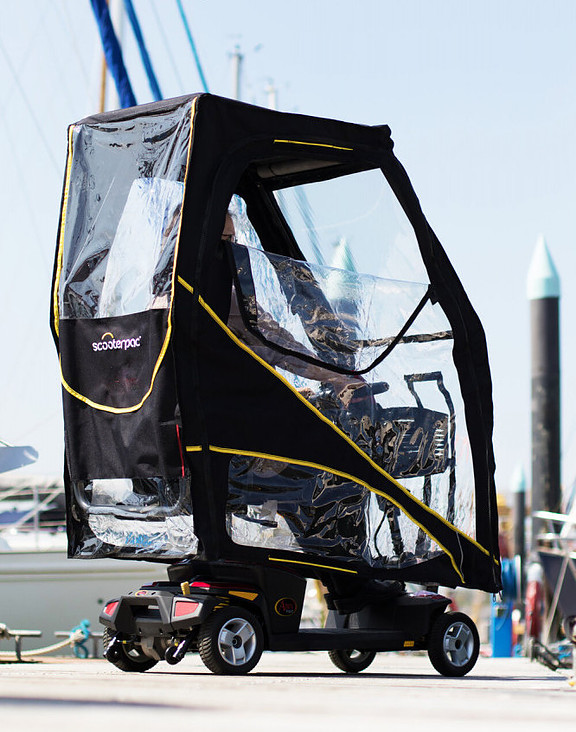 Key Features
It will fit almost all different types of mobility scooter.
Lightweight aluminium frame.
Waterproof nylon canopy cover.
Ultra-durable polymer sides and high clarity windscreen.
Available in ' Standard ' and ' XL ' versions.
Velcro secure fastening.
Simple foldaway mechanism.
Easy access zipped door.
Polyethylene tubing for increased rigidity.
Technical Specifications
| | |
| --- | --- |
| Frame Material | Powder Coated Aluminium |
| Canopy Material | Waterproof Nylon |
| Cover Material | Waterproof Nylon |
| Window Material | Perspex |
| Maximum Windspeed | 40 mph |
Standard
| | |
| --- | --- |
| Open Height | 1200 mm |
| Open Width | 600 mm |
| Open Depth | 1150 mm |
| Folded Size | H830 x W630 xD180 mm |
| Headroom | 1000 mm |
Note – The only difference with the 'XL' version is the Open Depth which measures 1280mm.
How to use the Scooterpac canopy
Pros
One of the key benefits is this canopy will fit almost any different type of mobility scooter, even car transportable ones.
Has a thick waterproof cover and tough side panels that will keep you dry in all weathers.
Durable aluminium frame that won't rust.
The canopy is quick and easy to fit.
It is one of the lightest canopies available.
Clear and easy visibility 360 degrees.
Great addition to have when you are out shopping, keeping both you and your items dry, and not getting blown away in the wind.
It is better to use on both pavement and road scooters as they are not something you would transport in a car.

Cons
Although it is advertised as being able to fit almost any mobility scooter, it does come with some restrictions on certain types ( see list of scooters highlighted further down page ).
If you are going to use the Scooterpac canopy on your boot scooter, then you need to remember it will take you longer than normal to disassemble your mobility scooter.
Also, if your are transporting your scooter then you need to consider the additional weight of it.
The pack at the rear does allow for a bag on the back of the seat but it does restrict it, reducing the amount of space for shopping.
One of the things that might put people off is the high price.
The aluminium design makes it not as sturdy in the wind as a canopy made of stainless steel.
Scooterpac is still the best option on the market when it comes to using on a boot scooter but worth considering these factors before you buy.
How do you clean the Scooterpac Canopy ?
The Scooterpac Canopy material is made of a mould resistant fabric which is waterproof too. Unfortunately, wind, rain and generally inclement weather can take its toil over time.
Dirt and grime will find its way into all the smallest cracks, as with any mobility canopy used outdoors.
It is best to use a small amount of washing up liquid, mixed with water and a sponge to wipe the canopy down. Then leave the canopy unfolded to dry out naturally in a well-ventilated area.

Will the Scooterpac fit my mobility scooter ?
Providing that your scooter is fitted with both armrests, and a box section accessory bracket at the rear of the seat, then the adjustable canopy will almost certainly fit your mobility scooter.
However, there are some exceptions to this, and after further research we found that the canopy is not compatible with the following mobility scooters: –
Drive Royale 3 / 4
TGA Minimo / Minimo Plus 4
TGA Maximo
TGA Buddy
TGA Superlight
TGA Supersport
Horizon Saxon
Horizon Myan Drive Sport Rider
Horizon Aztec Drive Easy Rider
Monarch Mantis
Monarch Mobie Amigo Travelmate
Monarch Mobie Plus
Monarch Smarti
Monarch Trident
Freerider Luggie
Cavendish SupaScoota
Pride Ranger
Pride Quest
Pride Go Go Elite Traveller 3
Shoprider Altea
Shoprider Whispa
Shoprider Capri
Shoprider Sovereign 4
Sterling Little Star
Travelux Explorer
Conclusion
So here are my final thoughts on this Scooterpac Mobility Scooter Review.
If you are someone who values their independence and will be out in all weathers, then a mobility scooter canopy is a must.
You are able to go shopping, visit friends or just having the freedom to explore, safe in the knowledge that you can cover up quickly and easily.
The Scooterpac canopy offers the unique benefit of being the only universal folding canopy, that tucks away easily into a small bag at the back of your scooter, which you can quickly get out when you need it.
The lightweight aluminium design means it is really easy to move and fold, perfect for those with reduced arm and grip strength, such as with osteoarthritis or rheumatoid arthritis, compared with the heavier stainless steel designed canopies available.
On the downside it isn't compatible with every mobility scooter, and if you are one of those people with a folding or boot scooter, then it is time-consuming putting on and off transporting in your vehicle.
Yes, the ScooterPac folding canopy does come with an expensive price tag, but is a one off purchase which is maintenance free, easy and quick to operate, and in the ever-changing unpredictable weather is a great way to increase your independence out on your mobility scooter.
If you need any further advice or information please feel free to email me at – mark@elderlyfallsprevention.com and I will be happy to help.
Please follow and like us:
Summary
Review Date
Author Rating