All of us, yes I mean all of us use the toilet, very often several times a day !
We never stop to question how easy we manage getting on and off the toilet – it's something that just comes naturally.
HOWEVER, for many elderly or less able-bodied person this normal everyday event can be a real struggle.
Raised toilet seats for the elderly can easily be fitted and operated with almost all standard toilet designs. Whether at home, hospital or in a nursing or residential care home, they offer a solution to getting safely on and off the toilet.
Guide for Choosing the Correct Raised Toilet Seat for the Elderly
Some people have reduced strength in their limbs, weak core muscles (muscles that improve your balance and stability), general weakness or other health issues that make standing from a low height difficult.
Ideally when sat your knees should be in line with your hips ( imagine your upper and lower body has a 90 degrees angle between it. More than 90 degrees will make it easier).
If the seat is too low it makes transferring off the seat more difficult ( even with additional arm support ).
There are normally three standard sizes ( 2″ / 4″ / 6″ heights ) to accommodate all users.
Types of Seats
Padded Raised Toilet Seats
Very soft and comfortable 

Ideal for people with arthritic pain

Helps ease pa

in of pressure sores or broken skin
Easy to wipe clean
Easy to use hook and latch straps
The Ability Superstore padded raised toilet seat attaches to the existing toilet easily with four hook and loop strap connectors.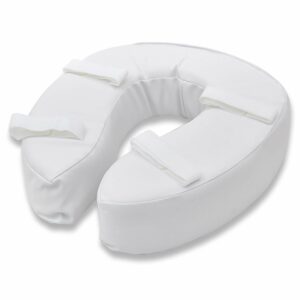 The white vinyl cover can be easily cleaned and is a cheap affordable option for someone who wants a little more comfort as well as an extra 4″ height to make it easier getting on and off the toilet.
An alternative might be the Homecraft padded raised toilet seat which is a very similar design and is available in either 5cm ( 2″ ) or 10cm ( 4″ ) cover depending on what you need. It is a little bit cheaper than the Ability Superstore padded seat but is just as good.
Clip On Raised Toilet Seats
Portable (easy to clip on and off)
Ideal if travelling around
Can be fitted securely to the seat rather than the bowl
The clip on toilet raiser is easy to fit securely on to the existing seat. The NRS Healthcare Novelle Portable Clip on raised toilet seat is a popular choice.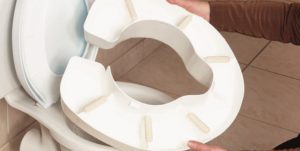 It features cut out sections at the front and back for personal cleaning and coccyx pressure relief, and it's made from white plastic with smooth and rounded edges for complete comfort.
The clip on seat is a similar price to the padded seat, but feels more supportive when you are sat on it. However, it very much depends on your own personal preference.
Lock On Raised Toilet Seats 
Two adjustable fixing brackets lock onto toilet and make it easy to attach and remove while giving the user a stable sitting position.

Secure and easy to fit
Lightweight plastic
The lock on toilet raiser either comes on its own or with a attached lid so decide if you need your toilet covered, or not before purchasing.
The Homecraft Ashby Easy Fit Raised Toilet Seat is a 10cm ( 4″ ) riser to your existing toilet, and has a maximum weight capacity of 190Kg ( 30 Stones ).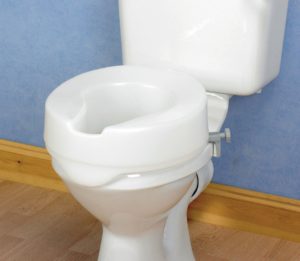 The white plastic is easy to keep clean, and as antibacterial characteristics to prevent stains, bacteria, and odours from forming.
Many people do prefer to have a lid on their toilet seat, particularly if there are other members in the house who also use the toilet, from a hygiene point of view. The Savanah Raised Toilet Seat is made of lightweight but durable white plastic, and has a gentle gradient from front to back, which makes transferring on and off the toilet that bit easier.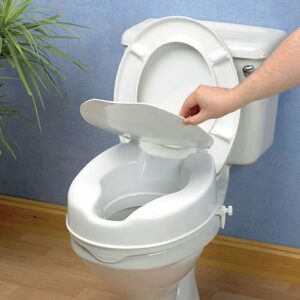 The seat is held in place by two L-shaped moulded plastic brackets with rubber, non-slip buffers, and when the toilet seat needs to be cleaned, it can be easily removed to allow easy access.
Another option is the Aidapt 4″ Senator Raised Toilet Seat with Lid, which is designed to fit the majority of toilet bowl shapes.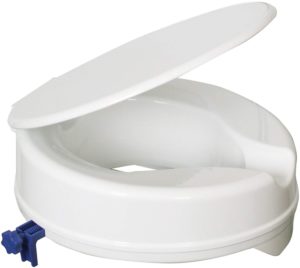 Made of lightweight plastic, it is easy to fit with side mounted brackets, and the front skirt has a rubberised pad for maximum stability and grip.
With large front and rear cut-outs designed to aid personal cleaning, the seat is an affordable option for you.
With so many products available it can be a bit daunting choosing the right one. So here's a review of some of the best products around.
From my own personal experience working as a physiotherapist in both hospital and community settings, the following raised toilet seats for the elderly offer a safe, affordable and practical solution.
Best Raised Toilet Seats for the Elderly 2022
1. Savanah Raised Toilet Seat ( with 10cm / 4″ lid )
Product: Savanah Raised Toilet Seat (with 10cm / 4″ lid)
( also available in 2″ / 6″ heights )
Cheapest Place to Buy: Amazon.com
My Rating: 4.7 out of 5.0
Main Features
Made of plastic construction
Lightweight
Strong and durable
Sloping seat downwards from back to front ( allows easier raising and lowering )
Deep front splash guard ( minimises soiling )
Fully sealed
Easy to clean
Resistant to odours and stains
Dimensions
Length – 400mm (153/4″).
Width (with brackets) – 410mm (161/4″).
Aperture – 270 x 210mm (101/2 x 81/4″).
Pros
The Savanah has a large rear cut out making rear personal hygiene possible.
Has wide front cut out allowing easier access for personal cleansing
Has two L-shaped moulded plastic brackets which keep the seat securely in position with non-slip rubber buffers
Easily adjustable brackets allow quick removal and fitting of the seat
No front bracket or knob ( secured by a lip ) stops skin or clothes getting snagged
Cons
Not as comfortable to sit on as some padded seats
If you are looking for an affordable lock on raiser with integral seat cover then the Savanah Raised Toilet Seat is a good choice. CLICK HERE to take a closer look.
---
2. Mowbray Free Standing & Adjustable Toilet Seat and Frame
Product: Mowbray Free Standing & Adjustable Toilet Seat and Frame
Cheapest Place to Buy: Amazon.com
My Rating: 4.9 out of 5.0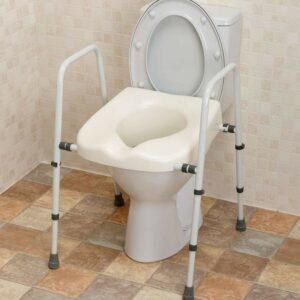 Main Features
One piece moulded ergonomically designed
Contoured seat for comfort
Arm support to help transfer safely on and off seat
Has adjustable frame to alter the width to suit the user
Dimensions
Height to top of seat: 400-550mm (15¾ x 21½")
Height to top of frame: 610 – 770mm (24 – 30″)
Seat width: 406mm (16″)
Seat depth: 450mm (17¾")
Aperture size: 260 x 220mm (10 x 8½")
Width between arms: 510 – 660mm (20 – 26″)
Maximum User Weight: 190 Kg (30 Stones)
Pros
Additional arm support
Front cut away for personal cleaning
Supplied assembled
Easy to use E- clips to adjust height and width
Can be dismantled without the need for tools
Portable
Cons
Unable to use with lid
The additional arm support is a really important addition to this toilet raiser, and something that a lot of people benefit from having, to help them get safely on and off the toilet. CLICK HERE to take a closer look.
---
3. Elevated '2 in 1' Toilet Seat with Removable Arms
Product: Elevated '2 in 1' Toilet Seat with Removable Arms
Cheapest Place to Buy: Amazon.com
My Rating: 4.8 out of 5.0

Main Features
Raised plastic seat with integral armrests designed to fit onto existing toilet bowl.
Removable arms to aid side transfers and offer additional space when moving.
Moulded heavy-duty plastic construction providing additional durability and strength.
Dimensions
Seat Height: 130mm ( 5″ )
Seat Width: 430mm ( 17″ )
Seat Depth: 420mm ( 17″ )
Weight: 2.3Kg ( 5Ibs )
Max User Weight: 135Kg ( 21 Stones)
Pros
Easy to use locking device with heavy-duty 'worm screw' and locking plate ensuring a secure and safe fit
Recess on front of seat improving access for personal hygiene
Easy to clean hygienic surfaces
Foam padded armrests for added comfort
Can be assembled without the need for tools
Cons
Unable to use with lid
Durable and strong, the removable arms gives you more space when moving around, and also enable you to transfer safely on and off from the side if space is an issue. CLICK HERE to see for yourself.
Factors to Consider Before Buying a Raised Toilet Seat
1. Stability
Ensure the seat comes with a locking system to keep toilet raiser in place.
2. Portability
If other people in your house do not need a toilet raiser, an easy to attach and dismantle portable one is your best option. It can easily be stored away when other family members are around.
3. Toilet shape 
Check your toilet shape. Some are standard sizes but there are also elongated versions. If unsure check the measurements prior to ordering.
In my day to day work all three raisers discussed are useful aids to help you manage toilet transfers safely.
However, I would recommend using the Mowbray Free Standing and Adjustable Toilet Seat. Yes it is slightly more expensive than the others, but it is lightweight, portable and both height and width adjustable to accommodate many different shapes and sizes.
If you have any questions or need advice on choosing the correct raised toilet seat please contact me at mark@elderlyfallsprevention.com and I will be happy to help.
Please follow and like us: