Wheelchair ramps for homes are a great way for the elderly or less mobile to move freely in and around the home safely, increasing their independence to manage daily activities easier.
Wheelchair ramps are portable, foldable and easy to set up and dismantle, whether it's to access your property, help with porches, internal and external steps to any room in the home, step up showers, or practically anywhere where access to and from your home is limited.
In addition to wheelchairs, ramps are also useful for mobility scooters, 3 and 4 wheel rollators, or any mobility aid where access is a problem.
With so much choice available it can be a little daunting, so we have saved you the time by picking out the Best Portable Wheelchair Ramps for Homes 2023.
Best Portable Wheelchair Ramps for Homes 2023
1. Prairie View Industries SFW330 Singlefold 3 Ft x 30 Inch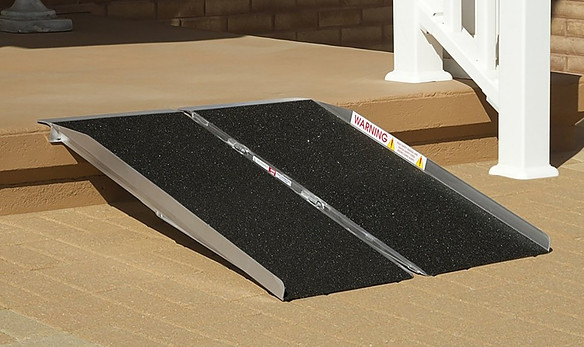 This portable and compact single fold access ramp is ideal for use when access in needed in around or away from the home. With its easy to carry handle, this wheelchair ramp is both portable and lightweight to carry around.
Main Features
Single fold Aluminium ramp ( folds in half for easy transportation )
Weight capacity of 800lbs
Full 30″ wide platform
Anti-slip resistant tape surface
Welded fabrication
Accommodates rises between 3 inches to 6 inches for occupied wheelchair and scooter access
Has edge guard
Length – 36″ ( 3 feet )
Threshold height – 2″
Ramp Weight – 6.8Kg (15Ibs)
Weight Capacity – 800lbs
Maximum rise – 6″
Pros ( What I like about it )
The ramp feels incredibly sturdy and stable – easy to fold up and transport around.
Width of ramp is suitable for various configurations of both wheelchair and mobility scooter.
Really supportive even when attaching to a high step ( 8″ ).
Lightweight design but incredibly strong
Cons ( What I didn't like about it )
The hinges on the middle of the ramp do not recess into the seam once the ramp is folded out. This might be a trip hazard for some people, but seems unlikely.
You may need a longer ramp if the access is above 8″, or where there are several steps to navigate.
The Prairie View Industries Singlefold Wheelchair ramp is sturdy, collapsible, and has a slip resistance treatment on its surface which allows it to stay securely fitted when in use. It is an ideal ramp for relatively small steps and thresholds.
---
2. HOMCOM 6ft Folding Aluminium Wheelchair Ramp

The HOMCOM Folding Aluminium Wheelchair ramp is both portable and lightweight that extends and folds up with relative ease. The four fold design allows it to be easily fitted over several steps at once.
Main Features
Four-fold design
Portable and lightweight
Has an anti-slip grip surface for extra safety
Easily transported due to its suitcase style design
Weight capacity 270kg
Quick and simple to assemble
Net Weight – 15 kg (33lbs)
Overall Dimension – 183cm (Length) x 72cm (Width) x 5cm (Depth)
Folded Dimension – 91.5cm (Length) x 36cm (Width) x 16cm (Depth)
Pros ( What I like about it )
It has a high weight capacity of 270Kg so is ideal for most users, even someone using a class 3 mobility scooter.
The anti-slip grip surface of the ramp feels really secure even when using in wet weather.
It is heavy and solid when in place, and doesn't move or flex when using.
Cons ( What I didn't like about it )
1. The one thing that some people may be put off about is the weight. Unless you are fairly strong it can take two people to set up and dismantle.
The HOMCOM 6ft Folding Aluminium Wheelchair Ramp provides a convenient and useful addition for you to access your home safely. The lightweight, portable designed ramp will help you maintain your independence and manage your daily activities.
---
3. Aidapt VA142C Light Wheelchair Ramp 91cm ( 3 foot )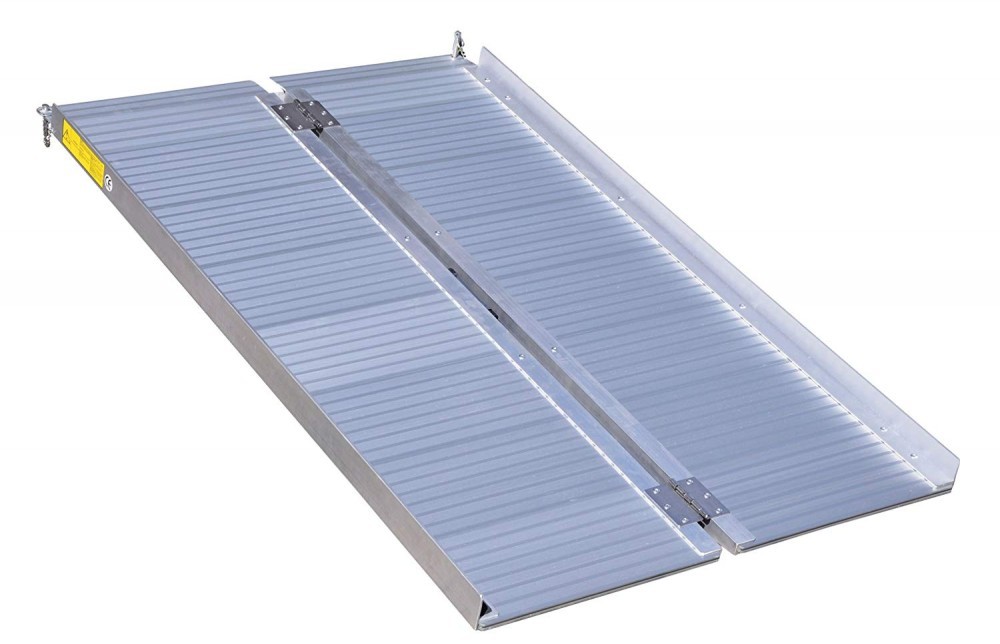 This durable, portable, lightweight suitcase wheelchair ramp from Aidapt is ideal for providing access to houses for wheelchairs, mobility scooters, walkers and rollators. The folding, suitcase type ramp is constructed from lightweight, rust-free aluminium and is extremely portable and convenient to store.
Main Features
Has raised side walls and 2 locking points for safety and convenience
Made from lightweight aluminium construction
Milled tread on the ramp surface for optimum grip in all weathers
Contains a sturdy carry handle
Portable and easy to store away
Ramp load capacity – 272Kg ( 42 Stones )
Net weight – 7.85Kg
Ramp Dimensions – 910mm x 740mm x 50mm
The Aidapt Light Wheelchair Ramp is also available in the following different sizes –
Code VA 142B ( 2 foot )
Code VA 142K ( 5 foot )
Pros ( What I like about it )
1. The wheelchair ramp feels sturdy but is really lightweight and portable. It fits easily into the boot of a small car.
2. The suitcase handle has a good grip and is comfortable carrying the ramp around.
Cons ( What I didn't like about it )
1. If you have a step up of 10″ or more you would need a longer wheelchair ramp to make it safe.
The Aidapt VA 142C Lightweight Wheelchair Ramp is durable, portable and lightweight. It is ideal for providing access both in and out of your home.
---
4. Aidapt 5 ft Telescopic Channel Ramp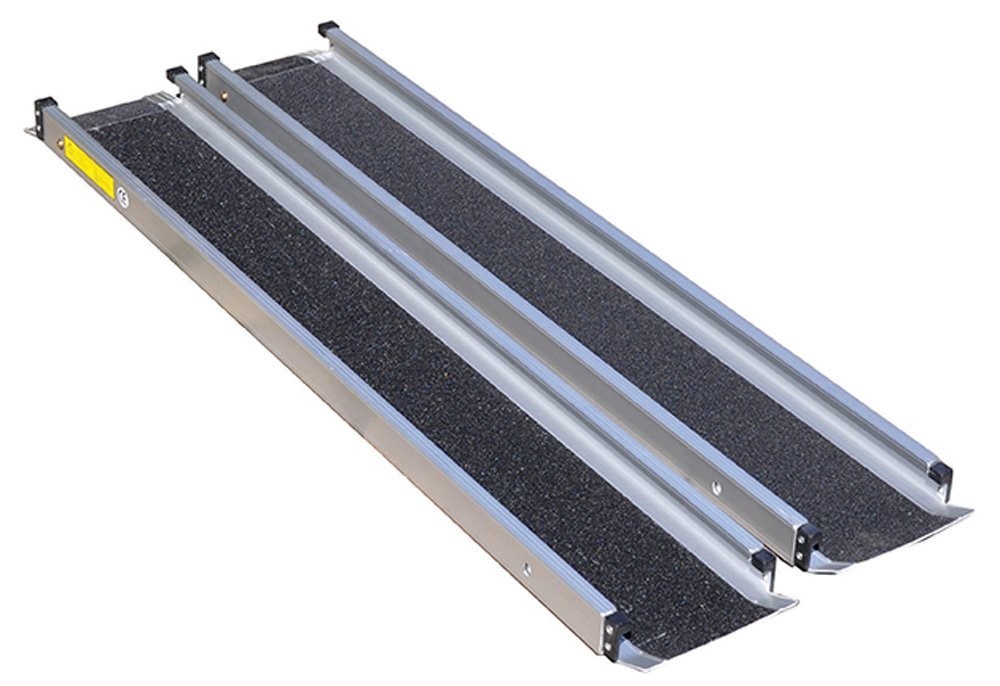 This durable, lightweight and compact telescopic channel wheelchair ramp will help you access internal and external steps of your house easily.
Main Features
Lightweight durable construction
Collapsible and extendable ramp
Suitable for most mobility scooters and wheelchairs
Maximum load of 180 kg (28 stone) on both channels
Security locks to fix the ramps to either the folded or collapsed length
The telescopic channel ramp is available in 4 different lengths
Gritted surface
Supplied with an easy carry bag
Maximum user weight 272 Kg ( 43 Stones )
Net weight – 6.5 Kg
Product Dimensions– Length ( collapsed 835mm / extended 1520mm – 5ft
– Width ( collapsed 189mm / extended 195mm )
– Depth 50mm
4 ft ( 1220mm ) version – CLICK HERE TO BUY NOW
6 ft ( 1830mm ) version – CLICK HERE TO BUY NOW
7 ft ( 2130mm ) version – CLICK HERE TO BUY NOW
Pros ( What I like about it )
The black gritted surface of the ramp gives really good grip even when using in wet weather, so it gives you piece of mind you will be safe using it.
What I really like about this ramp is the fact that it is easily collapsed and extended to allow easy transportation and storage.
The great thing about the Aidapt telescopic channel ramps is they are available in different lengths. There is a 4 ft, 6ft and 7ft version depending on what you need.
For the price these are really good value ramps.
Cons ( What I didn't like about it )
The edges of the ramps can be a little high for some mobility scooters.
The Aidapt Telescopic Channel Ramp is both a versatile, compact and lightweight wheelchair ramp for the home, and are an ideal choice to help your independence.
---
5. Aidapt Easy Edge Threshold Ramp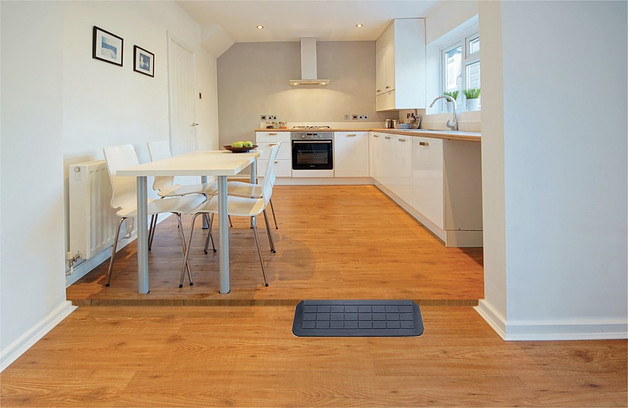 This wheelchair ramp is ideal for interior and exterior doors or thresholds, but is also safe for use in roll-in showers, wet rooms, or anywhere where you need easy access and any other application requiring vertical transition.
Main Features
Easy and quick installation.
Lightweight and portable.
Ideal for various size threshold steps both internally and externally.
Suitable for any surface such as wood, tiles, marble, concrete and asphalt using suitable adhesives.
Made from 100% recycled rubber.
Available in a range of sizes.
Product Dimensions – Width (1520mm) x Depth (610mm) x Height (50mm)
Other sizes available –
Width (1270mm) x Depth (460mm) x Height (45mm) – CLICK HERE TO BUY NOW
Width (1070mm) x Depth (200mm) x Height (25mm) – CLICK HERE TO BUY NOW
Width (1070mm) x Depth (310mm) x Height (30mm) – CLICK HERE TO BUY NOW
Pros
This threshold ramp is so simple to set up. The combination of the weight and rubber design means it doesn't move around, even when on carpet.
One good thing from using this rubber ramp was it can easily be cut down to size – perfect when you are trying to access different width rooms other than the standard sizes.
Solid design which is great whether you are using a lightweight wheelchair or a heavy-duty mobility scooter
Cons
The height is not adjustable as with some wheelchair ramps, so you need too check and measure the vertical height to ensure you buy the right size.
The Aidapt Easy Edge Threshold Step is so simple and easy to fit, and is secure and stable on a variety of different surfaces. It comes with a 10-year guarantee ensuring durable and maintenance-free use, and is an environmentally sustainable product produced from 100% recycled rubber.
---
6. Drive Aluminium Portable Threshold Bridging Ramp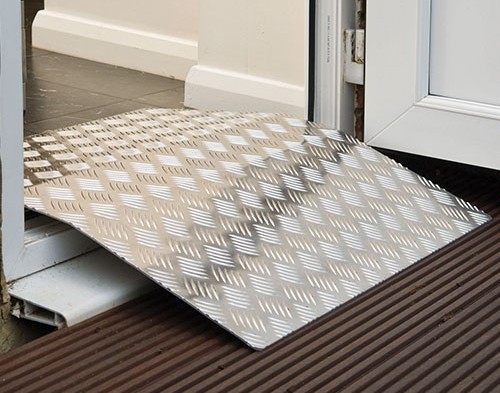 This portable threshold bridging ramp is highly durable and so easy to install. It is lightweight and the check plate designed grip surface offers you very good traction and support. It is perfect for small spaces or doorways.
Main Features
Simple and easy to use.
Total raise 40mm ( 1.5″ ).
Has textured non-slip surface.
Ideal for small spaces or doorways.
Lightweight, portable and easy to install.
Anodised aluminium finish.
Has anti-slip rubber pads on the underside of ramp.
Width – 70 cm (27.5 Inch)
Length – 100 cm (39 Inch)
Height – 11.5 cm (4.5 Inch)
Weight of ramp – 6 kg (13 lb)
Maximum user weight – 42st (272 kg)
Pros
This is great for using on small internal threshold steps where it can be tricky getting a wheelchair up and over.
At 6kg this ramp is not too heavy – really easy set up and dismantle.
If you don't want the expense of having a permanent ramp then this lightweight portable ramp is ideal.
Cons
Depending on the access you may find you need two separate ramps rather than the one threshold ramp.
For those with lots of internal thresholds and raised PVC between rooms then the Drive Aluminium Portable Threshold Bridging Ramp is just what you need. It is portable, lightweight and so easy to install.
---
7. Aidapt Folding Suitcase Ramp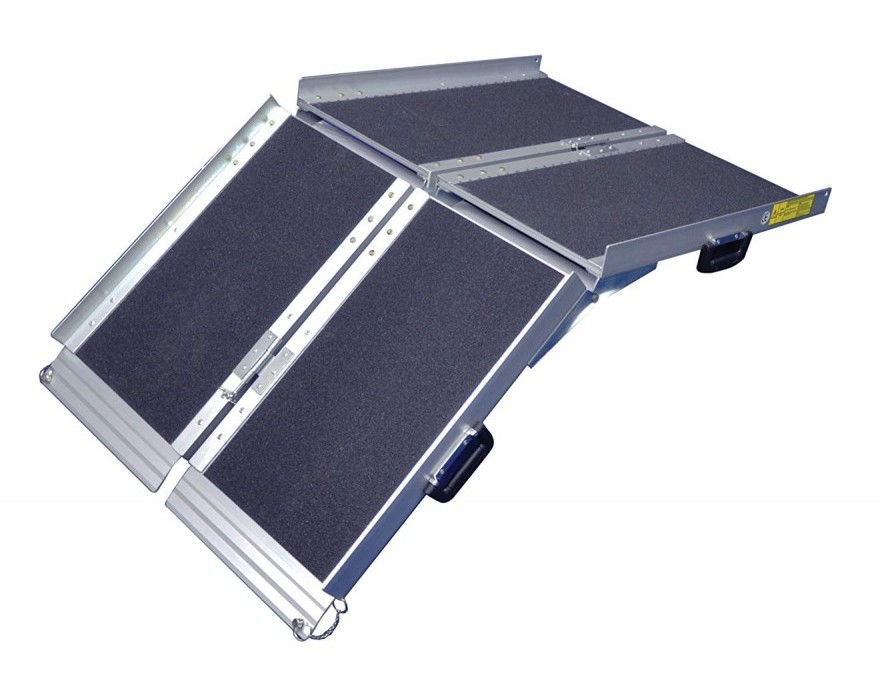 This robust Folding Suitcase Ramp from Aidapt is ideal for providing access to houses and cars for wheelchairs, scooters, walkers and rollators. The tri-fold ramp is supplied in two parts that can be easily slotted together, and is constructed from sturdy, rust-free aluminium with strong carrying handles attached, making the unit portable and convenient to store.
Main Features
Portable and easy to use, store and transport
Tri-fold design
Suitable for the majority of wheelchairs, scooters, rollators and walkers
Available in 2 extendable lengths ( 4 feet ) and ( 6 feet )
Maximum load of 272 kg (42 stone) on joined ramps
Non slip black gritted surface for safe all-weather use
Strong carrying handle
Raised side walls for added safety
Security locks for hinges and ends to fix ramp together
Pros
This ramp is really easy to assemble and dismantle which will save you time and effort whenever you need to use it.
Really easy to lock into place using the security locks, which gives you piece of mind everything is safe ans secure.
The non-slip surface makes it safe to use in all weathers.
Cons
Depending on your strength some people may find it a little heavy to carry around.
The Aidapt Folding Suitcase Ramp is a versatile, portable ramp that can be used not only around the house, but anywhere where access is restricted. Suitable for wheelchairs, mobility scooters, rollators and walkers, it offers a perfect solution to help you become more independent.
---
Portable Wheelchair Ramps Selection Guidelines
As a general rule when using portable wheelchair ramps most ramp manufacturers recommend a gradient no steeper than 1in12 for independent use, and 1in 8 for assisted use over shorter distances.
The ADA provides wheelchair ramp specifications and guidelines.
A simple calculation for finding out ramp lengths is to multiple the height by the ratio.
For example, if you are working on a 1 in 10 ratio, you would multiply the height of the step by 10 to give you the minimum length of ramp.
Remember that your wheelchair ramp needs to be wide enough to accommodate your wheelchair or mobility scooter, but also narrow enough to fit through the threshold gap of the door or opening.
CLICK HERE to view an easy to use ramp selection guide.
---

Choosing the right wheelchair ramp is an important decision as each one has different features, designs and functions.
There are portable, semi-permanent and permanent wheelchair ramps available, so check out before buying where and what you are using the ramp for to ensure you have made the right choice.
There are a large variety of sizes, shapes and styles to choose from, so here is a guide to help you decide what is the best solution for you.
Suitcase Wheelchair Ramps
As the name suggests these ramps can be transported just like a suitcase. They are lightweight, portable, easy to carry, and are usually a single fold ramp.
They are perfect for accessing single steps, kerbs, and areas where you need to navigate a single step or incline.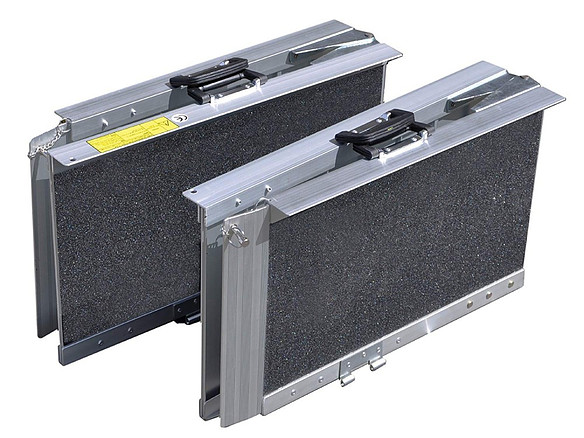 Threshold Wheelchair Ramps
A threshold ramp is a short ramp designed to help a wheelchair go through a doorway with a threshold or small step. They are perfect to use at front doors, in porches, or to access a conservatory, and are suitable for heights up to around 2″.
They are available in a variety of different materials and designs, such as rubber thresholds, aluminium thresholds, and fibreglass thresholds.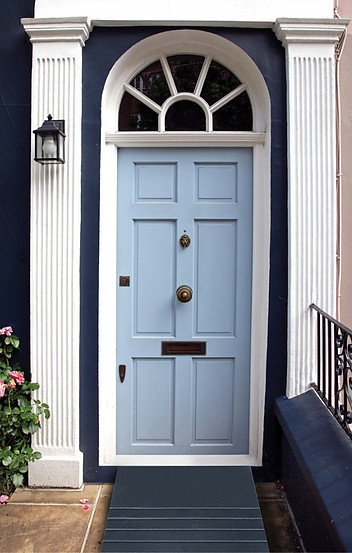 Channel Wheelchair Ramps
Channel ramps are small, lightweight and easy to handle and are available in standard, folding and telescopic versions.
These ramps are compact and portable, ideal for manual and powered wheelchairs, and mobility scooters.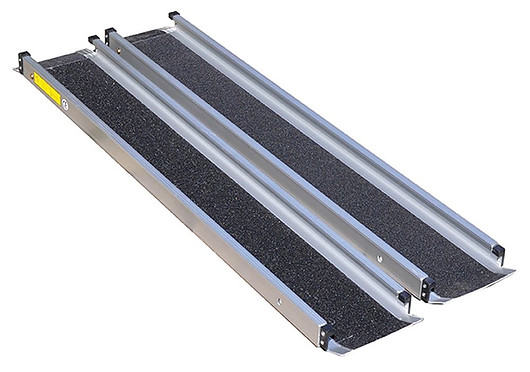 Multi – Folding Wheelchair Ramps

Multi-fold wheelchair ramps are designed to fold in half, both width ways and length ways, so that they can be reduced to a quarter of their full size. Due to their compact size they are ideal for transporting, or for easy storage.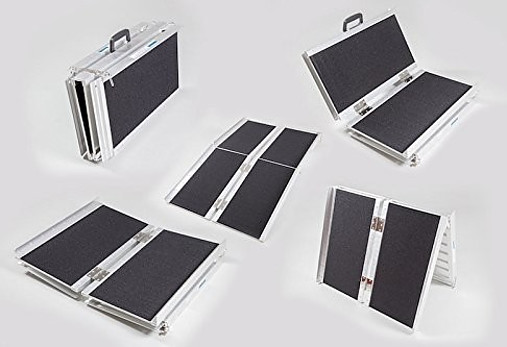 Modular Ramps
Modular ramps are constructed out of ramp sections and are a larger, more permanent fixture. However, they can easily be dismantled and reassembled relatively quickly. They are normally made out of aluminium because it doesn't rust, and it is a more cost effective option than other materials.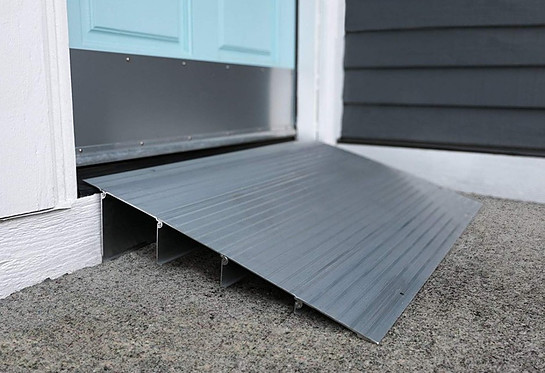 Wheelchair Ramps Safety Tips

1. Using your ramp – degree of incline
Always make sure that you fully open / extend the ramps before using to minimise any injuries or accidents happening.
When setting up the ramp, always select the area where the ramps have the minimum gradient possible.
Always check that the gradient you use is compatible with the manufacturers guidelines.
Remember steep ramps can be dangerous as there is always the risk of the wheelchair tipping backwards. The lower the incline the easier and safer it will be.
Make sure that you place the wide end of the ramp is always on the higher ground, and the angled lip of the ramp is on the low point or ground.
2. Ramp level landings
At the top of the ramp where it meets the ground there must be a level landing area. Ideally, the area should be at least the same width as the wheelchair ramp, and 5 feet ( 60″ ) long in order to accommodate the entire wheelchair.
If the landing area is in front of a door, there should be sufficient space for the door to be opened.
3. Opening & closing ramps
The ramp should be placed horizontally on the ground.
Pull the locking pins out of the corresponding holes.
Carefully lift the top ramp and fold it open using the hinged join between the ramps until it is flat, and in line with the lower ramp.
Using the hinged joint between the ramps, carefully lift one side until both ramps are on top of each other.
Insert the locking pins into the corresponding holes to secure.
Wheelchair ramp maintenance & safety checks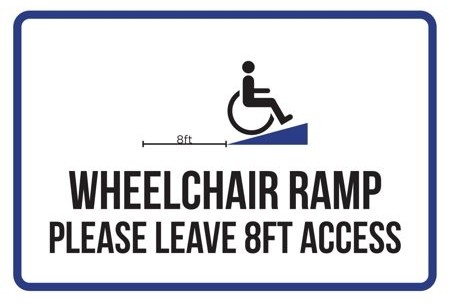 Do not exceed the manufacturer's weight capacity for the ramp.
Check your ramp on a regular basis for loose, worn or damaged parts. If you find any do not use your ramp and contact the manufacturer.
When using two ramps (channel / telescopic) always make sure that they are level and parallel to each other.
Always ensure that the ramp is fully extended and locked in position before using.
Check the gradient / incline that your wheelchair or mobility scooter is capable of.
Do not use your ramp on a gradient above 1 in 12. Also, never use it on a steeper gradient than is recommended for the ramp.
Ensure that one person uses the wheelchair or mobility aid at once.
Make sure that the wheelchair ramp is kept clean of any debris or dirt that could affect its operation.
Only use the ramp for its intended purpose. Do not modify or change it.
Use caution when adjusting the length of your ramps and avoid any pinchpoints.
Cleaning your wheelchair ramp
Make sure you only clean your ramp using a mild detergent or disinfectant with a slightly damp, soft cloth.
Do not use an abrasive cleaner as this will damage your ramp.
Once cleaned leave the wheelchair somewhere warm and dry to air. Alternatively, you can wipe down the ramp with a soft dry cloth.
---
The Benefits of Wheelchair Ramps for Homes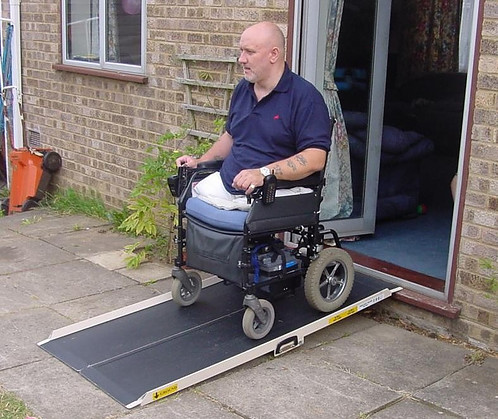 1. Independent Living
Wheelchair ramps enable elderly people as well as physically disabled people the freedom to move in and around their home safely. Ramps are a cost-effective and practical way to help increase your independence.
2. Portable Easy Installation
The majority of wheelchair ramps are both portable, lightweight and easy to both install and dismantle. A quick and safe temporary or permanent solution to moving around.
3. Compact
Many of the wheelchair ramps fold away neatly with carry handles for easy transportation or storage.
4. Low maintenance
Many of the mobility ramps for homes are made from aluminium and require very little upkeep and maintenance.
Aluminium does not rust, so it is the ideal material for outdoor applications, such as wheelchair ramps.
When aluminium oxidizes, the layer of oxide acts as another layer of protection against the elements and makes the aluminum even stronger.
5. No Building Permit Needed
Unlike wooden or concrete ramps which are considered permanent fixtures, modular or other types of wheelchair ramps are classed as non-permanent as they can be moved. This means you won't need to apply for permission to fit one.
---
Best Portable Wheelchair Ramps for Home 2023
Wheelchair ramps are a quick and easy way to aid your mobility in and around your home. Many of the ramps are portable, lightweight and easy to install and dismantle.
Whether you need them as a temporary access point, or permanent fixture, they offer a safe solution to helping you regain your independence to manage your daily activities.
If you need any further help or advice please feel free to contact me and I will be happy to help.
email: mark@elderlyfallsprevention.com.
---
Please follow and like us: