If you are looking for lightweight and compact Class 2 mobility scooters then you may want to consider what Drive Medical has to offer in this Drive Scout Mobility Scooter review.
Class 2 scooters are becoming more powerful, portable and robust than previously, with the added benefit of being able to be stored in a small space. These lightweight travel scooters increase your independence and help you manage your daily activities with ease.
So, if you want a scooter to use in and around your local area, a day out with friends, or to easily transport in your car, then Class 2 mobility scooters would be the perfect answer.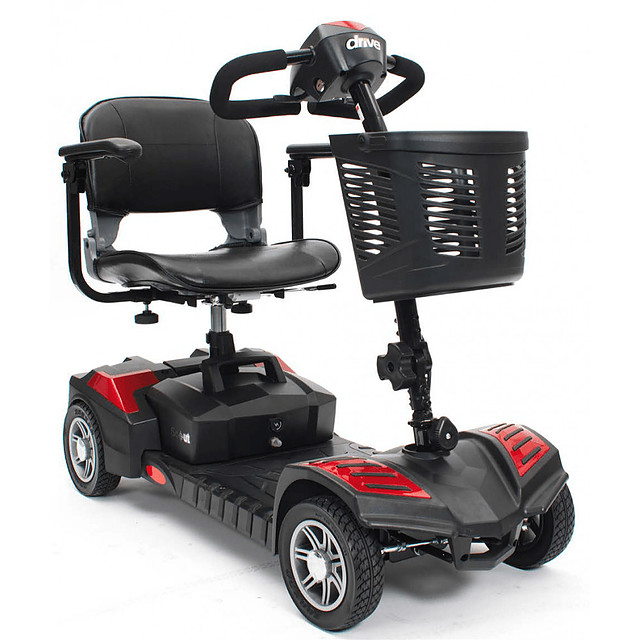 What is the Drive Scout 4 Wheel Mobility Scooter?
The Drive Medical Scout Lightweight Mobility Scooter in the 4 wheel version is a compact transportable travel model designed by Drive Medical, a part of Drive DeVilbiss, one of the leading manufacturers and distributors of durable medical products in the world today.
This lightweight 4 wheel scooter has many features that you would normally find on a larger scooter, such as Delta bars and a next generation Drive splitting mechanism which enables it to be dismantled quickly and easily.
In addition, it is packed with plenty of safety features that makes this Class 2 portable power scooter lightweight, compact and perfect for both indoor and outdoor use.
How does the Drive Scout Mobility Scooter perform?
The Drive Scout Travel Mobility scooter has been specifically designed with performance and reliability in mind, as well as focusing on both comfort and style, providing you with a superior mobility scooter experience.
As standard the mobility scooter is fitted with a 12 AH battery pack that gives you a top speed of 4mph and a range of up to 10 miles when fully charged. To increase the scooter's maximum range you can also get a 20 AH battery.
It has a lightweight and compact design that allows you to be able to use both indoors and outside, with a next-generation drive splitting mechanism which separates the front piece of the scooter from the back.
This allows you to dismantle the scooter quickly and easily for easy storage or transportation.
The Drive Scout mobility scooter has a delta bar tiller as standard which caters for the individual who wants to operate the controls confidently and without discomfort.
A comfortable, height adjustable lightweight seat and width adjustable arms ensures that the user is in the optimum sitting position at all times.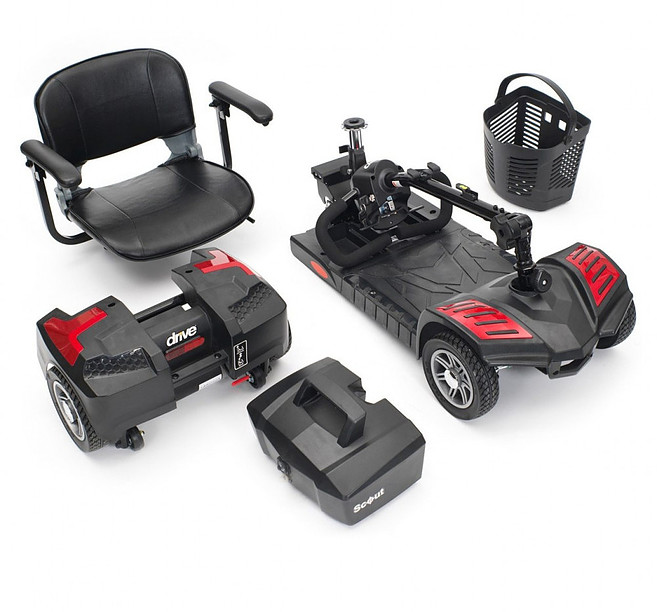 What can the lightweight Scout Mobility Scooter offer that standard models cannot?
Portable and Lightweight
Unlike some heavier scooter models around, the Scout mobility scooter's lightweight design means it is a lot easier to carry once dismantled, and very portable transporting around.
This makes them great for various travel methods such as cars, buses, trains and even airplanes.
Manoeuvrability
The wheels are often closer together on lightweight class 2 mobility scooters which makes them a lot easier to manoeuvre around safely.
This gives them an acute turning radius, which allows them to turn more easily on narrow paths, around shopping areas and inside your house.
Battery
Technology has moved on a lot with mobility scooters batteries from the old lead-acid battery (heavy – think of your car battery), to the lithium-ion batteries you find in lightweight mobility scooters.
You can easily take your lithium-ion battery out of your scooter and carry it with ease. But weight isn't the only advantage. Not only are lithium-ion batteries lighter, they are also longer lasting and charge faster.
Pros
It is quick and easy to dismantle and store away.
Has a comfortable height adjustable seat that swivels 360 degrees making transferring on and off the scooter easy.
Lightweight removable lithium ion battery pack with an easy to carry handle and locking mechanism. This can be charge either on or off the scooter.
Easy adjustable tiller to suit your individual requirements.
It has a freewheel facility for moving the scooter without switching the motor on.
The armrests are width adjustable to give you comfortable support.
Has an anti-roll back mechanism which stops the scooter rolling back when stationary which is great if it's on a slope.
Cons
It only comes with a UK plug for charging the battery, so you will need to get a European plug or adaptor for it to work.
As the tyres are puncture proof they can feel a little hard at times on some surfaces.
Be aware of other lightweight scooter versions
Light mobility scooters are in huge demand and one of the most popular types of mobility scooters at the moment. There are essentially two types of light mobility scooter – folding scooters and travel scooters such as the Drive Scout 4 wheel scooter.
Because travel scooters dismantle into separate parts they are still easier to transport and store than folding ones, but as technology moves on the lighter folding scooter has become more popular and appealing.
It's worth remembering that at the moment there are no Class 3 lightweight scooters on the market (road legal scooters). These type of mobility scooters tend to be larger, heavier and more robust than Class 2 scooters.
Is the Drive Scout 4 Wheel Mobility Scooter worth it?
As budget lightweight 4 wheel travel scooters goes, the Drive Scout ticks a lot of the boxes. It has a lot of features that you would normally only find on more expensive scooters, and compares well against other lightweight travel mobility scooters.
During my day to day role as a Physiotherapist I have come across patients and family members who use 4 wheel lightweight scooters, and have always been impressed with their portability and handling of them.
The Drive Scout Travel Mobility Scooter is stylish, reliable and although a lightweight Class 2 scooter is able to carry someone up to 20 stones in weight.
Conclusion
So here are my final thoughts on the Drive Scout Mobility Scooter, a well-designed, portable mobility aid that is specifically designed with performance and reliability in mind.
As well as focusing on both comfort and style, it will provide you with a superior mobility scooter experience.
If you have any questions or need any further help please feel free to contact me at mark@elderlyfallsprevention.com and I will be happy to help.
If you want to find out more about the Drive Medical Scout Mobility Scooter CLICK HERE.
Please follow and like us:
Summary
Reviewer
Review Date
Reviewed Item
Drive Medical Scout Mobility Scooter
Author Rating





Product Name
Drive Scout Mobility Scooter
Price
Product Availability