A personal alarm allows the user the freedom to live independently in their own home, secure in the knowledge that if there is an accident, or they have a fall, they can get help quickly.
At the touch of a button friends or family can be alerted 24 hours a day, 7 days a week, offering peace of mind and reassurance. Personal alarms allow people to call for help if they have a fall or accident at home. They can also help the elderly and less mobile feel confident and safe in their own home.
Personal alarms and the elderly go hand in hand together, offering peace of mind to family and friends when they are not around to help, such as living a long distance away, or when they are on holiday.
Types of Alarms
There are many types of panic alarms for the elderly that can be used in the home, or travelling about outside. These include –
Pendant alarms  /  Telecare
Smoke alarms
Motion detector alarms
Alarm mats
Pendant Alarms for the Elderly
Pendant Alarms are the perfect answer for the elderly or disabled person living on their own. They offer peace of mind with minimal intrusion. If you are worried about your own safety, or that of a loved one, a Lifeline Pendant Alarm is perfect for you.
Despite its name, a personal alarm pendant can be worn around the neck or the wrist. They are ideal for the elderly, disabled, chronically ill or people who just need a little bit of reassurance to remain independent at home.
How a Pendant Alarm Works
The user of the alarm needs help, so they activate the pendant they are wearing.
An alarm call is received almost immediately by a 24 hour monitoring centre.
The monitoring centre try to communicate with the alarm user by speaking to them over the base unit's loudspeaker.
The monitoring centre then arrange help in the form of family, friends, neighbours or the emergency services.
The SureSafe Personal Alarm provides peace of mind at the touch of a button.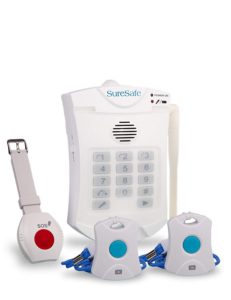 Panic alarms are designed to send an alert, when triggered, to a preset number of mobile phone numbers or a 24-hour monitoring service to react quickly in emergencies, such as when someone has fallen.
Normally this is via a single button, such as a pendant alarm you wear around your neck, which then either dials or sends a message, to a 24-hour monitoring service which can summon for help.
Benefits of a Panic Alarm for the Elderly
A fall detector alarm, normally worn on the wrist, automatically triggers when you fall sending the call out to the monitoring team. Ideal for someone who is at high risk of falls.
Personal alarms can connect multiple sensors to the alarm, such as bed sensors, smoke alarms or motion detector alarms.
Can be used for two-way conversations.
The user can answer an incoming phone call by pressing their pendant alarm which has a loud speaker function.
The alarm can be programmed to contact a family member or carer when activated.
New personal alarms are now available to track people if they wander off outside, such as people with types of dementia.
Piece of mind for relatives or family members.
Allows user ability to live independently.
Please follow and like us: