Each year in the UK around 1 in 3 adults over 65 who live at home will have at least one fall a year, and about half of these will have more frequent falls.
One of the common risk factors in a person falling is either wearing wrongly fitting or inappropriate footwear, socks, tights, or, in many cases, not wearing anything on their feet in and around the house.
Wearing the correct footwear is a safe and simple way to prevent falls in the elderly.

In the house make sure you wear slippers that fit you correctly, and have adequate heel support. Ideally they should have a good fastener or Velcro support and sufficient grip.

The best house slippers for women 2023 should be easily adjustable to accommodate any swelling in the foot, and be slip resistant. They need to have supportive rubber soles, and have adequate heel support to help with your balance when walking.

Table of Contents

1.    Buying Guide  ( 6 point checklist )
   –  Correct size
   –  Heel support
   –  Supportive sole
   –  Good grip
   –  Adjustable
   –  Comfortable
2.    Best House Slippers for Women  (My No 1 choice)
   –  Memory foam slipper
   –  Extra wide fit slipper
   –  Low top slipper
   –  Fleece lined slipper
   –  Cosyfeet slipper
   –  Dearfoam slipper
   –  Ugg slipper
3.   Benefits of elderly wearing house slippers
4.   Why should we wear slippers at home ?
5.   What are the different types of slippers called ?
6.   Common foot problems in the elderly affecting slipper wear
7.   Caring for your slippers

Buying Guide for choosing the right house slippers for women
Here's your 6 point checklist to consider before you buy.
1) Correct Size: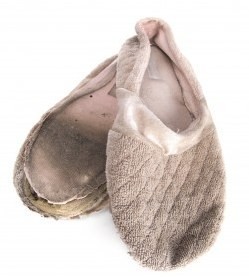 First and foremost, you need to make sure that the slippers you are wearing fit you correctly. Too loose and they will easily slip off, and potentially cause you to lose your balance and fall.

If they are too tight they will make it painful walking, restrict your circulation and could damage your feet and toes.

This is simple advice but you would be surprised how many elderly people walk around in an old pair of slippers they have had for years, and that are falling apart, with their toes pushing a hole in the end of the slipper.
2) Heel Support:
You need to make sure that the slipper has a good supportive heel to it. Your foot needs to be in contact with the sole of the slipper at all times, So many elderly women walk around their home in slippers with no back in them, which makes it so easy for your foot to slip out, lose your balance and fall.
3) Supportive Sole:
You need a good hard sturdy thick sole to give you plenty of support in your mid foot. Try to avoid thin, flexible soles which have lots of give in them, but will make you less stable walking in your slippers. In addition, the thinner sole will wear out a lot quicker.


4) Good Grip:
Having a good grip on your slippers is really important. A rubber slip resistant material sole is best. Many people don't always check the grip, and walk around with worn smooth slippers. Make sure you check yours !
Even on a carpeted surface this increases the risk of slipping, but on wet, laminated, smooth and tiled surfaces the risk of serious accidents happening is greatly increased.
5) Adjustable:
Your feet change in size so you need to keep them secure at all time. Velcro slippers are great as they rarely need to be adjusted, and keep your feet secure. Try to avoid any slippers with laces as they can soon become loose walking around in them. In addition, they can soon become a trip hazard for you.
6) Comfortable:
You need the slippers to feel comfortable as you will spend a lot of time wearing them during the day. You need to look for ones made from breathable material that minimise your feet sweating.
Some elderly people suffer from cold extremities especially with their feet. Memory foam is common now in a lot of different types of slippers, which keeps your feet warm, but also very soft and supportive.
So, there you have it, some good advice and tips on choosing the right slippers for you. Take a look at some of the best house slippers to buy.

Best House Slippers for Women 2023
1. LongBay Women's Wide Fit Memory Foam Diabetic Slippers
( My No 1 choice memory foam slipper )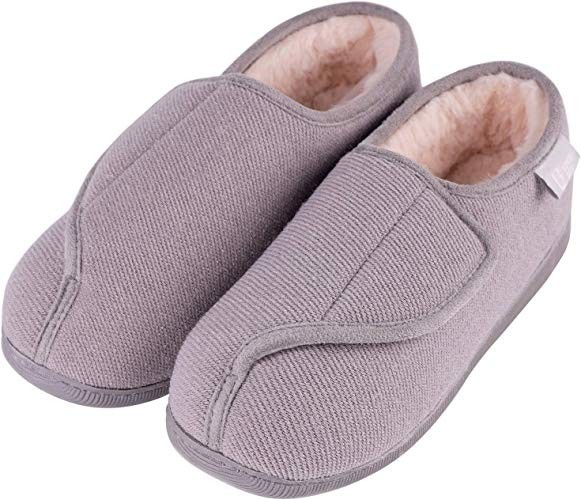 The LongBay Women's Wide Fit Memory Foam Diabetic Slippers are ideal for around the home. Easy to put on with an adjustable strap for a customized fit, they offer great stability and are perfect for those with tired, swollen feet.
Pros
The large adjustable Velcro closure strap makes them easy to put on and off. Great for those with reduced strength or arthritic fingers.
The soft wool-like knit upper plus silky faux bunny fur lining means you will always feel snug and comfortable when wearing them.
Great price for those on a budget but looking for a high quality slipper.
Durable rubber sports sole with non-slip traction, which means great stability and support for you on any surface.
Supportive insole which means added comfort for you.
Cons
May not be a wide enough fit for some people.
---
2. Padders Cherish Ladies Extra Wide Fit Velcro Full Slippers
( My No 1 choice extra wide fit slipper )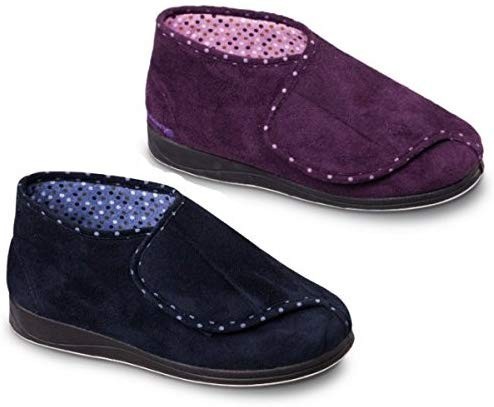 These Padders ladies slippers are perfect for keeping you warm. The extra wide fitting allows enough room for wide feet and keeps them ultra comfortable by the memory foam insole preventing feet from painful pressure points.
Pros
The extra wide fit make them perfect for you if you suffer from swollen feet, of if you have a wider foot.
Feel really supportive and very, very easy to slip on and off because of the wide opening flap, as opposed to a "strap like" closure.
The high back and ankle support gives you great stability when walking in them, which really helps you if you have poor balance.
Attractive colourful designs.
Cons
Lack of half sizes available
---
3. Padders Women's Camilla Low-Top Slippers
( My No 1 choice low top slipper )

These Padders Women's Camilla Low-Top Slippers have a soft terry lining and memory foam filled sock making them a delight to wear. They fasten easily with a Velcro fastening, and are great for wearing around the house.
Pros
The memory foam sock lining makes your feel really snug and comfortable.
Has a super soft rubber sole that cushions your feet.
Available in a range of attractive colours to suit everyone's taste.
Could also be used for light outdoor use as well.
The adjustable Velcro fastener makes it great for those who suffer with swollen ankles and feet.
Wide enough fit to accommodate you wearing any foot bandages or dressings.
Cons
Stitching on the back of the slipper can become loose over time.
---
4. Padders Women's Repose Fleece and Fur Lined Slippers
( My No 1 choice fleece lined slipper )

These luxurious ample fitting rubber soled slippers mould to your feet for unbelievable comfort, eliminating painful pressure points. Designed with a micro suede upper and memory foam insole, they are everything you want in a slipper.
Pros
Really easy to put on and off, perfect for those with weak or arthritic hands.
The insole is a lovely soft memory foam, firm enough to give good support and be able to be worn for occasional outdoor use.
Good height heel support which makes them feel really supportive, and helps with your balance when walking.
Has a good non-slip sole, hard enough to be supportive, but also soft enough to cushion your feet.
Look as good as new even after a gentle machine wash.
Cons
Some people might find the fleece lining makes your feet too warm.
---
5. Cosyfeet Holly Extra Roomy Women's Slippers
( My No 1 choice Cosy feet slipper )
This soft yet supportive slipper has a cushioned foot bed so it's very comfortable underfoot. It has a broad toe shape and is seam-free at the front so it's ideal for problem or sensitive toes.
Pros
Has a cushioned foot bed inside the slipper which can be removed to give you extra depth for your foot.
Seam free toe area which means less chance any stitching coming undone.
The slippers are machine washable ( 30 degrees ), but don't forget to remove the foot bed.
The touch-fastening strap adjusts to fit a range of feet sizes, so even if your feet are swollen you'll still get a comfortable fit.
Has a flexible rubber sole which is suitable for indoor or outdoor use.
These slippers made by Cosy feet are members of the Healthy Footwear Guide, a collaboration between UK footwear brands and foot health professionals. It aims to highlight the importance of wearing healthy, comfortable footwear. The footwear has to meet criteria set out by the organisation to attain the Healthy Footwear Guide mark.
Cons
May not be a wide enough fit for some people.
---
6. Dearfoam Women's Rebecca Microfiber Closed Back Slippers
( My No 1 choice Dearfoam slipper )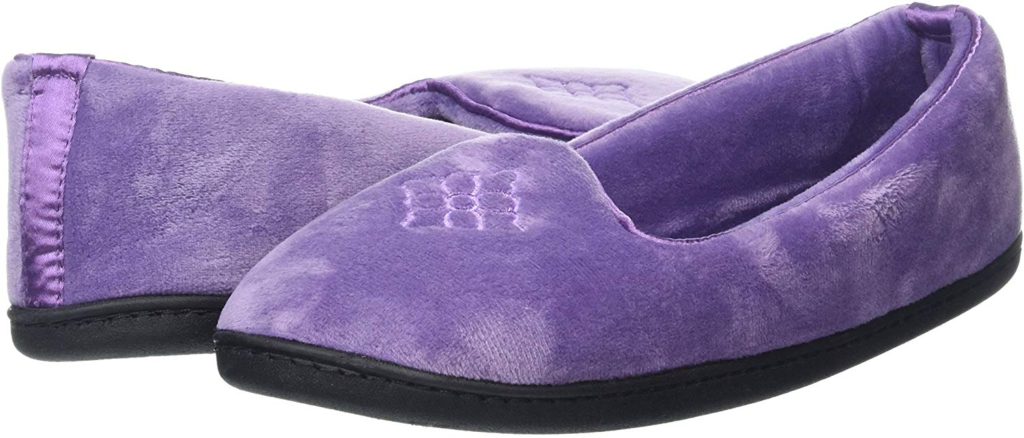 If you are looking for a pair of cozy slippers then the Dearfoam Women's Rebecca Microfiber Closed Back Slipper is just what you need.
They have a cushioned memory foam insole with velour lining and sock, giving your feet comfort and support.
Pros
Has a cushioned memory foam insole that is firm enough to give you good support, but ensures you don't get any painful pressure points on your feet developing when you are walking.
Attractive smokey purple colour
Supportive heel with neat stitched fabric.
Available in all sizes ( EU – 36/37 to 42/43 / US – 5/6 to 11/12 )
Rubber sole with good grip
Cons
Some people may need a wider fitting slipper, especially if they have swollen or bandaged feet.
---
7. UGG Women's Ansley Suede Moccasin Slippers
If you are looking for slippers you could live in, then look no further than the UGG Women's Ansley Moccasin with there pure wool lining that your feet will sink into, and a sturdy rubber sole perfect for both indoors and outdoors.
Pros
Cons
UGG sizes can be a little small so you may need to order the size up.
Indulge in a world of pure luxury and undeniable comfort in these Women's Ansley Suede Moccasin Slippers by UGG. This classic moccasin slipper provides a traditional and timeless kind of style whilst the signature UGG branding adds an extra touch of elegance and luxury.
---
Benefits of elderly wearing house slippers
Help prevent falls happening in the home.


Slippers reduce your risk of getting bacterial and fungal infections.


Non-slip or non-skid soles to help with your balance and stability.


Easy open and close fastener to accommodate swollen or bandaged feet.


Many comfortable slippers for women have wide openings so it's easy for you to get footwear off and on.


Keep your feet warm, perfect for those who suffer from cold extremities.
Why should we wear slippers at home ?
Well, surprisingly there are lots of benefits to wearing slippers at home.
Slippers keep your feet warm……yes obvious I know, but a lot of people suffer from cold feet.Two of the most common causes of cold feet are decreased circulation in the extremities, or a problem with nerve sensation. Studies have also shown keeping your feet warm reduces the risk of you catching a cold.


Wearing slippers inside your home is a great way to prevent unnecessary trips or falls happening. A good supportive slipper with anti-slip grip and back support is perfect on slippery tiled, laminate or wooden surfaces.


Slippers protect your feet from getting dirty or cut, and act as protection against fungal or bacterial foot infections.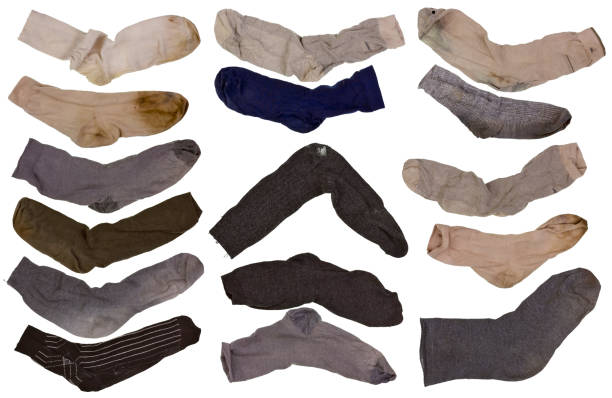 Slippers are a great way to keeping your house clean. Many people walk into their home and continue wearing outdoor footwear covered in dirt and bacteria which is then spread from room to room.
Extend your sock life by wearing slippers……..socks easily get worn, snagged or dirty quickly.
What type of slipper fabric are you buying for your money ?
As you can see there are lots of different materials that slippers are made out of, but what exactly are you getting for your money ?
Wool
Wool is a sustainable, natural fabric which is both breathable, warm and moisture wicking. A pair of wool slippers will keep your feet lovely and warm in the winter, but helps them stay cool in those summer months. It is a durable, hypoallergenic fabric.
Cotton
Like wool, cotton is a breathable natural fibre and it doesn't retain odours like with some oil based fabrics. Cotton is a strong, tough and hard wearing fabric, perfect for slippers.
Leather
Leather is a natural, breathable fabric that is durable and hard wearing. Great for using in slippers as the leather will soften and mould to the shape of your foot, so always feels really comfortable. It is really easy to keep clean,
If leather is treated or waxed it will give you resistance against water and other liquids.
Suede
Suede is a type of leather but softer and thinner. Suede's smooth nap appearance makes it perfect for using in slippers. However, the suede's nap can easily accumulate dirt and dust, which can change the appearance. A suede brush is a good idea to maintain the look of the material.
It is not as durable as leather as it is a thinner material, but is still quite a durable material.
What are the different types of slippers called ?
Slippers are common household items that are a light piece of footwear that is designed to be worn indoors providing comfort and protection for the feet when walking. Next to sandals, slippers are the oldest type of shoe that still exists.
Slippers have a hard sole and are made from soft material and comfortable stretchy fabric that wraps around the foot to keep the slipper in place.
They often have colourful patterns and designs.
So what different types of slippers are there –
Closed heel slipper
Most common type
Fully enclose the foot from heel to toes
Designed to be worn indoors
Have hard plastic soles
Available in either plain or decorative designs
Bootie Slipper
shape and style in shape of boot (booties)
Fully enclose the feet up to the ankle
Generally loose fit
Have fleece or fur lining
Evening Slipper
Decorative type of slipper
Leather soles
Expensive
Made out of velvet
Open Heel Slipper
Heel remains open
Easy to put on and off
Can be a falls /trip hazard if walking any distance
Slipper Socks
Slipper by name but essentially socks
Have rubber or plastic nodes
Non slip surface
Practical and great for round the house
Common Foot Problems in the Elderly Affecting Slipper Wear
Resulting foot pain, deformity and loss of function can significantly compromise an older person's mobility and independence.
Most foot problems in the elderly can be greatly improved by wearing the correct fitting footwear, both in and out of your home.
Here's a list of some of the common problems you might have with your feet as you get older.
1) Bunions (hallux valgus)
A bunion is a bony knob that forms on the joint at the base of the big toe.
Bunions can form from an inherited structural problem in the foot, or as a result of medical conditions like arthritis. Inflammatory or degenerative arthritis can cause the cartilage covering the big toe joint to deteriorate and the extra pressure this places on the joint forms a bunion.
People who wear slippers or shoes that are too tight, too narrow or too pointed are more susceptible to developing bunions. Silicone toe separators provide relief for the bunion joint, and promote proper joint alignment.
2) Arthritis
Arthritis is a common condition that causes pain and inflammation in a joint.
In the UK, more than 10 million people have arthritis or other, similar conditions that affect the joints. Although you might assume that arthritis only happens in the elderly, it can affect people of all ages, including children.
Osteoarthritis is the most common type of arthritis. Also called "wear and tear" arthritis or degenerative joint disease, osteoarthritis (OA) is the gradual progressive breakdown of the joints' natural shock absorbers.
Inflammation and injury to the joint cause a breaking down of smooth cartilage linings of the joints, causing pain, swelling, and deformity.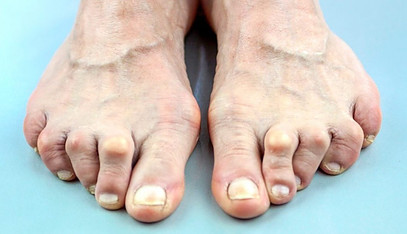 In rheumatoid arthritis, the body's immune system targets affected joints, which leads to pain and swelling.
The outer covering (synovium) of the joint is the first place affected.
This can then spread across the joint, leading to further swelling and a change in the joint's shape. This may cause the bone and cartilage to break down.
People with rheumatoid arthritis can also develop problems with other tissues and organs in their body.
3) Oedema
Oedema is swelling caused by excess fluid trapped in your body's tissues. Although oedema can affect any part of your body, you may notice it more in your hands, arms, feet, ankles and legs.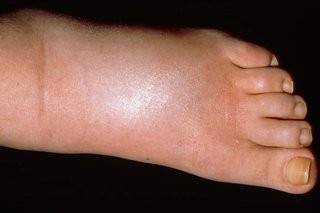 Oedema can be the result of medication, pregnancy or an underlying disease — often congestive heart failure, kidney disease or cirrhosis of the liver.
Taking medication to remove excess fluid and reducing the amount of salt in your food often relieves oedema. When oedema is a sign of an underlying disease, the disease itself requires separate treatment.
Compression stockings are made to help control swelling in the feet, ankles and lower legs.
They help by squeezing these areas to prevent the buildup of fluid in the tissue which can be very painful.
4) Ingrowing Toenail
An ingrowing toenail, also known as onychocryptosis, is a common condition which results in pain and disability in the foot.
Older people may also be at higher risk because toenails thicken with age.
The skin can become red, swollen and hard next to the nail, and be painful when pressure is applied on or around it.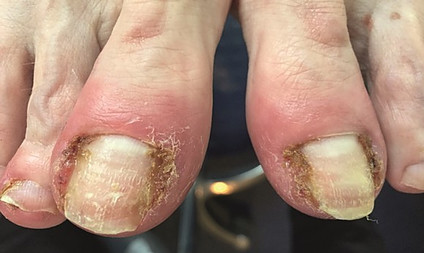 Some causes of ingrowing toenails are –
Wearing incorrect footwear such as tight-fitting slippers or shoes, that places a lot of pressure on the big toes.
Tight fitting socks, stockings or tights can also contribute to them occurring.
Poor foot hygiene ( not washing your feet regularly and keeling them clean and dry )Poor posture can also increase the risk of you getting an ingrowing toenail.
An Ingrowing Toenail Kit is designed to relieve the pain and discomfort caused by ingrowing toenails. It has been designed in co-operation with podiatrists to treat and help provide relief from discomfort caused by ingrowing toenails.
5) Diabetes
Diabetes is a lifelong condition that causes a person's blood sugar level to become too high. There are 2 main types of diabetes:
There are 2 main types of diabetes:
type 1 diabetes – where the body's immune system attacks and destroys the cells that produce insulin.
type 2 diabetes – where not enough insulin is produced by the body.
Elderly diabetic patients are particularly affected with foot disease. The main causes are peripheral neuropathy, foot deformities and peripheral arterial disease (PAD). Other risk factors include reduced mobility, vision problems and other medical co-morbidities.
Caring for your slippers
Here are some great tips for keeping your slippers clean and fresh –
Machine wash at 30°c then stuff with newspaper or tissue to help them maintain their shape and allow them to dry naturally. Don't put them in the airing cupboard or near a fire or radiator.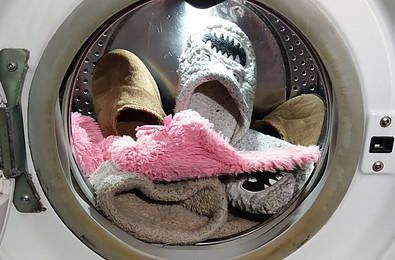 Using baking soda or bicarbonate of soda as it's also called is a great way to keep your slippers smelling fresh. Just sprinkle inside the slippers ensuring there is a thick layer, leave for 1-2 hours and then just shake the excess out of them.
You can remove stains by covering in a thick layer of baking soda, leave for a couple of hours, then gently brush away.


Best House Slippers for Women 2023 ( Conclusion )
Most of the common foot problems in the elderly can be greatly improved by wearing the correct fitting footwear, both in and out of your home.
So, in your home make sure you wear slippers that fit you correctly, and have adequate heel support. Ideally they should have a good fastener or Velcro support and sufficient grip to help you stay safe and steady on your feet.
If you need any further help or advice, please feel free to contact me at mark@elderlyfallsprevention.com and I will be happy to help.
---
Please follow and like us: