Mangar Elk Lifting Cushion Review
The Mangar Elk is a highly compact, portable lifting cushion that has been designed to help a person get safely back to their feet following a fall.
Designed to be used with the help of a carer, the person that has fallen is gently rolled onto the lifting cushion from the recovery position and assisted to sitting upright.
The Elk can then be inflated at the touch of a button with someone supporting the individual from behind to bring them to a raise seated position ready to stand.
In this Mangar Elk Lifting Cushion review I will discuss how well it works, highlight the key features and benefits, what I like and don't like about it, some minor drawbacks with it, and where to get the best deal online.
By the end of this review you should have a good idea whether the Elk Lifting Cushion is suitable for you.
Key Features
Designed to be used with the help of a carer the Elk emergency lifting cushion can be used in the tightest of spaces.
Lifts up to 70 stone (450 kg)
Weighing just 3.6 kg it's portable and folds up for easy carrying
Applicable for any age
Simple to use
Minimises the moving and handling risk and protects carers backs
Suitable for both indoor and outdoor use
Contains Airflo 24 controlled compressor
Mangar Elk Lifting Cushion Video
Elk Lifting Cushion Specifications
| | |
| --- | --- |
| Maximum User Weight: | 450kg (70 stone) |
| Inflated Height: | 56.5cm |
| Inflated Width: | 57cm |
| Inflated Depth: | 50cm |
| Deflated Folded Dimensions: | 62cm x 26cm x 11.5cm |
| Weight: | 3.6kg |
So does it actually work as advertised ? The rest of this review will be devoted to my experiences with using this product.
My Personal Experience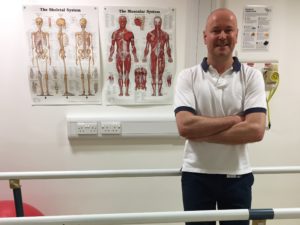 In my day to day work as a community physiotherapist I often come across patients on assessments who have fallen, this is particularly the case on days when I cover as a rapid responder reacting to urgent referrals for people who are often stuck, either on a bed or chair, and unable to get up.
In one such instance recently, I had received a referral from the nurse triaging at the medical centre I am based, and asked to see a lady who was stuck on a low sofa chair and unable to get up.
A colleague of mine, a rehabilitation assistant accompanied me. We arrived at the property with the Mangar Elk lifting cushion which was normal in situations like this one, unless we were unable to move by other means, but the cushion is not always required to be used.
After completing an assessment of the lady to establish whether she was in any pain and how she had become stuck, it quickly became apparent that she had inadvertently sat on a very low chair, and in the process of trying to get off had hurt her lower back.
Unable to help her to stand, we carefully transferred safely onto the floor from a low height using pillow support.
From a lying position on the carpet we rolled the patient evenly over the deflated lifting cushion, where we inflated it to get the lady into a sitting position. With the assistance of two of us we were able to stand her to a walking frame and transfer to her usual riser recliner chair.
The use of the Elk inflatable lifting cushion enabled us to move the patient quickly and safely, avoiding the need to call the emergency services to assist.
Pros
The cushion is durable, sturdy and comfortable
Very easy to set up quickly
Smaller than lifting equipment such as a hoist, so easier to use in tighter areas
The battery keeps its charge well
Portable, easy to dismantle and move around
Able to lift a person high enough to stand from a seated position
Provides a safe dignified lift for a person who has fallen
Has a stability bar which provides extra comfort for the user
Cons
Depending on the patient's sitting balance or injury they have, you may need an additional person to supervise the lift from the cushion
Quite expensive
1)    How do you clean and disinfect the Elk lifting cushion ?
The ELK should be fully inflated and pre-cleaned by washing with detergent and water, thoroughly rinsed and then disinfected using a 1:10 solution of household liquid bleach and water (1 part bleach to 10 parts cold water).
Leave the solution on the ELK for approximately 10 minutes before carefully rinsing off with clean cold water. Allow to air dry before storage.
Caution: Do not dry using hot air or hot boiling water on the cushion.
2)    Is it possible to over inflate the lifting cushion ?
The Airflo – 24 compressor which accompanies the compact, battery powered lifting cushion can not be over inflated, as it stops once the full pressure is reached.
3)    How do I transfer a person onto the Elk ?
Firstly, roll the patient safely over onto the deflated Elk cushion ensuring that are lying squarely and fully on top of the cushion.
Unfold the folded over edge of the Elk inflatable cushion and replace the stability bar and refit the end cap.
Connect the four distribution hoses from the 4-Way Hand Control to the four connectors on the Elk cushion.
4)    How do I charge the lifting cushion ?
It is recommended that the Airflo Plus remains continuously on charge when not in use as the batteries cannot be overcharged.
5)    What material is the elk lifting cushion made of ?
The elk lifting cushions are made from a polyurethane coated nylon fabric, which is a hydrophobic material so does not absorb any fluids.
6)    Does the Mangar elk lifting cushion require any ongoing maintenance ?
Other than routine cleaning and disinfecting, the ELK is maintenance free.
The manufacturer Mangar Health recommends that the ELK is inspected annually by either your supplier or other suitably qualified person.
WARNING:
While in use, never allow a section of the cushion to become partially deflated, while any sections
above it are inflated.
Sections must always be fully inflated from the bottom up, in sequence, in
order to maintain stability
Conclusion    –    Mangar Elk Lifting Cushion Review
The Mangar Elk inflatable emergency lifting cushion is an innovative air powered cushion designed to lift a fallen person from the floor quickly and safely.
Durable, comfortable and easy to set up, it helps reduce the risk of injury associated with incorrect manual handling while maintaining the fallen persons dignity.
Please follow and like us: