After a long day out and about your tired and aching feet could do with some relief. What is more relaxing than a long slow foot massage to ease your stress and tension away, and give your feet a well-deserved pick me up.
The best foot massager machine 2023 can do just that, with a convenient and easy way to calm and relax you when you need it most. Owning a foot massager is like having your very own masseuse available whenever you need it.
A foot massager machine can cut your stress levels, boost your circulation, enhance your mood, alleviate pain, relax your whole body, and is a great way to keep your muscles and tissues healthy and help the healing process.
How To Choose the Right Foot Massager for you

(Top 3 things to consider)
What do you want the foot massager for ?
This way sound silly but it's worth considering before buying what specifically you need it for. Generally people fall into two different categories – they need one for either general relaxation and stress relief, or help a specific foot problem, such as plantar fasciitis, diabetes, bunions or sore muscles.
Type of massage
Foot massagers offer lots of different methods to help ease and soothe your feet. Some massage machines offer all or some of the following techniques: shiatsu massage ( tends to be the most popular as replicates a person's hands massaging your feet ), electric massage rollers, air compression, manual massage, water jets.
Most of the massagers you buy will have lots of different intensities and settings to adjust to your personal preferences.
Speed and intensity of the massager
Different foot massage machines offer varying degrees of massage strength. Using a manual foot roller massager the user can either give a gentle massage or more vigorous strength depending on the amount of pressure that is applied.
Kneading, rolling shiatsu and 3D air massagers tend to give you a more vigorous massage, whereas if you want your feet to be gently stimulated then water jet massagers are ideal.
Take a closer look at the best foot massage machine reviews –
---
Best Foot Massager Machine 2023
1) REVITIVE Medic Circulation Booster Foot Massager
(Best EMS foot massager)

If you are looking for a foot massager machine that is clinically proven to improve your circulation then the Revitive is just what you need. The EMS technology (Electrical Muscle Stimulation) not only increases your circulation, but relieves cramps, pains in your legs and feet, and helps reduce swelling in your ankles and feet.
Pros
It has a unique dual mode (EMS) and (TENS), trans cutaneous electrical nerve stimulation with pads to help not only your painful feet, but also extra pads to place on your legs or other areas of your body. This is a great way to provide temporary pain relief where you need it most.
You will love the IsoRocker, a patented system that increases ankle joint movement by replicating heel-toe raises as the leg muscles contract and relax. This helps increase your circulation and stiff ankle joints.
I love the fact that this massager machine is cordless, which means no leads to mess with and makes it really portable to carry around wherever you need it. Even better, when it's fully charged you've got 210 minutes to use, that's 7 x 30 minute sessions.
Has up to 99 different intensity levels so it gives you total control over whether having a very gentle massage, or vigorous one depending on how you feel.
Cons
This massager is a little expensive compared with others, so it depends on your spending budget.
Just a note of caution, do not use the Revitive if you are –
Pregnant.
Being treated for an existing Deep Vein Thrombosis (DVT), of suffering with symptoms of one.
Have a heart pacemaker or (AICD), an Automatic Implantable Cardioverter Defibrillator.
---
2) RENPHO Shiatsu Foot Massager Machine
(Best Shiatsu foot massager)

The RENPHO foot massager is ergonomically designed for maximum comfort. helping improve your circulation, reduce tension in your muscles and eases pain in your joints. This simple designed massager gives you a deep-kneading Shiatsu massage, heated, air-pressure massage. It can also improve your blood flow, and help relieve chronic foot pain from plantar fasciitis, or neuropathic foot numbness.
If you are want to find out more about the RENPHO foot massager then CLICK HERE to read my review.
Pros
It has a detachable and washable cloth cover in the foot chambers that can be accessed by simply pulling the zipper. This a great way for you to clean ensuring you have a hygienic and healthy environment.
It offers you a wide range of different massage techniques from a deep kneading shiatsu, air compression therapy, heated, tapping and rolling, so you'll always feel relaxed and pain free.
You get to have your very own unique personal massage experience with the easy to use adjustable massage intensity controls.
The remote control and touch panel of the massager can easily be controlled by using your foot to personally adjust the desired settings that you want, so you get to relax and enjoy the massage.
You will love the air compression therapy which really differentiates the RENPHO from other foot massagers. It feels like your feet are being gripped tightly or hugged, which really hits your pressure points so effectively.
Cons
The distance between both foot inserts is quite close together.
---
3) HoMedics Shiatsu Foot Massager with Heat
( Best Massager for Plantar Fasciitis )
This massager is available on Amazon (see price)
Treat yourself to a home pamper session every day with the HoMedics Shiatsu Foot Massager. Using the shiatsu massage concept of rotating nodes, this state-of-the-art machine's mechanism travels up and down your feet soothing away tension, aches and pain, and giving your feet an invigorating massage.
Pros
Has a simple to use control switch you can operate with your toe, so there's no need to keep reaching for the machine to change settings.
If you are're one of those people who suffer with that annoying heel pain associated with plantar fasciitis, then this Homedics Foot Massager is for you. With or without the heat function, this massager really controls your pain allowing you to walk without discomfort for longer.
This is a great massager for helping those with cold extremities (feet) and poor circulation.
The cut out switch after 15 minutes to prevent overheating gives you piece of mind and helps you relax when using.
Cons
There's only one setting for the heat control, either on or off.
---
4) MaxKare Foot Spa/Bath Massager with Heater Temperature Control
( Best combined foot spa / bath massager )
The MaxKare foot spa bath with heating function offers you a warm foot spa to relieve tired feet, refreshing bubbles that percolate through water to stimulate your feet, and intense vibration to reinvigorate yourself.
Pros
You will love this elegant and ergonomic massager's transparent design which means you get to see your feet being pampered.
Has 4 detachable massaging rollers which stimulate your feet, and the acu-nodes on the bottom help target those acupressure points to leave you feeling relaxed.
Has one of the clearest easy to read displays so no more having to strain to read the controls.
The temperature once set remains constant between 35 degrees and 48 degrees C, so there's no need to top up with hot water.
This is a great value massager for the price.
Cons
The cable of the foot spa is a little on the short side.
---
5) TheraFlow Dual Foot Massager Roller
(Best Budget Manual Massager)

The TheraFlow Dual Foot Massager Roller is a simple, effective manual foot massager designed to provide maximum relief for your painful and tired feet. It has 10 independently moving wooden rollers designed for trigger point stimulation and acupoint reflexology for your feet.
Pros
The lightweight and portable design means you can carry this massager anywhere, and it's so easy to store away.
The Free foot reflexology chart and e book on treating foot ailments is a great bonus and a really handy reference point.
As the massager is manual, you get to control how deep a massage you want by pushing your legs down or releasing them to apply more or less pressure on the wooden rollers.
For those on a budget, or who just wanting to start using a foot massager then the Theraflow is a great price and definitely worth a try.
Cons
The wooden rollers can get a little squeaky after using for a while.
---
6)  WeightWorld Circulator Multifunctional Foot and Leg Massager
( Best combined foot and leg massager )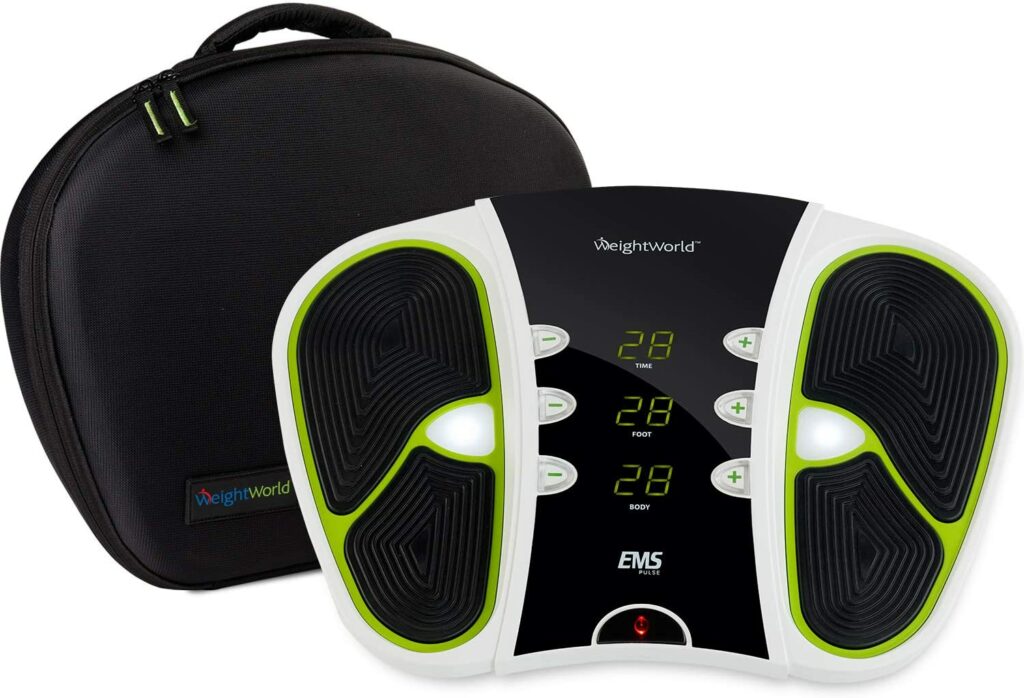 The WeightWorld Circulator is an advanced home foot massaging device that works to provide a two-fold health experience. Not only do you get a relaxing and invigorating foot massage, but you can also experience EXOpulse technology for helping wake up your tired legs for greater ease of movement and comfort.
Pros
It has 99 individual intensity levels to ensure you get the perfect electronic muscle stimulation experience for you every time.
At only 2kg in weight this massager is lightweight and portable, which is ideal for travelling or taking on holiday with you.
The remote control and timer makes it easy to select the programme you want by increasing or decreasing the pulse rate.
The massager is lovely and quiet when running which isn't distracting and helps you relax even more.
A 2-year warranty gives you piece of mind if you have any problems with it.
Cons
The black plastic foot pads can become a little loose over time.
---
7)   PureMate PM605 Electromagnetic Foot Circulation Massager & Body Therapy Machine
( Best circulation massager )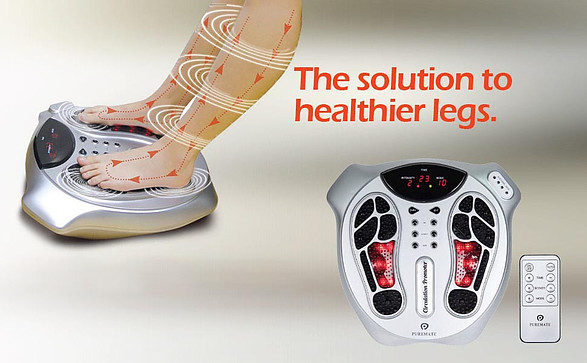 The PureMate Electromagnetic Foot Circulation Massager & Body Therapy Machine, help Improves your blood circulation and relieves aches and pains. This sleek and stylish massager is easy to use and gives you complete control for all your personal needs.
Pros
Has an easy to read layout and the controls are clear to use.
Extremely easy and comfortable to use and comes with a remote control so no bending over to fiddle with buttons.
Great value massager that works wonders on those tired aching feet and legs.
Has a TENS machine which is a great bonus and really helps with pain related foot problems.
The massager machine is lightweight and portable which makes it great for carrying around.
Cons
The angle for placing your feet on the massager when sat down isn't adjustable.
---
8)   Global VibroLegs Vibration Plate Non-Slip Foot and Leg Massager
(Best Non-Slip Pads Massager)
Global VibroLegs Vibration Plate Non-Slip Foot and Leg Massager combines the invigorating power of vibration, oscillation and acupressure to soothe, relax and massage your feet and legs.
Pros
The Vibro Legs plates vibrate with ten speed settings to massage your feet and legs, relieving aches, soothing soreness and help you relax.
The acupressure points of the massager kneads into the soles of your feet for a refreshing massage to help recharge and re-energize your legs and feet.
The great thing is the massager can easily be used on your calves or back to help relieve pain and tension in your muscles and joints.
It's compact and lightweight so easy to store away out of sight when not using.
Cons
Some people may require a more intense vibration for your feet.
---
9) Beurer FM60 Shiatsu Foot Massager
( Best breathable mesh massager )
The Beurer FM60 Height-Adjustable Shiatsu Foot Massager features 18 massage heads that perfectly imitate the ancient Asian massaging technique, so that you can enjoy a relaxing foot rub whenever you want.
Pros
The 18 rotating massage heads are designed perfectly to imitate a natural shiatsu massage all whilst relaxing in the comfort of your own home.
Each of the feet can be individually adjusted to angle and heighten the foot massager, which is great so you can naturally change you ankle and foot placement.
The heat function is very comfortable, addictive and relaxing.
The mesh foot plates are made of a hygienic breathable mesh which allows air to the tops of your feet which feels refreshing.
Cons
Some people may find the device a little loud when running.
---
10) Nekteck Foot Massager with Heat, Shiatsu Heated Electric Kneading Foot Massager Machine
(Best shiatsu kneading rolling foot massager)
Pros
The double air compression massage on your insteps and ankles from 2 airbags helps relieve tension while stabilizing your feet giving you a more pleasurable experience.
Has an easy to operate touch panel which you can easily operate with your toes, so you don'y need to bend down to adjust it.
The breathable mesh of the foot massager means the heat quickly penetrates from below into the sole of your feet and promotes good blood circulation.
The removable foot sleeve can easily be removed which is great for keeping it clean.
Cons
It might not suit those with smaller sized feet.
---
What are the benefits of using a foot massager ?
As well as aches and pains in your back and neck, your feet can also benefit from a regular stimulating massage.
A good quality foot massager is a sound investment that not only makes you feel good, but will also improve your overall health.
So let's take a look at some of the common problems that a foot massager will help with –
Improves circulation
Help aid better night's sleep
Reduces tension and anxiety
Ease muscle tension
Helps reduce pain
Cramps, tired or aching feet and joints
Plantar Fasciitis
Diabetes
Fibromyalgia
Restless Leg Syndrome
Peripheral Neuropathy
Arthritis ( Rheumatoid / Osteoarthritis )
Multiple Sclerosis
Gout
A foot massager machine used regularly also gives you the opportunity to keep an eye on those toenails, bunions, corns or blisters as well which means better foot hygiene for you.
---
Why are the bottoms of my feet so painful ?
It is no surprise with how much we are on our feet walking around each day that from time to time you will experience some foot pain. Some common causes of pain on the soles of our feet include –
1) Plantar Fasciitis
Plantar fasciitis is caused by repetitive impact to the heel and plantar fascia, a thick band of tissue that runs across the bottom of your foot and connects your heel bone to your toes.
It can affect anyone but tends to be more common in those overweight, when standing for long periods, running, jumping and dancing. Also, wearing inappropriate or incorrect footwear without suitable arch support can cause inflammation of the fascia and increased discomfort and pain.
You may find it difficult to raise your toes off the floor. During exercise the pain in your foot should feel better, but will increase once you stop and rest.
Some Home Treatments for plantar fasciitis
Rest – Take the weight off your feet (elevate on a foot stool frequently during the day).
Ice – use on affected area wrapped inside towel ( 15-20 minutes 2-3 times per day ).
Pain Relief – Paracetamol and Ibuprofen (NSAIDs – non steroidal anti-inflammatory drugs).
Gentle Stretching Exercises –
Sit on a straight back chair with one foot on a rolling pin or small ball, the other foot flat on the floor and your back supported in a neutral position slightly arched.
Roll a ball or rolling pin under the arch of your foot from heel to your toes.
Cortico-steroid injection – As a last resort if the other treatment doesn't relieve the symptoms then a steroid injection directly into the damaged part of the ligament can help.
2) Bunions
A bunion is a bony knob that forms on the joint at the base of the big toe.
Bunions can form from an inherited structural problem in the foot, or as a result of medical conditions like arthritis. Inflammatory or degenerative arthritis can cause the cartilage covering the big toe joint to deteriorate and the extra pressure this places on the joint forms a bunion.
People who wear slippers or shoes that are too tight, too narrow or too pointed are more susceptible to developing bunions. Silicone toe separators provide relief for the bunion joint, and promote proper joint alignment.
3) Arthritis
Arthritis is a common condition that causes pain and inflammation in a joint.
In the UK, more than 10 million people have arthritis or other, similar conditions that affect the joints. Although you might assume that arthritis only happens in the elderly, it can affect people of all ages, including children.
Osteoarthritis is the most common type of arthritis. Also called "wear and tear" arthritis or degenerative joint disease, osteoarthritis (OA) is the gradual progressive breakdown of the joints' natural shock absorbers.
Inflammation and injury to the joint cause a breaking down of smooth cartilage linings of the joints, causing pain, swelling, and deformity.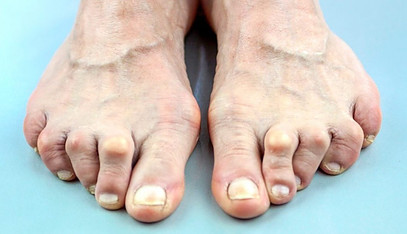 Rheumatoid arthritis
In rheumatoid arthritis, the body's immune system targets affected joints, which leads to pain and swelling.
The outer covering (synovium) of the joint is the first place affected. As this spreads across the joint further swelling occurs and a change in the joint's shape causing the bone and cartilage to break down.
4) Diabetes
Diabetes is a lifelong condition that causes a person's blood sugar level to become too high. There are 2 main types of diabetes:
There are 2 main types of diabetes:
type 1 diabetes – where the body's immune system attacks and destroys the cells that produce insulin.
type 2 diabetes – where not enough insulin is produced by the body.
Elderly diabetic patients are particularly affected with foot disease. The main causes are peripheral neuropathy, foot deformities and peripheral arterial disease (PAD). Other risk factors include reduced mobility, vision problems and other medical co-morbidities.
A person with diabetes will first notice symptoms of tingling in their feet and lower leg, numbness and pain. There is evidence to suggest that foot massage therapy may help people manage symptoms associated with diabetic neuropathy, and also reduce blood glucose levels.
5) Ingrowing Toenail
An ingrowing toenail, also known as onychocryptosis, is a common condition which results in pain and disability in the foot.
Older people may also be at higher risk because toenails thicken with age.
The skin can become red, swollen and hard next to the nail, and be painful when pressure is applied on or around it.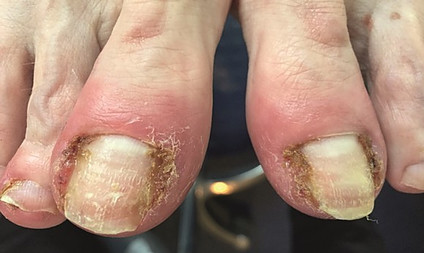 Some causes of ingrowing toenails are –
Wearing incorrect footwear such as tight-fitting slippers or shoes, that places a lot of pressure on the big toes.
Tight fitting socks, stockings or tights can also contribute to them occurring.
Poor foot hygiene ( not washing your feet regularly and keeling them clean and dry )Poor posture can also increase the risk of you getting an ingrowing toenail.
An Ingrowing toenail kit is designed to relieve the pain and discomfort caused by ingrowing toenails.
---
What is the difference between reflexology and a foot massager ?

Reflexology uses body maps that are on the feet, hands and ears during which a reflexologist will focus on the reflex points, or maps and how the body works.
Sensitive areas on the feet indicate that there is something out of balance on the body map which the reflexologist will target, to address how specific conditions or illnesses work.
The benefits of reflexology are reduced stress levels and relaxation, improved circulation and it helps to balance or improve function of the glands and internal organs of the body naturally.
A foot massager will manipulate soft tissues and muscles of the feet to relieve pain, help you relax, improve circulation and heal injuries in and around the foot area.
---
Why does a foot massage feel so good ?

Whether it's the use of your hands to apply pressure to parts of your feet, a manual foot massager or electric foot massager machine, there's no doubt that massaging your feet makes you feel good. But how does this happen ?
Well, with over 1/4 of all the bones of your body, over 7000 nerve endings in each foot, over 100 muscles and numerous ligaments and joints, our feet are very complex.
A foot massage activates your nervous system which increase feel-good chemicals in your brain called endorphins.
Endorphins are chemicals produced naturally by the nervous system in the brain, primarily made in the hypothalamus and pituitary glands to cope with pain or stress. They are often called "feel-good" chemicals because they can act as a pain reliever and happiness booster
With more nerve endings per square centimetre in the foot than any other part of the body, there's a real feel good factor to be had from having a stimulating foot massage.
---
Q & A to help you choose the right foot massager for you
Q:  What is EMS (electrical muscle stimulation) and how does it work?
A:  A foot massager sends small electrical signals via nerve endings to stimulate a contraction in your muscles. Once a muscle has contracted and the nerve is no longer sending a signal, the muscle relaxes. EMS
mimics these signals repeatedly to reproduce the muscle contractions of physical exercise.
Q: What does a percussion massage do ?
A: The percussion therapy massage used on some foot massager machines uses fast soft blows to shock muscle fibres. These rapid pulses help release tension in the muscles, and increases the blood flow to the area.
This reduces any inflammation and pushes the fluid built up in your feet and legs and into your circulatory system.
Q: Why do my feet feel sore after using the massager ?
A:  It's likely that you have set the intensity level of the massage machine too high, effectively overstimulating and working your muscles. Try using a lower intensity level, but also leave sufficient time between each session to let your muscles recover.


Q: Are foot massagers safe for the elderly to use ?
A: Unfortunately, as we get older muscle and joint pain are quite common, especially in your feet and legs. Small joints in our feet and ankles can become stiffer which affects our mobility and ability to manage daily activities. Regular use of a foot massager improves your circulation so the blood supply can distribute nutrients and oxygen to help alleviate the problems.
Massage is a safe and simple remedy to help with many foot ailments in the elderly.
Q: How long should you use a foot massager for ?
A: This depends on a lot of factors as everyone's needs and preferences are different. Ideally a foot massager should be used for 20-30 minutes at a time. If you are have some sort of foot neuropathy you should use on average 4 times per week. Most of the electric foot massagers have built in timers which shut off for the safety of the user and machine.
Over use of the massager may have a detrimental effect causing increased aches, pains and potential injury.
Q. Will I find using a foot massager uncomfortable ?
A.  At low intensity you will feel a slight sensation. As intensity is increased, you will feel the tingling sensation
decrease and the muscle contractions increase. It is important to find an intensity level to suit you as different individuals have different tolerance levels of comfort.
---
Conclusion   –   Best Foot Massager Machine 2023
A foot massage is a great way to relax and ease any discomfort you may be feeling in your feet. It can help boost your circulation, relax you, and cut down your stress levels, help reduce pain levels and enhance your mood.
Convenient and easy to use, a foot massager is a great investment to keep your muscles and tissues healthy and help improve your overall foot health.
Hopefully you have found the right foot massager machine for you, however, if you need any further help or advice please feel free to contact me at mark@elderlyfallsprevention.com and I will be happy to help.
Please follow and like us: