The best incontinence pads for women are a quick, extremely hygienic and convenient way of managing your incontinence both at home, or out and about.
They are particularly beneficial for people who are bedridden or wheel chair bound, as they reduce the need for a full change of underwear or diapers.
Discreet and easy to buy, these special absorbent pads are worn inside underwear to soak up urine. Pads and pull-up pants use the same technology as babies' nappies and have a "hydrophobic" layer which draws urine away from the surface of the product, so your skin stays dry both day and night.
Best Incontinence Pads for Women 2023
1) Tena Comfort Plus 46'S
( Best Value for Money )

These incontinence pads are available on Amazon (see price)
TENA Comfort Plus pads contain a super absorbent core that rapidly draws moisture away from the body. These TENA incontinence pads for women allow liquid to be evenly distributed throughout the core, preventing leaks and dampness over long time periods.
Pros
Body contoured shape that provides an all round barrier to protect against incontinence.
Great value for money.
Comfortable fit.
Good absorbency for nighttime use.
Any unwanted odours are contained within the product's core and quickly neutralised, giving you complete peace of mind.
Good quality.
Each pad is made from a soft, breathable material that helps to promote airflow. This reduces the risk of dampness and irritation to your skin.
Cons
These pads are a little on the large size, and perhaps may be more suited for overnight use.
NOTE: TENA Comfort Plus has recently been upgraded and re branded to TENA Proskin Comfort. The upgraded version includes a new top sheet and distribution layers, making it even more effective at keeping liquid away from the surface of the skin.
---
2) Always Discreet High Absorbency Pads for Women
( Best for Comfort )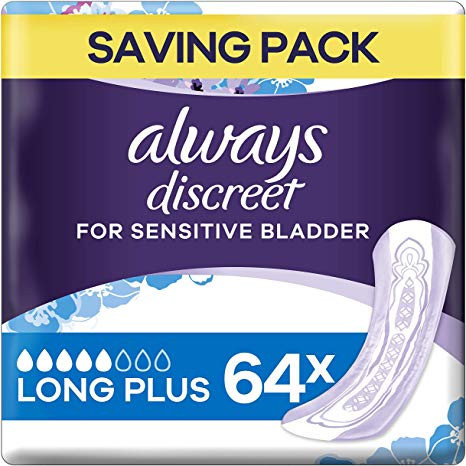 These high absorbency pads are available on Amazon (see price)
Always Discreet pads are a longer length than normal, ultra thin for great comfort with full-length Leak Guards. They lock away wetness and neutralise odours to help you stay fresh and comfortable, and are individually wrapped for discretion and convenience.
Pros
If you also wear a catheter these pads can be worn alongside comfortably.
They have good strong adhesive so sticks well to your underwear.
Really good absorbency.
These are long which are ideal for the larger lady as they give plenty of coverage.
The pads have a lovely fresh fragrance smell to them, and are individually wrapped so easy to discreetly dispose of.
Cons
They are on the long side which some people may find uncomfortable.
CLICK HERE TO BUY NOW
---
3) Always Discreet Maxi Night Incontinence Pads for Women
( Best for Overnight Use )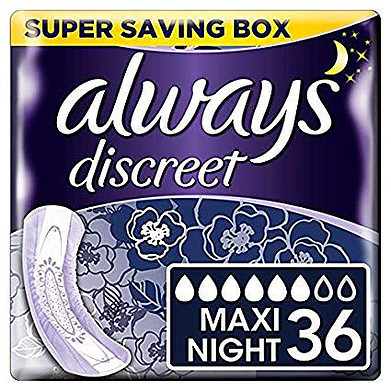 These incontinence pads are available on Amazon (see price).
Protecting yourself from bladder leaks is no problem with Always Discreet incontinence pads+ Maxi Night for sensitive bladder. These urinary incontinence pads for women are absorbent, ultra thin for comfort with full-length leak guards. Ideal for that perfect night protection when you experience frequent leakage, and when lighter pads are just not enough.
Pros
They are a thick pad that absorb really well.
Designed for overnight use so are slightly longer and thicker than day time pads. Absorbency is good and they offer plenty of protection for overnight.
These pads have a side barrier, they call it a leak guard, the whole length of the pad to stop anything escaping sideways.
Long and fit all the way around from front to back so there is little chance of leakage which is exactly what you want.
They have odour control, which eliminate smells immediately and are quick drying.
Cons
May be a bit on the long size for day wear, especially under tight clothes.
CLICK HERE TO BUY NOW
---
4) Depend Super Incontinence Pads for Women – 48 Pads
( Best for Light Bladder Leakage )

These slim ultra-absorbent incontinence pads from Depend are perfectly shaped to fit a woman's body, and will keep you dry for hours. Designed with a soft liner for maximum comfort that locks away any odour, Depend® pads will leave you feeling fresh and confident all day.
Pros
These pads are individually wrapped and discrete enough to easily fit in your pocket or handbag.
They have an Asorb-Loc Core which quickly removes away any bad odours and wetness.
Depend pads stay 3x drier than regular-sized period pads, and are specifically designed for urine and wetness absorption.
Soft and comfortable to wear.
Very secure for light to moderate bladder leakage.
Cons
Could be a little on the short side for some users.
---
5) Depend Maximum Overnight, Incontinence Pads for Women – 36 Pads
( Best for Heavy use )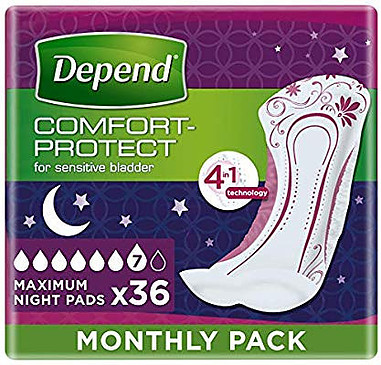 These incontinence pads are available on Amazon ( see price )
Depend Maximum Overnight Incontinence Pads provide you with 4-in-1 protection. They stay 3x drier than feminine pads and the leak-block sides provide total leakage control to lock away wetness and odour. Perfect for heavy overnight use, these pads will give you maximum protection and comfort.
Pros
More comfortable than the huge nighttime pads.
They are soft and comfortable to wear, and discreet enough that there are no visible signs when wearing them.
Comfortable fit when wearing overnight.
Great absorbency for a small pad.
Good quality and value for money.
Cons
They may be a little on the short size for some people.
CLICK HERE TO BUY NOW
---
6) Abena Abri-Form Premium All-In-One Incontinence Pad, X- Large 4 (Hip/Waist Size 110-170 cm) 4000 ml Absorbency
( Best for Absorbency )

These incontinence pads are available on Amazon (see price)
The Abena Abri-Form Premium All in One incontinence pads are made from soft and breathable material with a flexible tab that re fastens giving you comfort and security every time you wear them.
Designed to help you manage the demands of daily activities, they have maximum leakage support suitable for those with heavy incontinence.
Pros
Large pads with plenty of overlap to make fastening easy.
Can easily be re-positioned.
Great absorbency and perfect for those with heavy incontinence, as they hold 4000 ml.
Comfortable, soft fit.
The wetness indicator is handy to use to let you know when to change the pad.
Cons
May be too big for some users as they fit a waist size of between 43 – 67″.
CLICK HERE TO BUY NOW
---
7) Poise Incontinence Pads for Women, Light Absorbency, Long Length
( Best for Light Absorbency )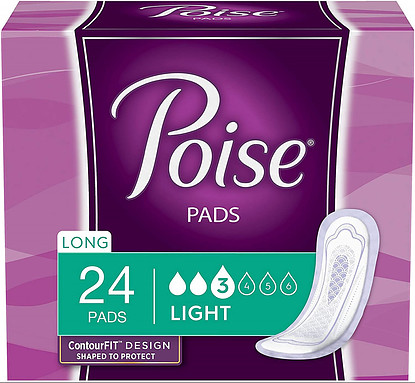 Poise Light Absorbency Incontinence pads for women give you 3-in-1 protection for comfort, odour control and dryness. Perfect for day and night use, these incontinence pads absorb urine instantly keeping you protected from bladder leaks.
Pros
Has a contour fit design that softly curves in the middle and then is wider in the front and back, allowing the pad to uniquely fit to your body and prevent bunching as you move.
Unscented and soft on the skin.
The pad is very absorbent locking in odour with the absorb-loc core.
Comfortable fit and won't irritate your skin.
Cons
Some people may prefer a thinner pad.
---
What are the 4 types of urinary incontinence ?
1) Stress Incontinence
This is the most common type of bladder control problem in older women. It occurs when urine leaks as pressure is put on the bladder by weakened muscles, for example, during exercise, lifting heavy objects, coughing, sneezing, or even laughing.
The result can be a small leakage of urine, or in some instance a complete loss of control. It's the most common type of bladder control problem in younger and middle-age women.
Stress incontinence is most often caused by physical changes in the body, such as the menopause, childbirth or pregnancy.
2) Overflow Incontinence
Overflow incontinence is most common in older adults, and usually twice as common in men than women.
It happens when your bladder doesn't empty completely when you urinate. Small amounts of the remaining urine leak out later because your bladder becomes too full. The main cause of this is known as chronic urinary retention.
3) Urge Incontinence
Urge incontinence happens when people have a sudden need to urinate and cannot hold their urine long enough to get to the toilet.
When your bladder muscles squeeze incorrectly or lose the ability to relax, even when your bladder is empty, you may feel a constant urge to urinate. This is sometimes called an ' overactive bladder. '
Urge urinary incontinence is associated with an increase in falls, particularly in the elderly. Falls prevention programmes need to include an assessment of incontinence and referral for interventions to help with the symptoms of urge incontinence.
4) Functional Incontinence
Functional incontinence occurs from physical problems delaying you from getting to the toilet in time. This can be for various reasons, including poor eyesight, mobility issues, neurological conditions, or cognitive problems such as dementia.
Functional incontinence is often the result of a physical condition making it difficult to get to the toilet. The reasons could include an inability to remove clothing quickly, or a delay in moving from a wheelchair to the toilet.
Although functional incontinence is often experienced by elderly people, it can impact anyone with a disability that makes it more difficult to get to a toilet.
---
How do incontinence pads work ?
https://youtu.be/phS9DGvFUgQ
When should I change my incontinence pad ?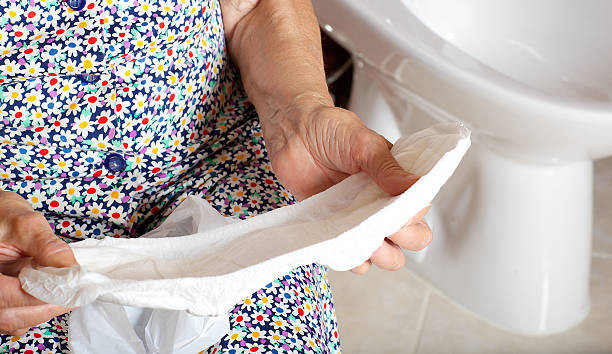 If you use incontinence pads regularly it is advisable to change your pad around 4-6 times per day to protect your skin.
You should always change an incontinence pad when it is wet. Wear a pad that caters to your own personal absorbency needs. Most pads come with wetness indicators which will let you know when you need to change your incontinence pad.
If you rely on being consistently dry and comfortable, change the pads before they become too wet and heavy to wear, to avoid any undue leakage.
Important:
Remember that wearing incontinence pads too long can cause bad odours to build up, and lead to poor skin hygiene. If left skin becomes soft and wrinkled, and over time more susceptible to friction damage and pressure ulcers.
Conditions such as (IAD) incontinence associated dermatitis or fungal infections are common.
The Best Treatments for Incontinence Associated Dermatitis
There are 3 key approaches for treating IAD (incontinence associated dermatitis) as follows –
1) Cleanse
Use a skin cleanser with a pH range similar to normal skin. pH 5.5 is preferable to using water and soap.
Cleanse daily and after every time you suffer with urinary incontinence.
Use a disposable soft cloth.
Try to avoid rubbing the skin, instead use a soft gentle action.
Choose a gentle foam, no-rinse liquid cleanser, or a pre-moistened wipe.
After cleansing the area gently pat dry.
2) Protect
Once the skin is cleansed you need a barrier to protect the skin from irritation from urine.
Ensure you use a water based barrier and not an oil based one, as the oil based one will act as a waterproof layer when transferred to your pad. Subsequently, this will allow pooling of urine against your skin.
There are different types of protective barriers for the skin as follows –
Creams are made of water and a mix of oils / lipid substances.
Ointments are more greasy than creams, and are semi-solid.
Films contain a polymer, and are liquids dissolved in a solvent.
Lotions are liquids containing a suspension of active ingredients.
3) Moisturise
Keeping the skin from drying out is important for the overall health of your skin. Use moisturisers that are similar to the skins pH level and do not contain fragrance or irritants.
---
Tips for getting the best out of your incontinence pads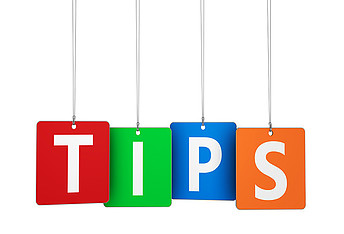 Wear pads with close-fitting underwear for the best support and fit.
Change your pad regularly to protect your skin.
Only use pads with a water based barrier cream.
Don't apply talc to the area that the pad will fit.
Always store the pads in a cool dry place to prevent any moisture affecting the absorbency level.
Things to consider before buying incontinence pads for women
1) Absorbency
All types of incontinence pad or pants will be available in a wide range of absorbencies. Absorbency levels of pads differ slightly between sizes as larger size pads have a larger area with which to absorb.
However, the main factor affecting actual absorbency is the amount of super absorbents within the pad, rather than the size.
Guide for levels of absorbency and protection
Incontinence Level Absorbency Range
very light    0 – 100 ml
light   100 – 300 ml
moderate   300 – 1000 ml
heavy   1000 – 2500 ml
severe   2500 ml +
2) Comfort
This goes without saying. You want to wear a reliable pad that is a soft and comfortable fit time after time. Sometimes, larger heavier pads feel more comfortable, but it's very much a personal choice.
3) Reliability
Once attached you want the piece of mind knowing that the pads are not going to move. You need a pad that have good edge support that helps stop random drops of urine escaping over the sides.
The longer length pads help keep you safe while sitting or bending.
4) Discreetness
Some pads and brands work well for certain individuals, and not for others. A pad for women who just needs incontinence pad / liner for those occasional small leaks due to coughing, sneezing and laughing, and only producing a slight amount of leakage, should go with a pad with lesser absorbency.
These tend to be the smaller style pads anyway that are more discreet to wear.
Incontinence Care for the Elderly
What helps elderly incontinence ?
Although incontinence can happen at any time, it is generally more common in the older adult and elderly.
Loss of bladder control can be for a number of reasons and each individual will benefit from different approaches.
Here are some things that may help you day to day manage your incontinence –
Increasing your fluid intake to up to 2 litres a day.
Having a high-fibre diet.
Bladder training.
Adopting good toilet habits.
Having the right medications, such as a short-term course of laxatives to treat constipation.
Conclusion – Best Incontinence Pads for Women 2023
Urinary incontinence pads are a quick, extremely hygienic and convenient way of managing your incontinence both during the day and overnight.
With so many styles and options available it can be a little daunting knowing which product is right for you.
Hopefully you have found what you are looking for, but if you need any further help or advice, please feel free to contact me at mark@elderlyfallsprevention.com and I will be happy to help.
Please follow and like us: